Beach trek, which was pending in my bucket list from long time… While going through the planned activities of Bangalore Adventurers saw a mail from Dr.Srinivas regarding the registration open for beach trek. Even though I was following this group from almost 3 years could not got a chance to trek with this group. Just to try my luck registered me for this trek and I was lucky this time, my registration was accepted.
Initially when plan was announced, trek was planned for 13 members but because of more people were interested for this trek ended up with group of 21 members.
As mentioned earlier this was my first trek with this group and was excited to join this trek. As instructed we all gathered near Shantala silk house majestic on time. First time for my surprise all the participants turned up on time but vehicle was not turned up on time because of traffic.
Finally we started our journey to Kumta around 9.30 PM. From Bangalore, Kumta is at a distance of around 480 KMs. easily it will take 10 to 11 hours to reach the destination (depending on the route you choose). We took Shivamogga route to reach Kumta, because of bad road condition it took more time than the estimated time. Reached Kumta around 9.00 AM, stopped near hotel (forgot name of the hotel) on the way to finish fresh up and to finish breakfast. Since ours was a quite big team took almost one and half hours to finish breakfast and to get packed lunch.
After finishing breakfast and packing some food items for lunch headed towards Kumta beach, hardly it was 10 to 15 mins drive to reach the beach. Finally we arrived at our trek starting point and we distributed the extra luggage we brought to prepare night dinner and next day morning breakfast among the team. So it was time to start the trek, quick round of introduction was done and Srinivas briefed about the rules to follow during trekking.
Srinivas leaded the group as navigator and Sachin was our sweep leader.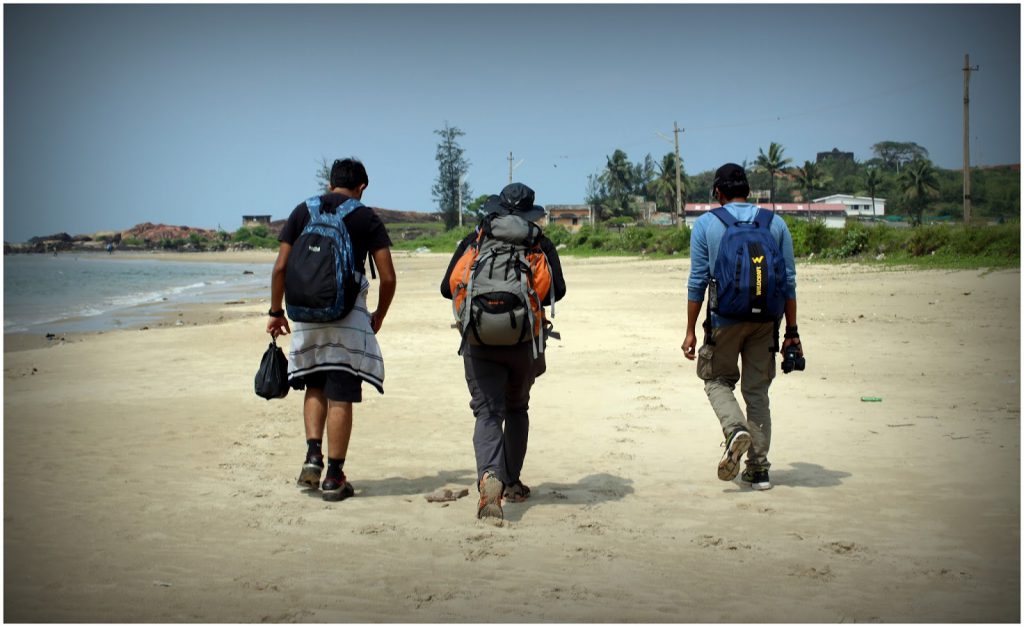 For our luck outside temperature was not so hot as usual in costal part, it was a quite decent sunny day.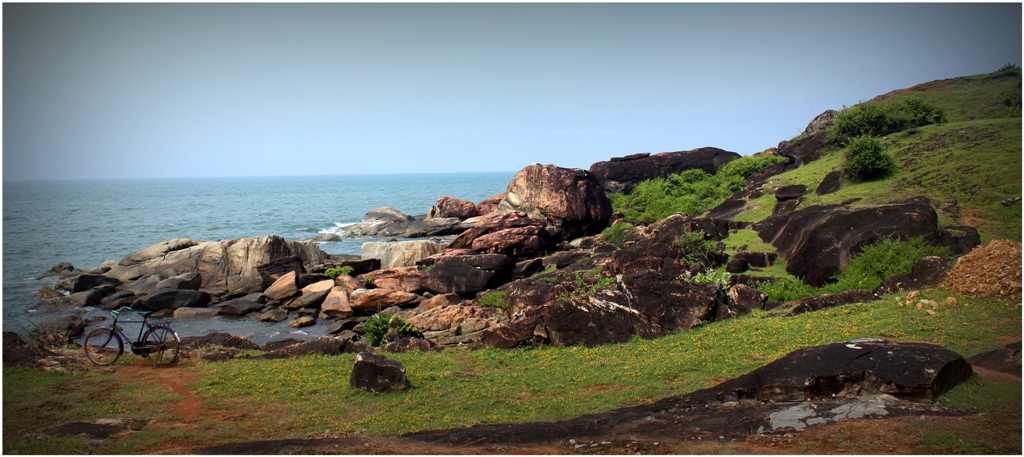 Just after covering less than 1 Kms we stopped for a while for photo session.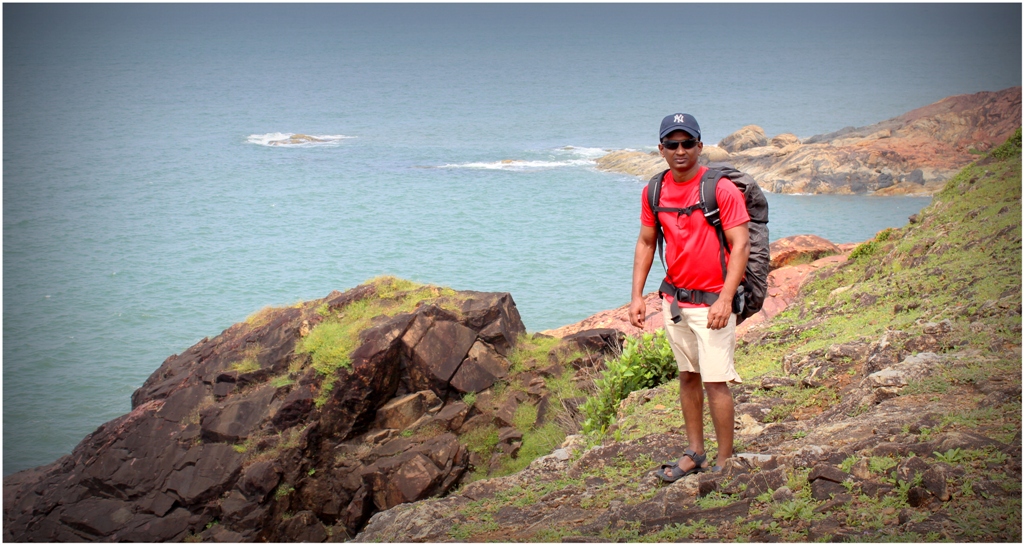 Initial trek was through some rocky hills and small up hills.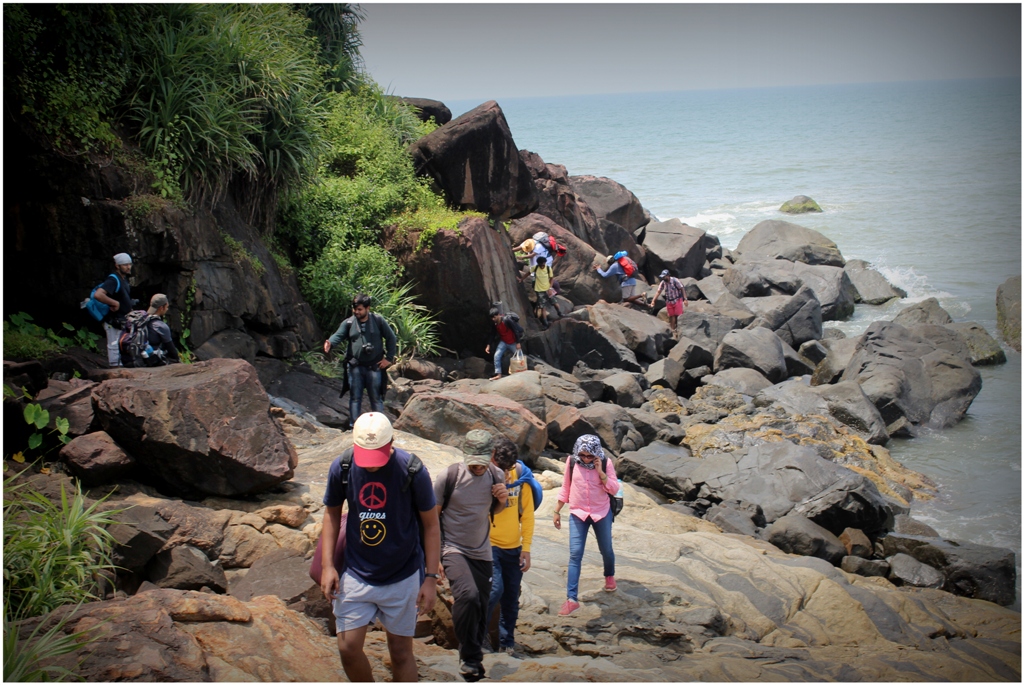 But each and every stretch which we passed was amazing.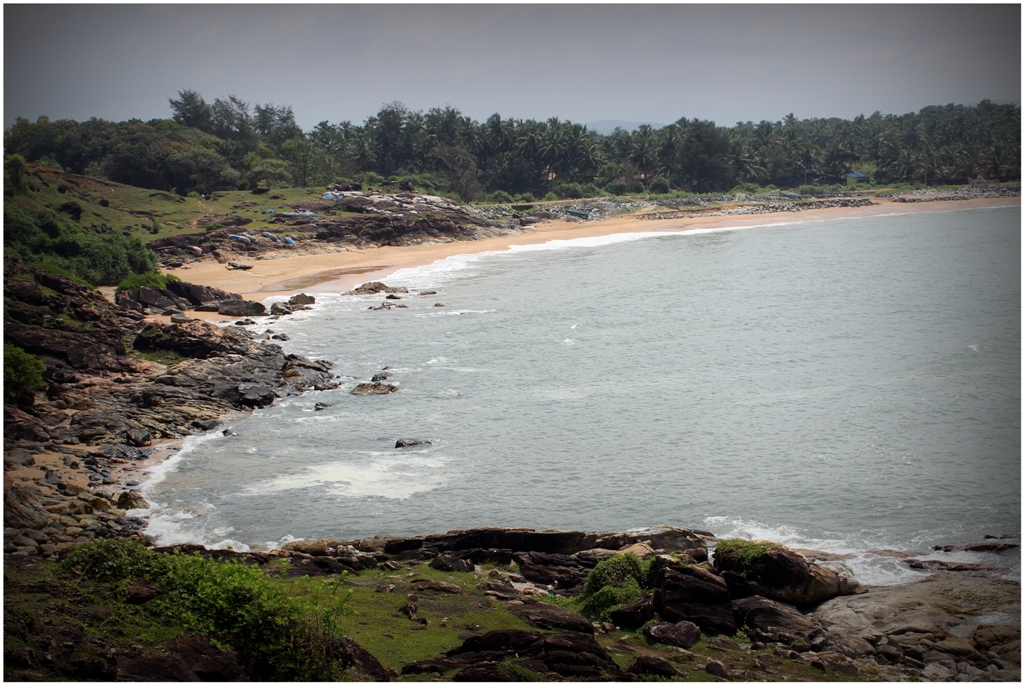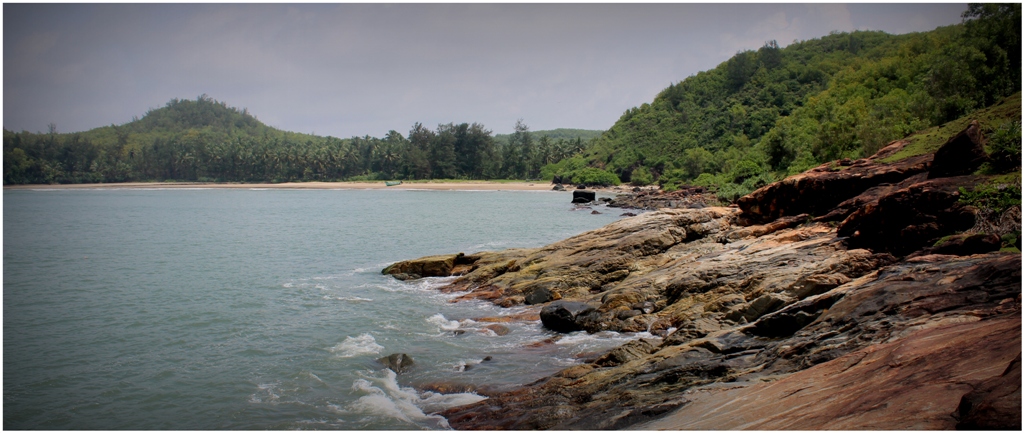 The Nirvana beach is totally a flat stretch (at least 6 km long). By this time we were divided in groups and few were left far behind. Just to fill the gap stopped bit early for the lunch break and again grouped up together. Personally felt this stretch bit boring.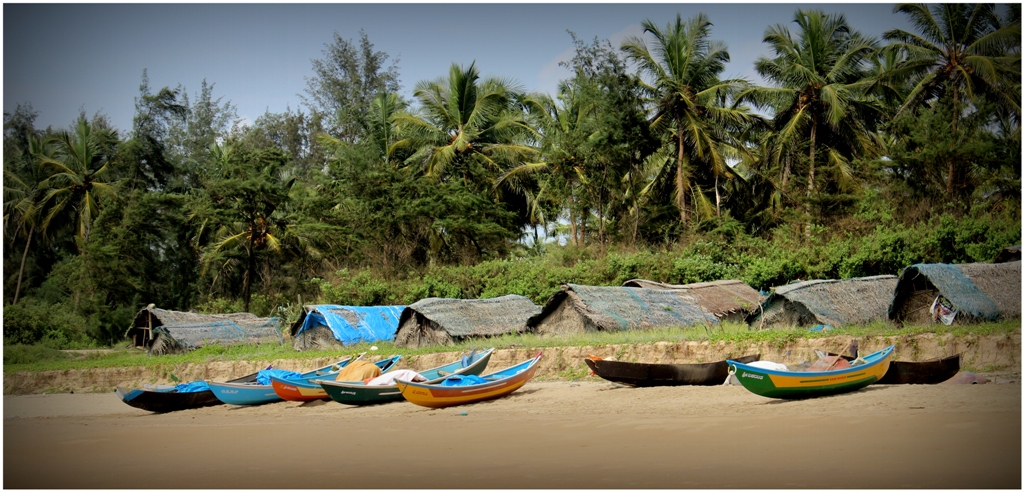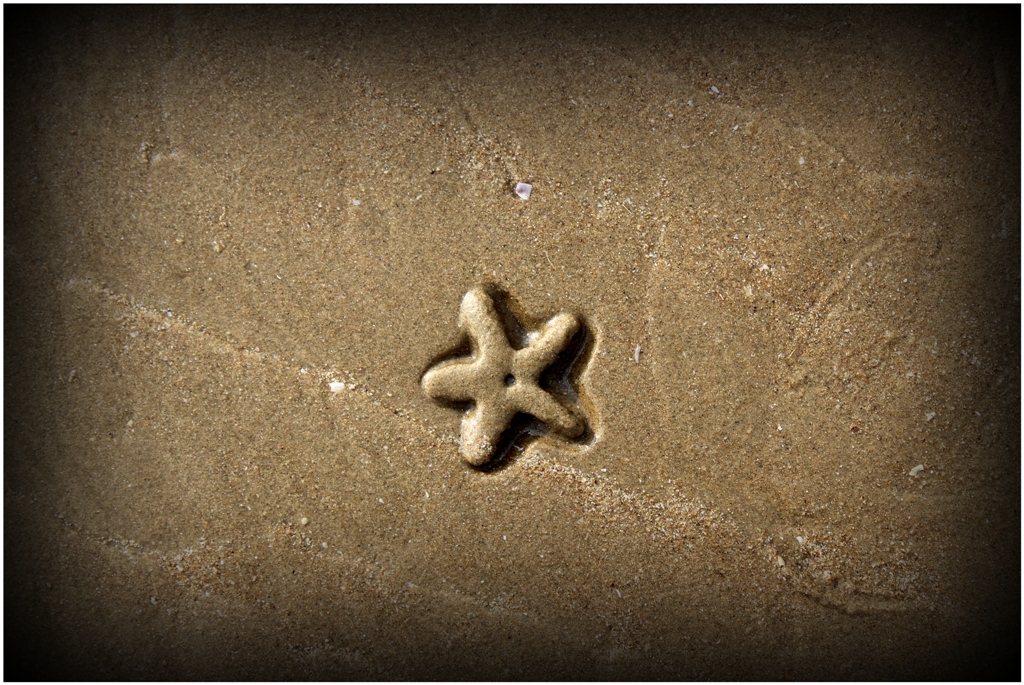 Since we stated our trekking bit late we were running short of time to reach our camp spot on time so we pushed hard bit.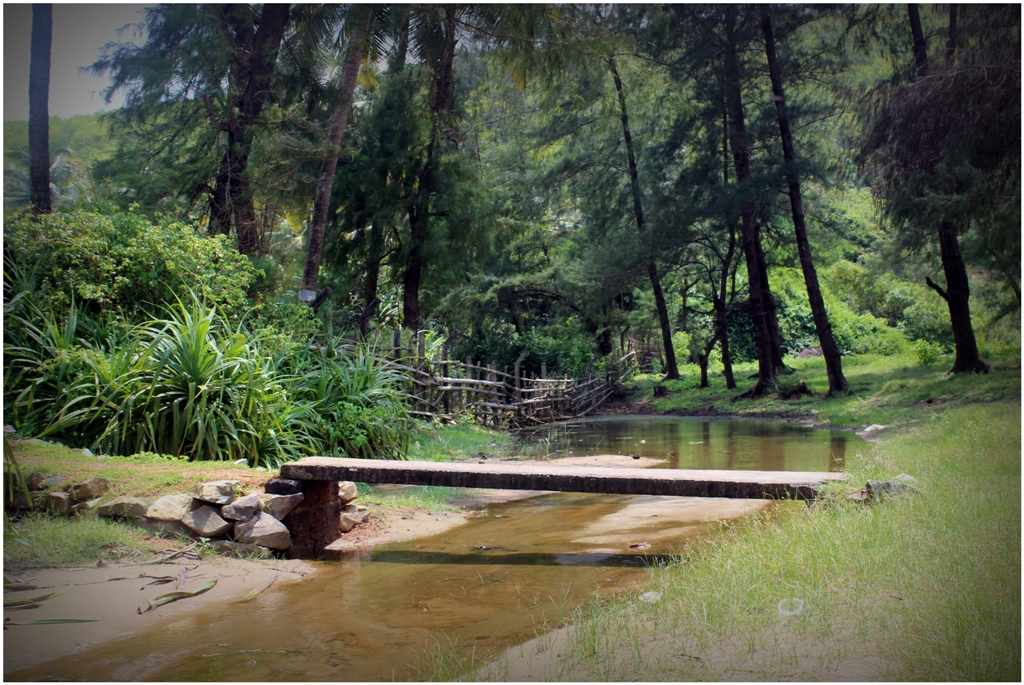 At the end of Nirvana beach we need to cross on hill, there is a small Fort at top of the hill and it was surrounded by a rich green grass land. Sun was playing hide and seek behind the clouds and we were running to our camp side to witness the sun set.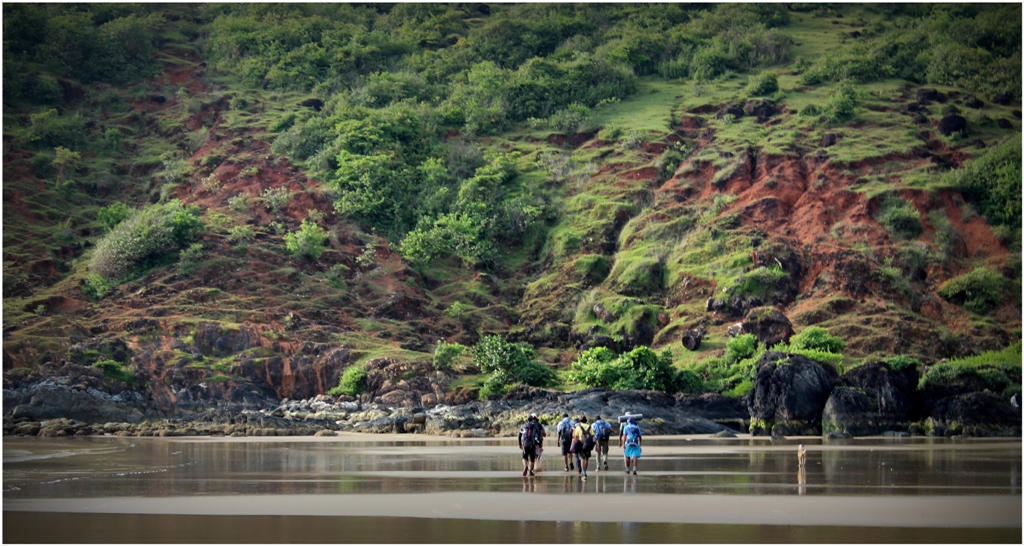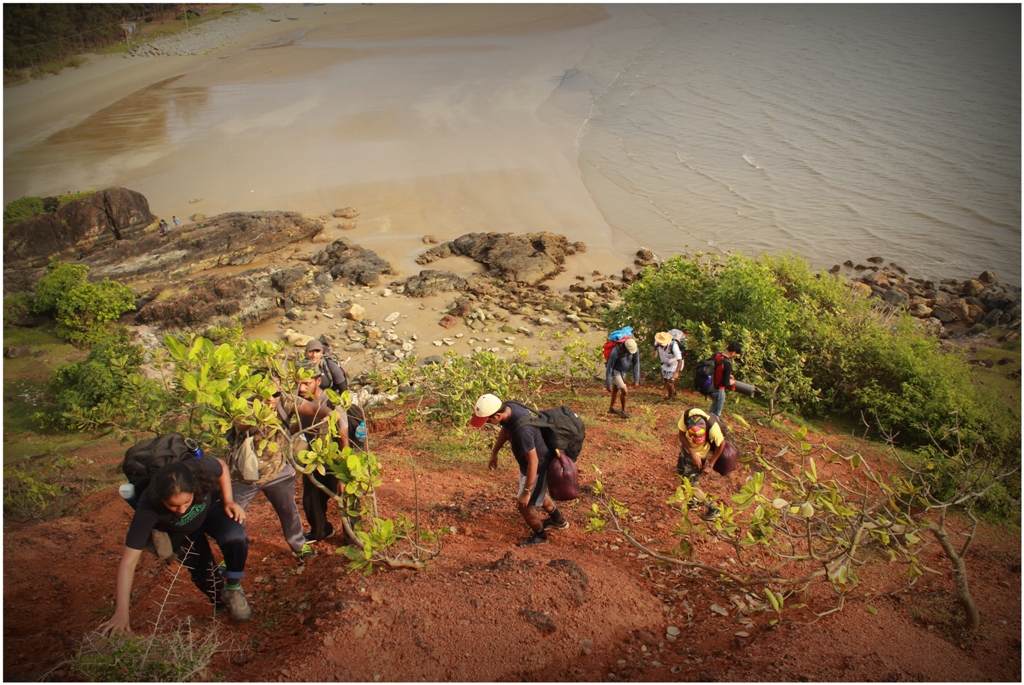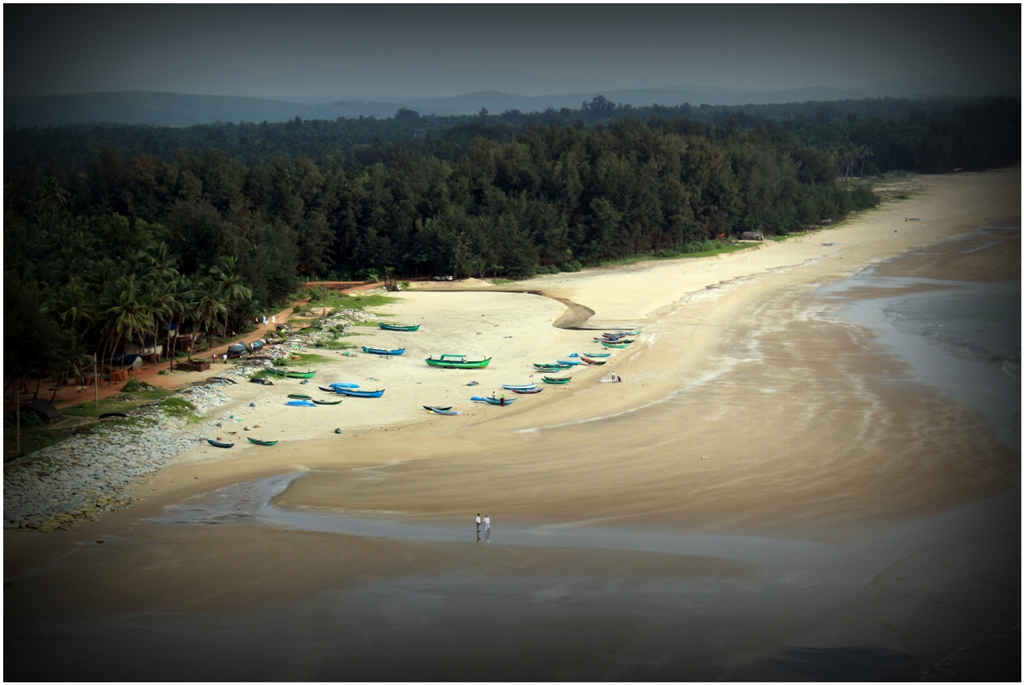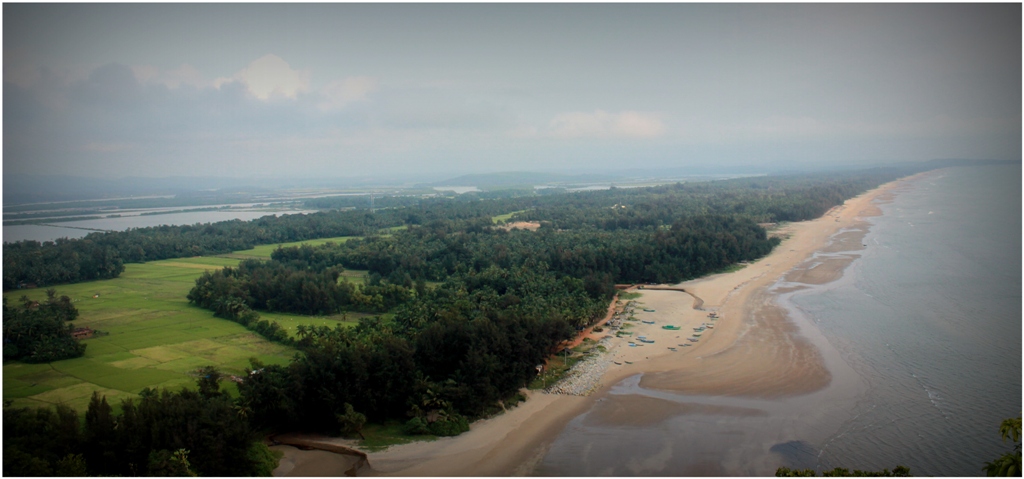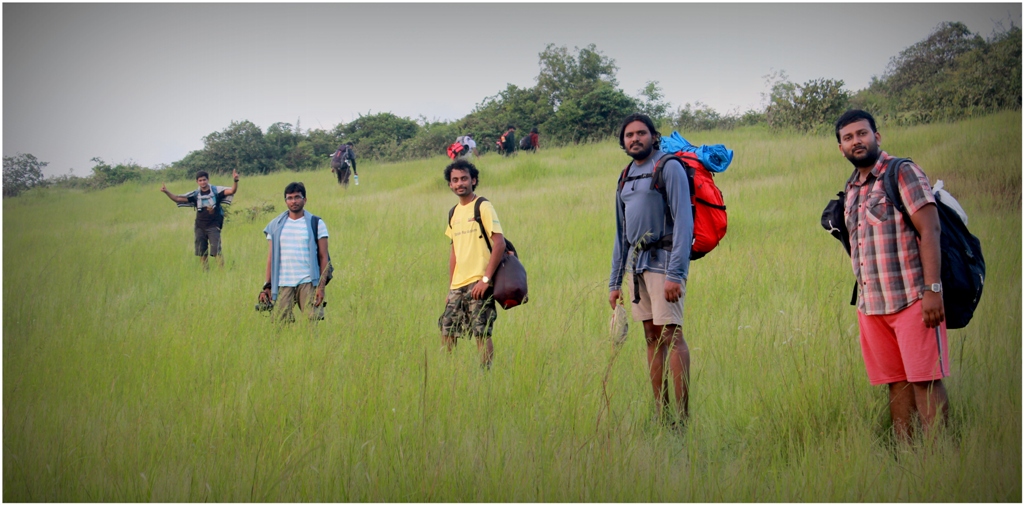 To be frank we wanted to witness sun set from this spot only, keeping the dark in mind we continued our trek towards camp spot.
Finally we reached our camping place Heaven Beach on time. Though we reached camp spot on time, we were not lucky at this time to witness sun set. It was too cloudy and we missed the sunset.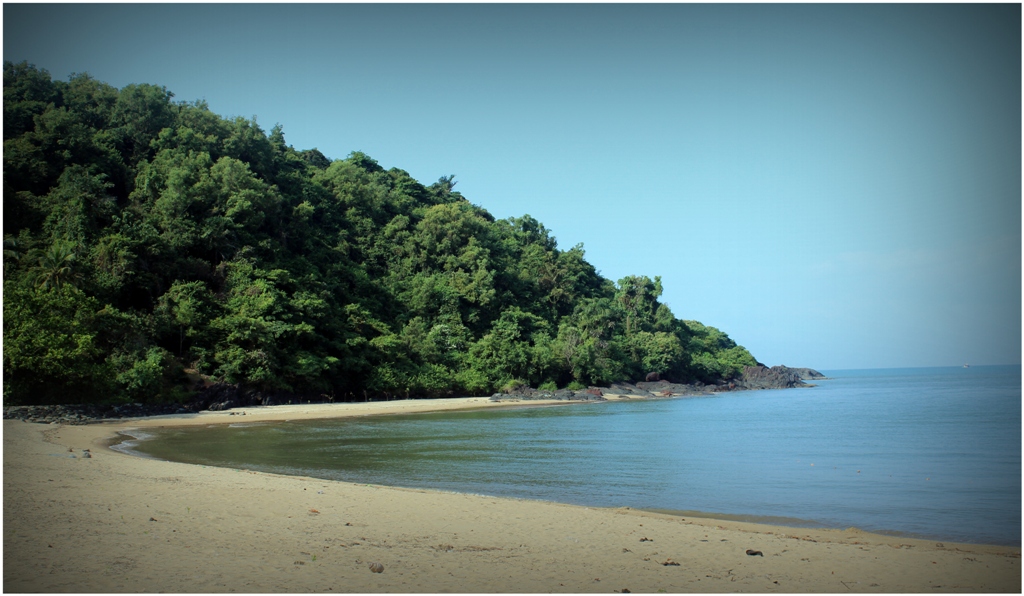 Day 1 ended with nice vegetable pallav prepared by the team. One more beauty of this camp was, we didn't pitched in any tents, and all the clouds moved away presenting us the magnificent view of stars.
Day 2 started as plan, every one woke up early and freshens up. We prepared Maagi for our breakfast and the place we choose to have it was interesting, we sat in water to have hot maagi and really enjoyed the view in front of us while having breakfast.
The second day hike was more through hills and the like and less of beach trek. Another 15 mins walk through the village took us to the Tadadi fishing port. Here we have to cross Aghanashini River /sea crossing point through boat. By the time we reached the spot boat was already waiting for us. We all get into the boat with some other passengers. This boats run daily from morning 7.00 Am to evening 8.00 PM (evening time was depends on the crowd, usually they stop at 6.00 PM). They will charge Rs. 5 per person to cross the river.
After crossing the river, trekking turned out very interesting and beautiful.
Reached Paradise beach and relaxed for a while.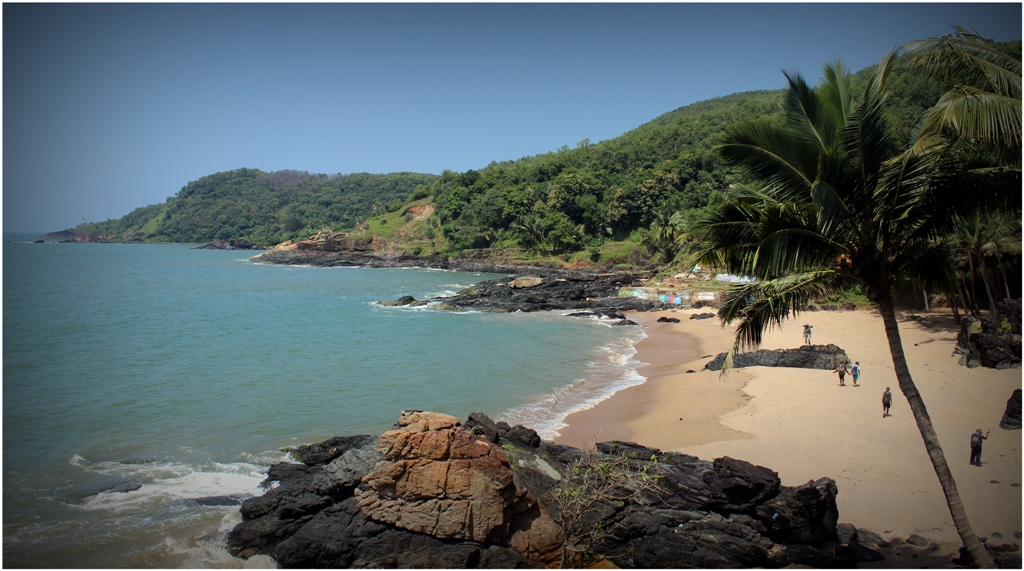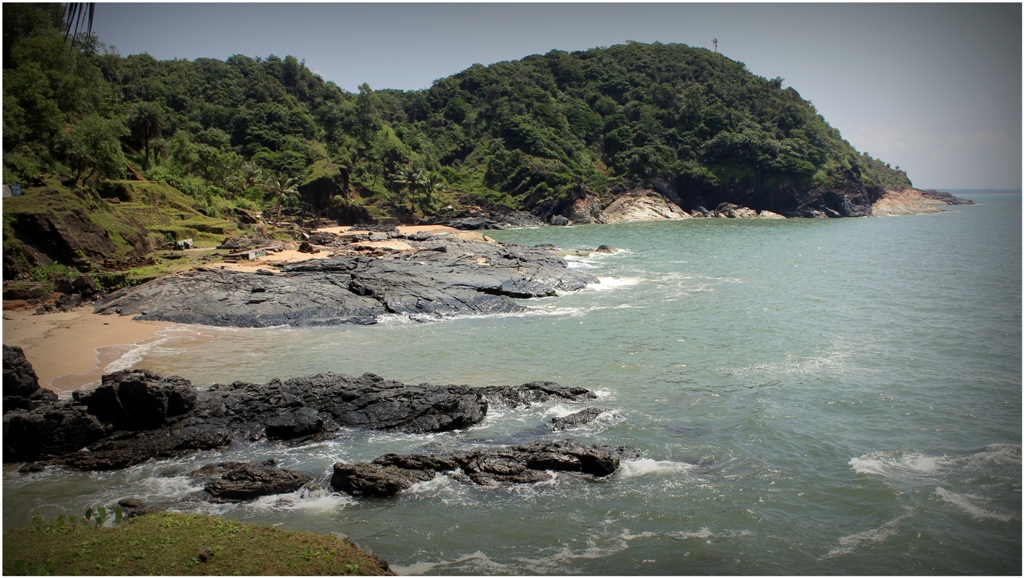 Once we cross the Paradise beach we need to pass through some paddy fields before we get Half moon beach.
Now they have cleared all shacks in paradise beach, our initial plan was to get into water near paradise beach later have lunch in nearby shacks. Since there was no option to change or to get fresh in this place we continued and decided to play in water in OM beach.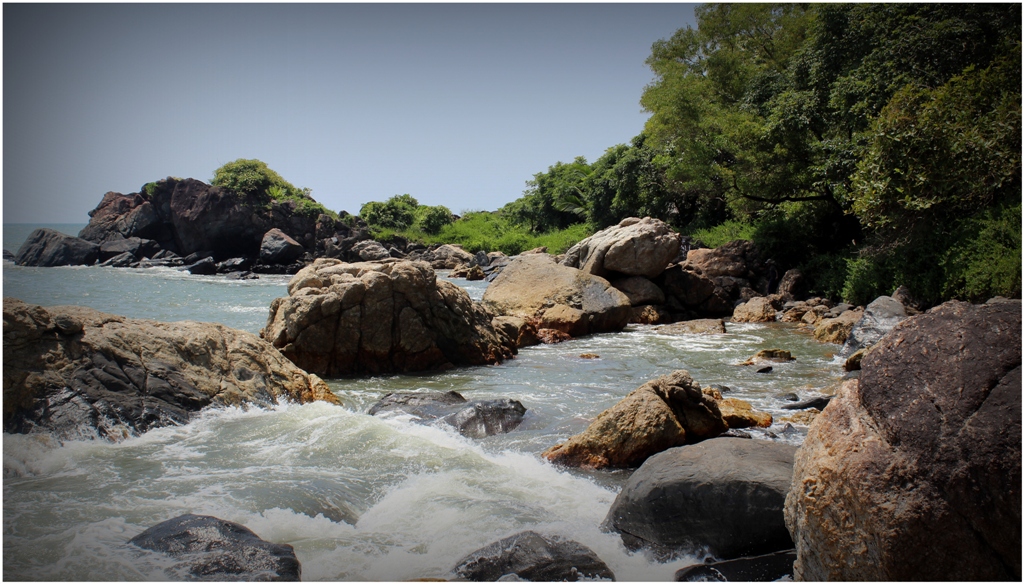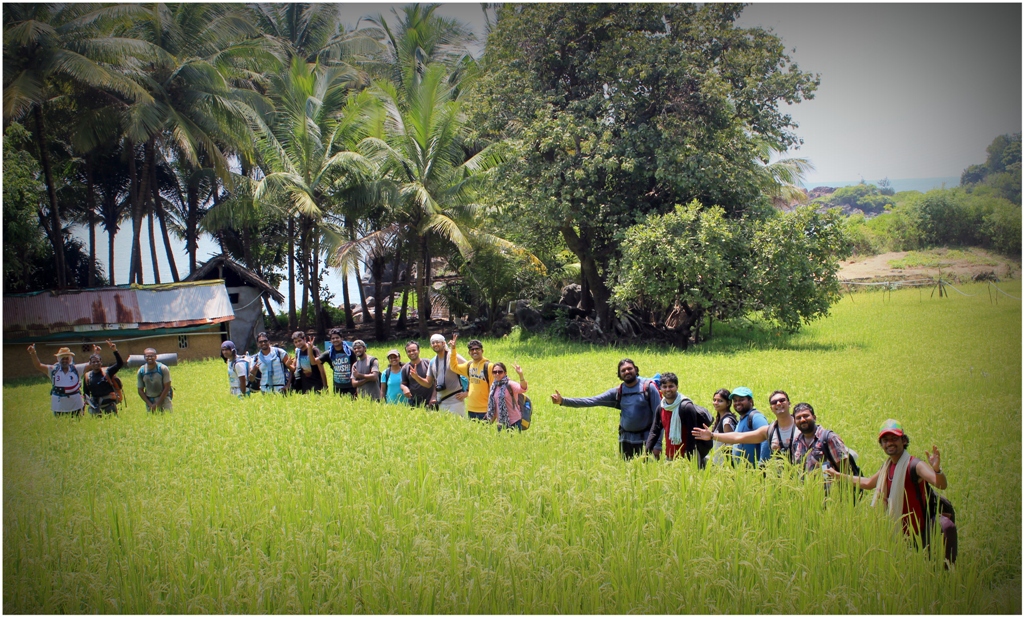 On the way we crossed many beautiful beaches. Compare to day 1, second day trekking was more challenging and awesome too.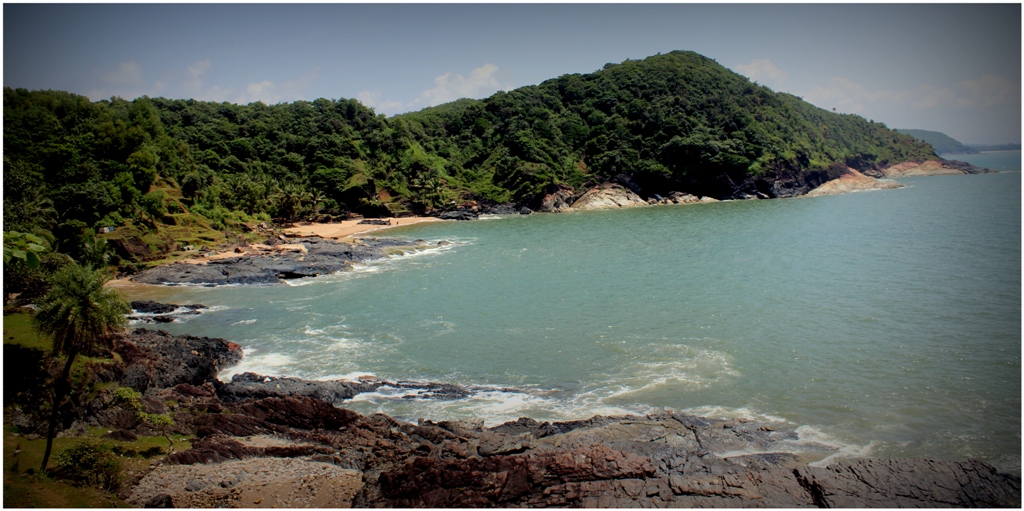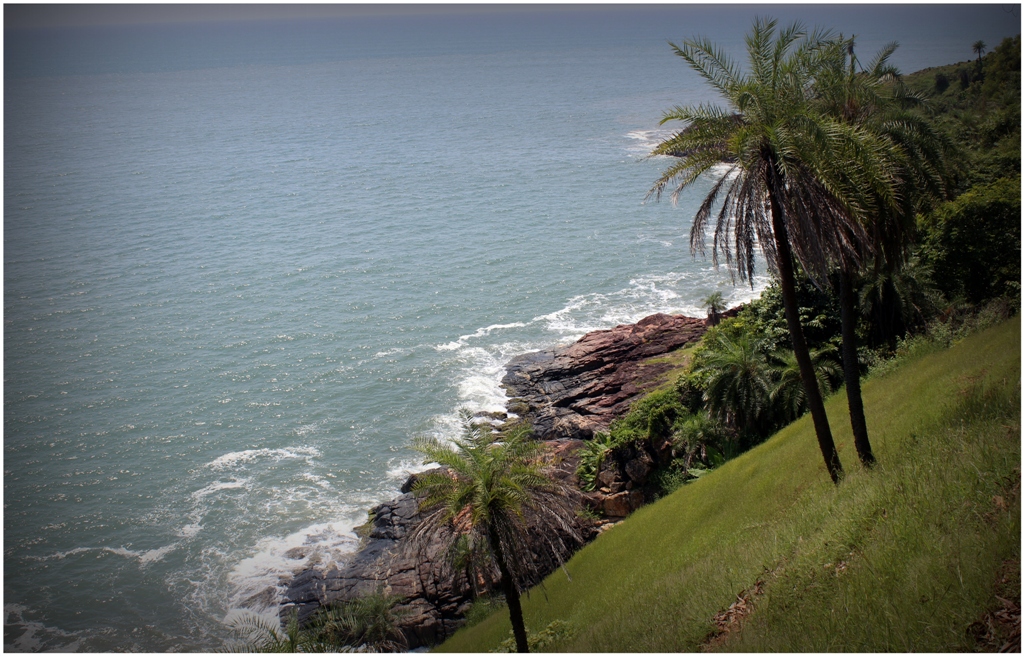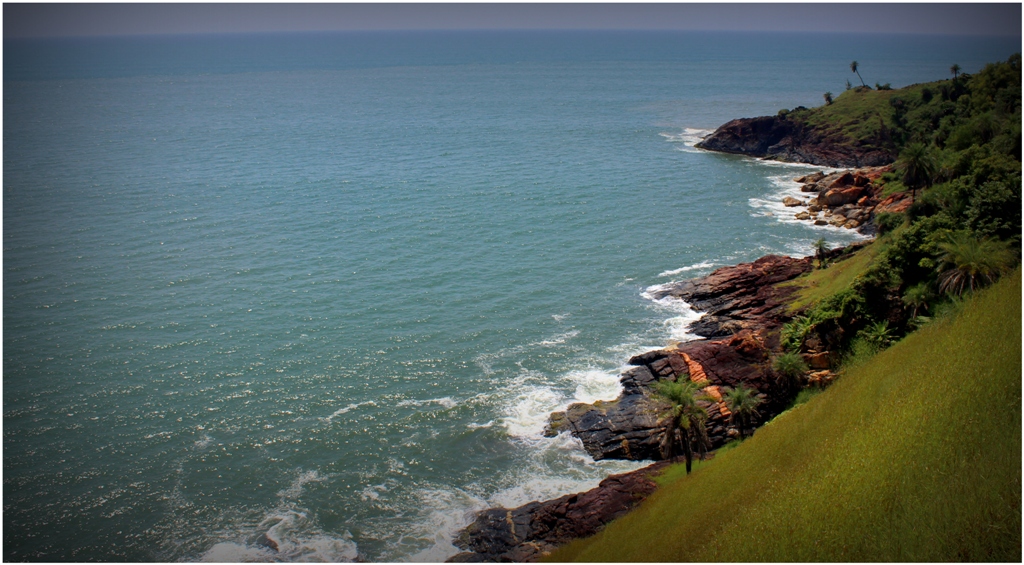 Finally we reached OM beach around 2.30 PM, and it was time to fill our hungry tummies. After lunch few of our group members went to play in water and remaining just relaxed in hotel.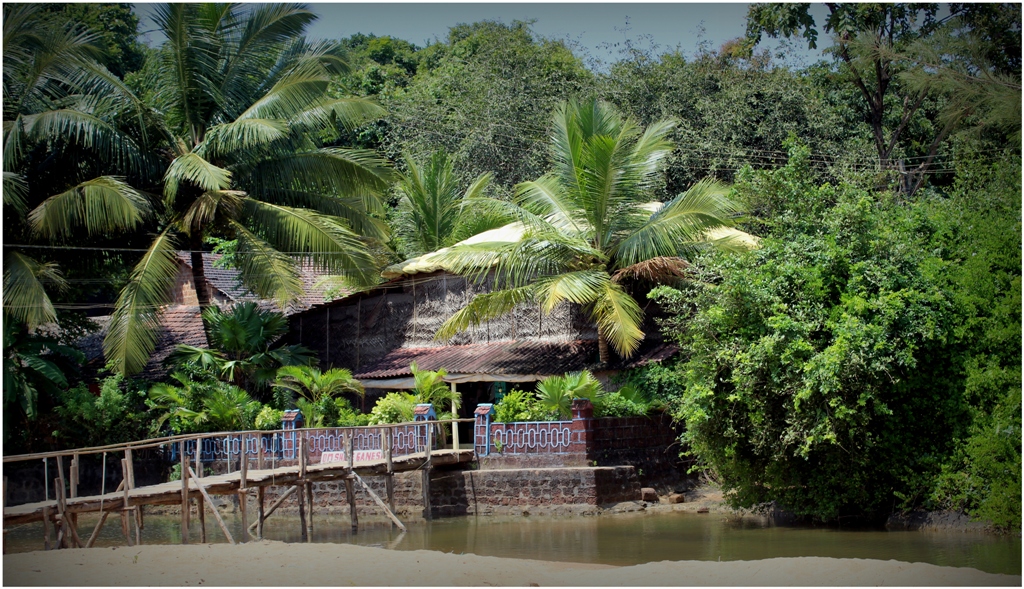 Around 5.00PM it was time to wind up and start our journey back to Bangalore.
Thanks to BAT team and all the trek members for making this trek memorable one.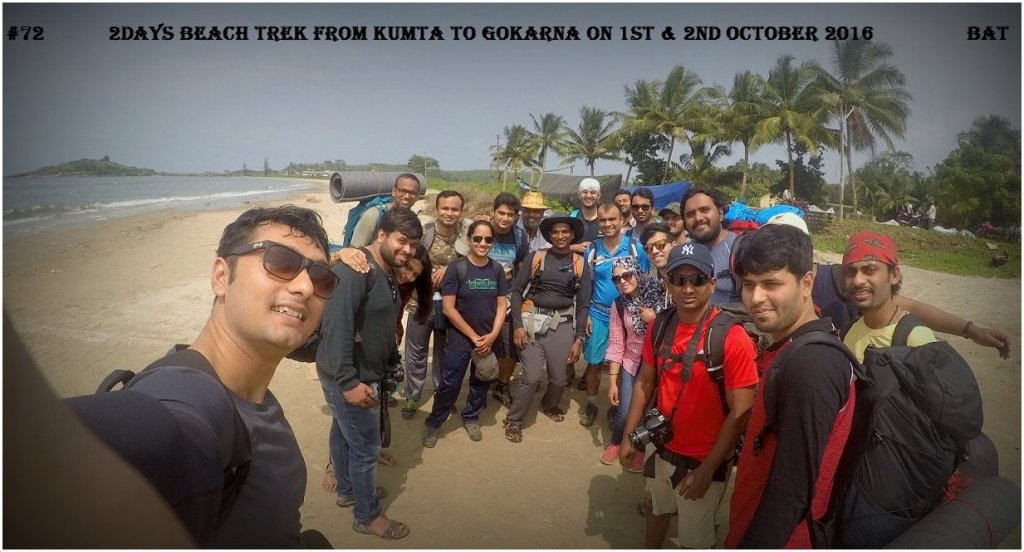 Preferable time for this trekking is after monsoon…. Even weather will be bit cool and as usual it will be surrounded by greenery 😊
Keep trekking….