Trip to Kanyakumari was in bucket list from long time, since last visit to this place was not so pleasant! wanted to spend some time in this place at least for couple of days (Last time hardly spent couple of hours in this place due to time constrain).
Every year August 15th holiday is dedicated for a trip with this gang (which we are following from past 7 years). As always Seena initiated the trip and suggested about Kanyakumari, without any further discussion we agreed and decided to visit Kanyakumari. Luckily this time holiday was on Monday, we had long weekend and it was perfect time to explore Kanyakumari (after seeing the crowd in Kanyakumari felt it was a bad idea!!)
On Friday evening we started early from Bengaluru just to avoid the long weekend traffic. Kanyakumari is around 670Kms from Bengaluru; easily it will take more than 10 hours to reach Kanyakumari including the break time and all. Usually people prefer to stop at Madurai & visit Madurai Meenakshi Temple. From there Rameswaram and then reach Kanyakumari. But we decided to reach Kanyakumari directly.
Already we booked rooms for our stay from Booking.com app (last couple of trips we are booking rooms from this app and felt its good deal). Booked Hotel Bharani in Kanyakumari, which is at walk able distance from beach.
Reached Kanyakumari around 6.00 AM, by the time we finished all our check-in formalities we were bit late to witness sunrise on the same day. Relaxed for some time and around 9.00AM we started to explore Kanyakumari.
About Kanyakumari – Kanyakumari is located at southernmost part of India, a place of scenic beauty and breath taking architecture. It is one of the most popular tourist destinations in South India. The beauty of this place is, one can witness both sunrise & sunset at this place. And also can observe the waters of Bay of Bengal and Arabian Sea getting combined into the Indian Ocean. The beauty of this place lies in its wealthy cultural heritage, ancient temples, multi-colored sands and dramatic sunsets and sunrises.
Main attraction of Kanyakumari is Swami Vivekananda memorial rock. The Vivekananda Rock Memorial is built in honor of Indian spiritual leader Swami Vivekananda, who is believed to have swum from the mainland to this rock and meditated here, during his visit to Kanyakumari. It was built in 1970 and since then has attracted crowds in huge numbers. The memorial is open every day from 7 a.m. to 4 p.m.
One should catch a ferry to reach this place, they will charge Rs.34 for per person (For those who can't stand in general queue, there is an express way to enter ferry and should pay Rs.169 per person). On ferry hardly it will take 5 mins to reach the memorial rock but to get into ferry took more than 1 hour.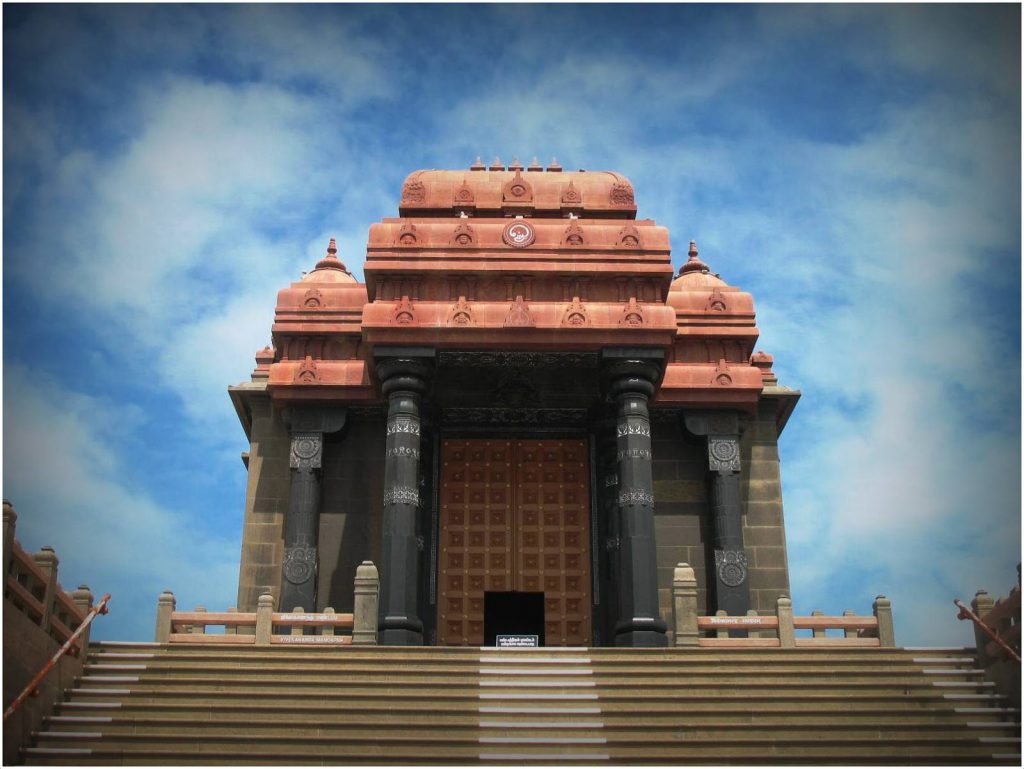 Arriving by the ferry on the rock memorial, again we need to pay Rs.20 entry fee to enter the Memorial rock. The memorial has two main portions the Vivekananda Mandapam and the Sripada Mandapam, on two adjacent rocks. The smaller rock known as 'Sripada Parai', it is believed in ancient times the Goddess Kanya Kumari meditated on this rock and there is a mark on the rock similar to a human foot which is believed to be 'Sripadam' or the feet of the Goddess. It is now surrounded in a square shrine or Sripada Madapam. A statue of Swami Vivekananda in a standing posture has been installed in the Assembly hall, with its vision directed towards the 'Sripadam'. Photography is prohibited at this place.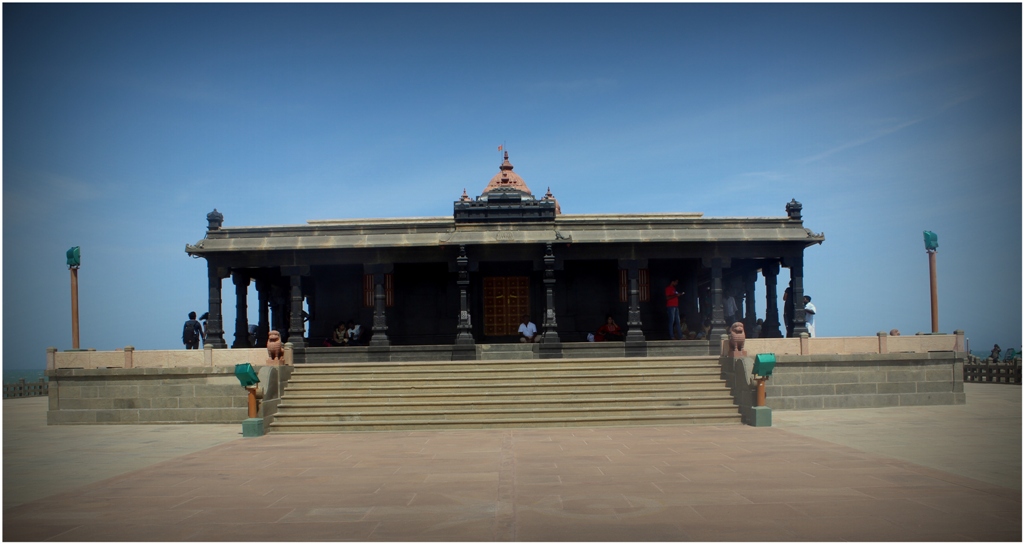 Due to some technical reasons (that's what they mentioned near ticket counter) access to Thiruvalluvar statue was denied. This was the second time I missed opportunity to visit this awesome place.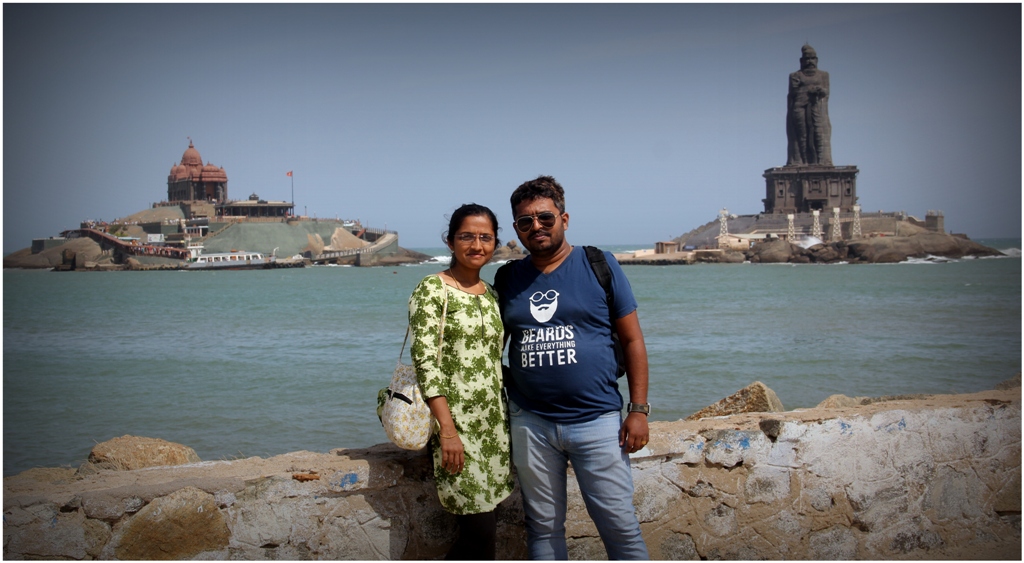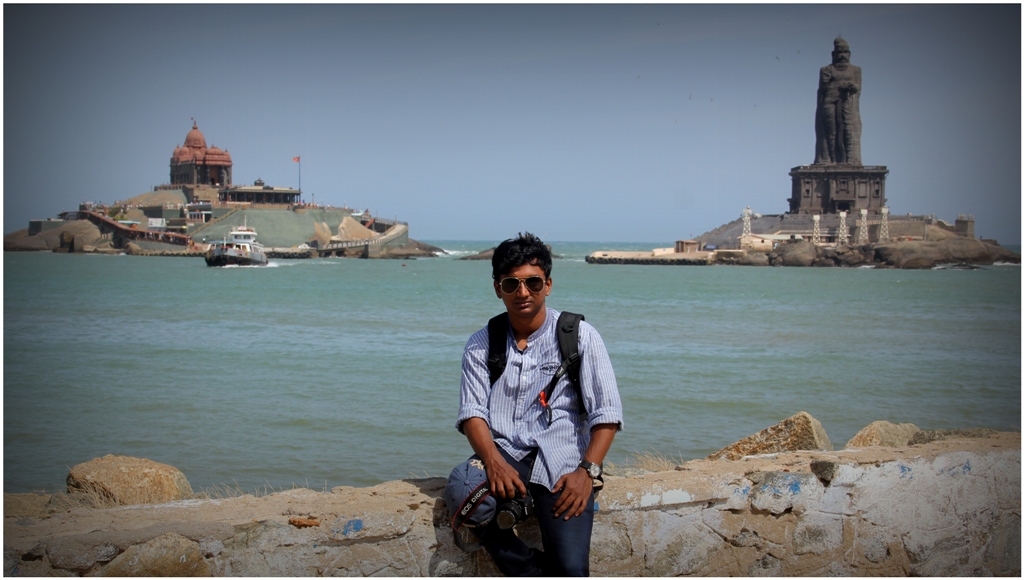 By the time we came back to Kanyakumari, we were totally exhausted by the heat and long wait in the queue. Rested for some time and headed towards sunset point. Suggest not to take any vehicles to reach Sunset point, it's better to walk across the sea shore to reach the sun set point. Because of the crowd not even enjoy the sun set properly.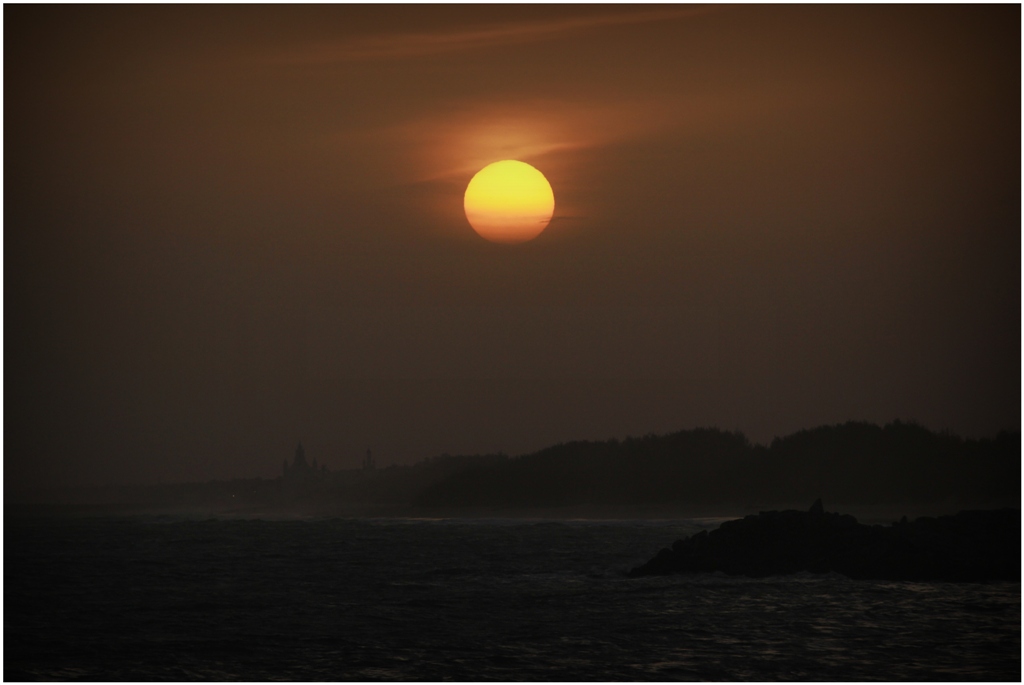 Under lights Vivekananda Memorial Rock and Thiruvalluvar statue was looking even more beautiful. Spent some quality time in clicking the pictures of this beautiful place. They will turn off the lights around 8.30 PM and again it will turn on morning 5.30 AM.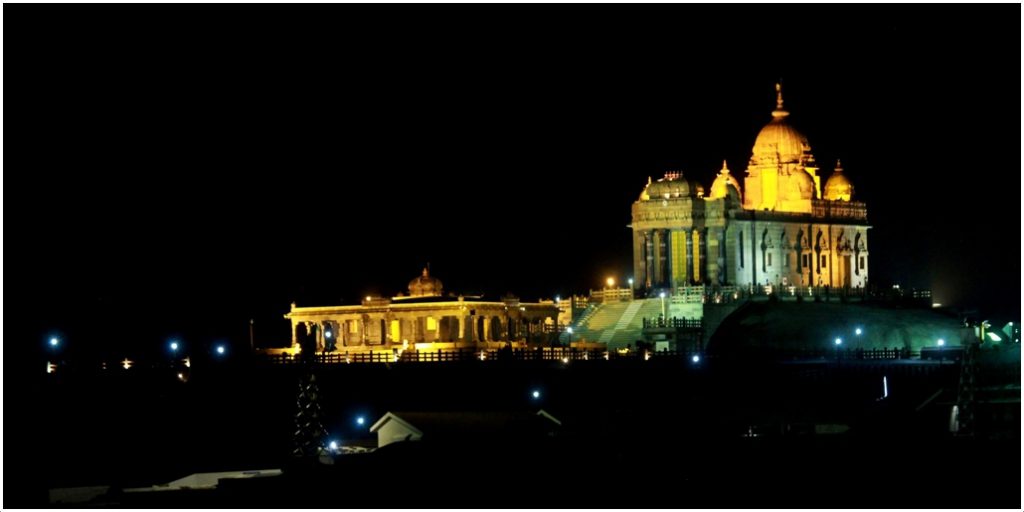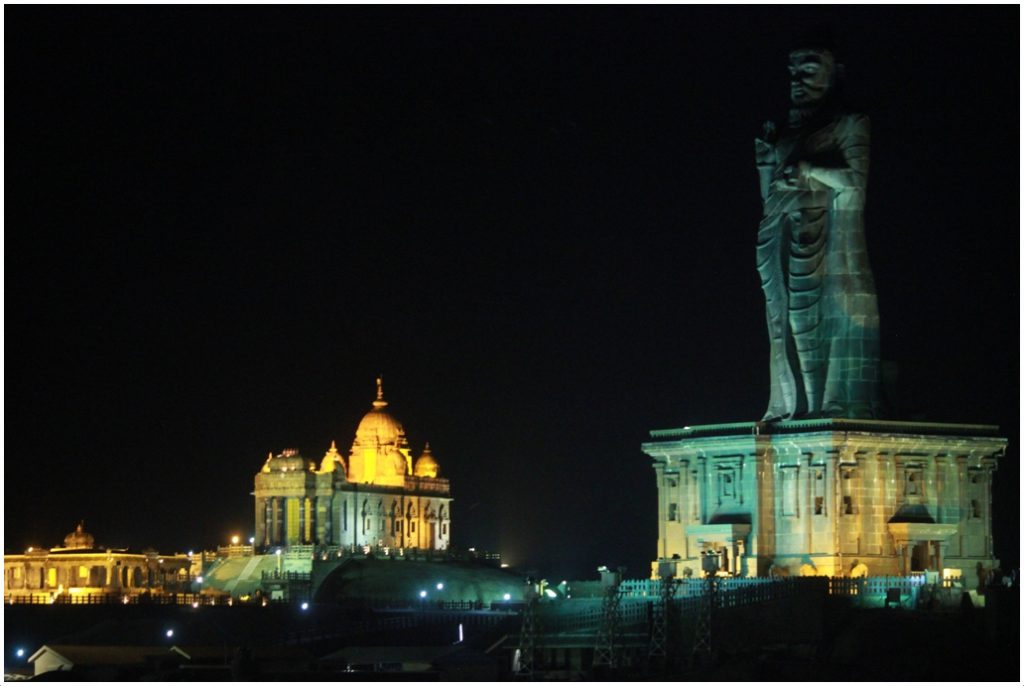 To capture the beauty of sun rise we gathered near the beach and again clicked few pics of Vivekananda memorial rock under light from the other angle. After looking at the crowd I understood, we were in wrong time!!!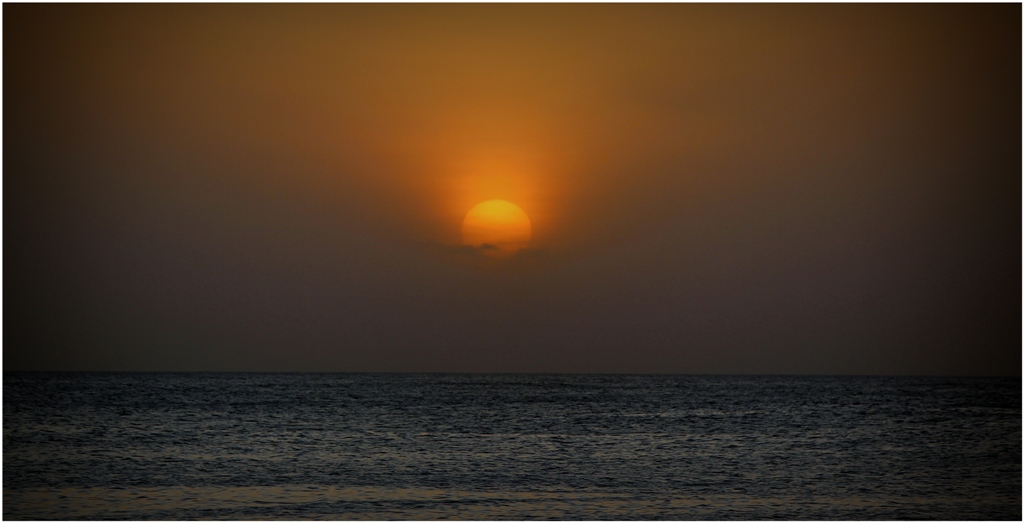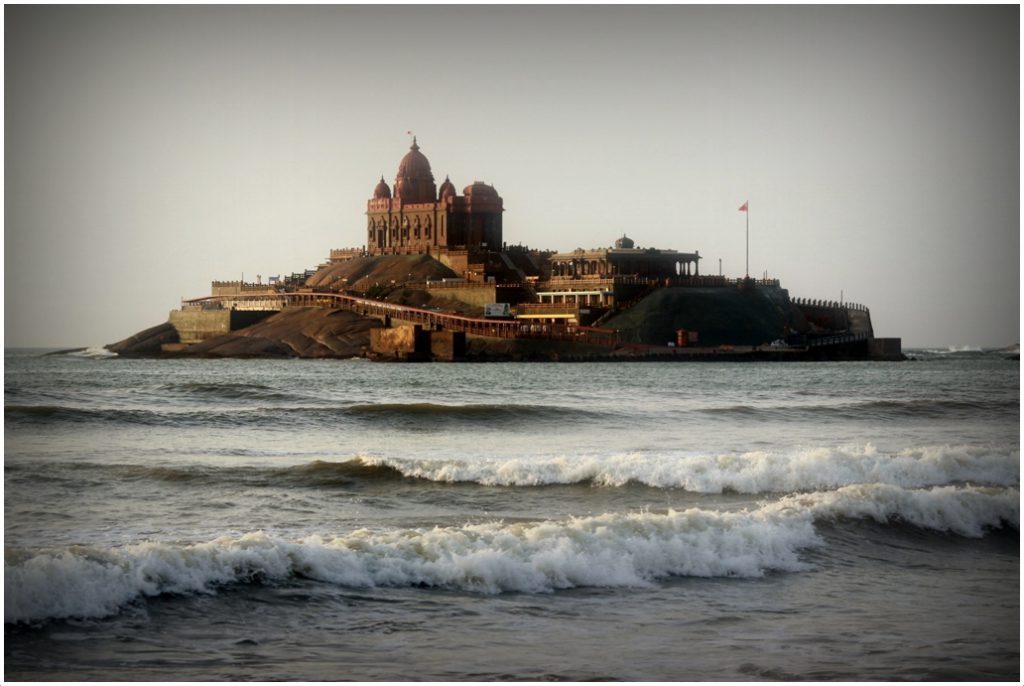 Last minute we changed the plan of visiting Rameshwaram and headed towards Thiruvananthapuram which is around 90 Kms from Kanyakumari. Thiruvananthapuram is famous for Anantha padmanabha swamy temple, because of single road and huge traffic it took more than 3 hours to reach Temple and the by the time we reached temple was closed! Usually afternoon 12.00 PM temple will be closed for visitors and it will be reopened by 4.00 PM.
We had almost 4 hours to spend, with no plan. Checked with localities for some side seeing and decided to visit Napier Museum. The parking fee at this place will make you feel scary, one should pay Rs.150/- for any car parking! Again charges are separate for Museum and Zoo. After looking at the collections in museum felt it was worth visiting the place. Don't miss to visit Napier Museum when you are around Thiruvananthapuram.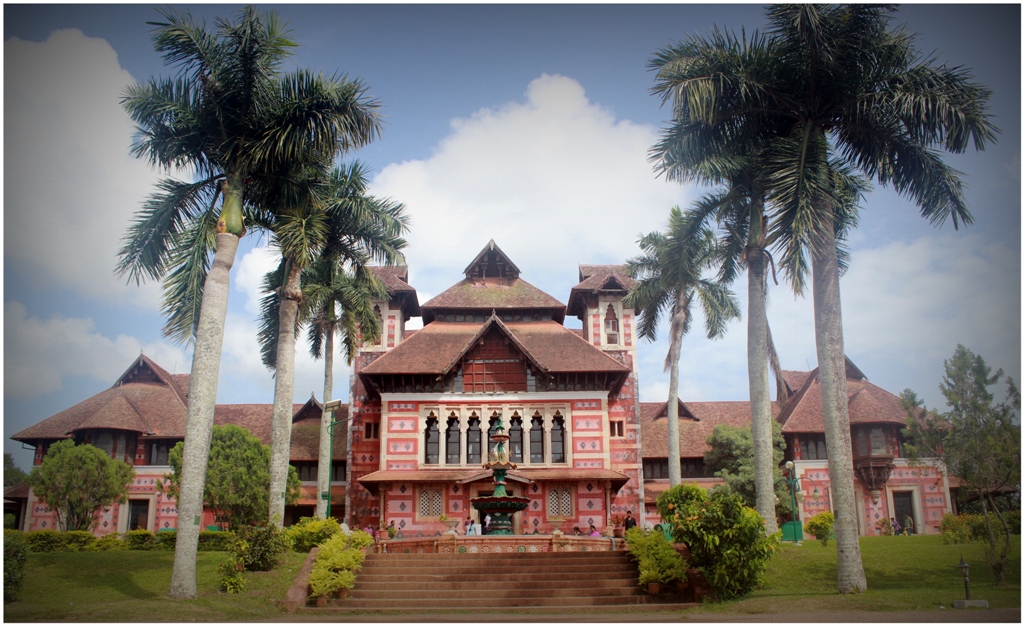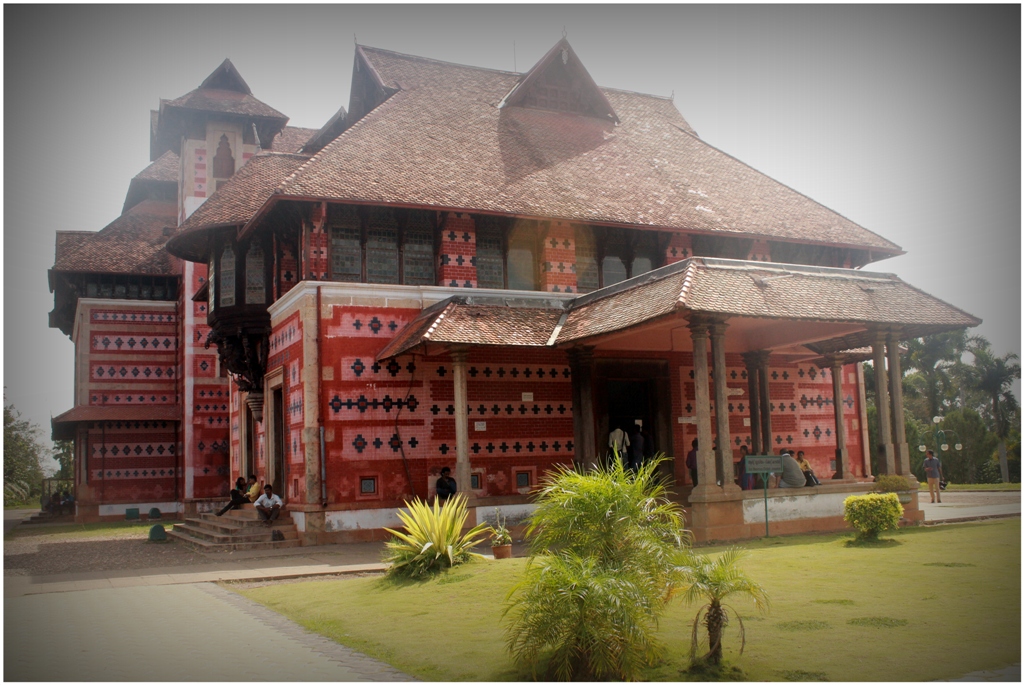 Around 3.00 Pm came back near Temple. No need to explain about this temple, but everyone should follow the dress code and can't even carry your car keys inside the temple. Luckily completed the darshana quickly and headed towards Kovalam is a beach. Kovalam is a beach by the Arabian Sea located around 16 km from the city center. Because of long weekend all the places were jam packed with tourists, fought for almost 30 mins to park our car, luckily reached beach on time.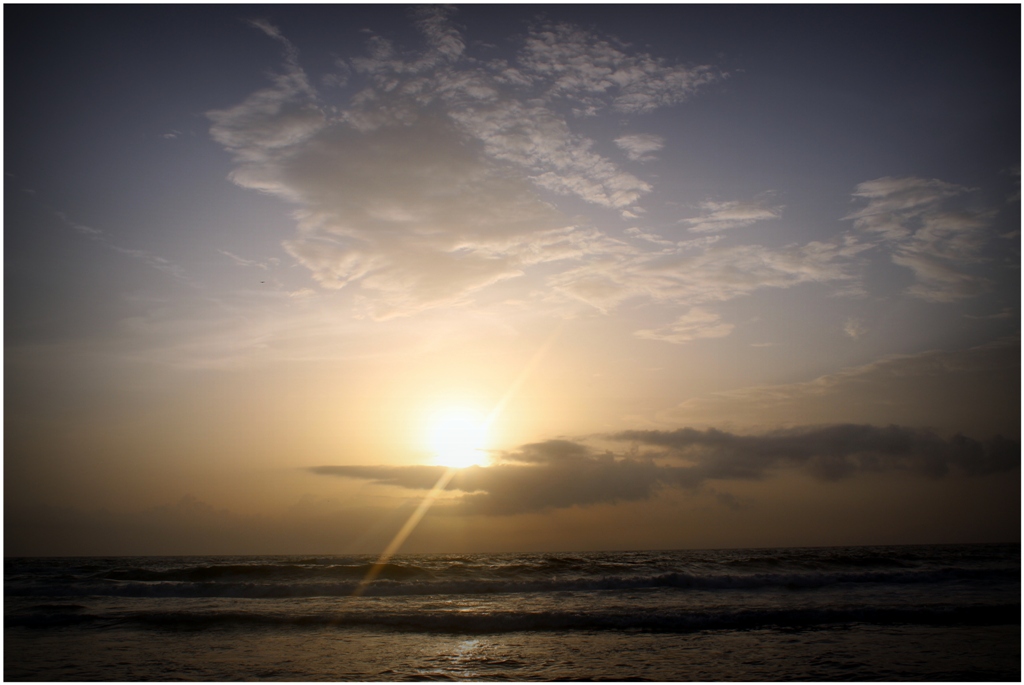 After spending some time in Kovalam beach headed back to Kanyakumari and again it took more than 2 hours to reach our hotels.
Next day morning we headed back to Bengaluru, on the way visited Madhurai Meenakshi temple and reached Bengaluru back by 11.00PM.
Most importantly August 15th chain continued with this team and hope in future also it will continue.
Keep traveling… Cheers….