Much awaited Monsoon began, had lot of plans for this monsoon but after coming back from Leh bike ride could not executed any of those plans. Deepu started mail thread regarding plan for August 15th long weekend, decided to visit Yellapura (paradise of water falls in Karnataka 😊). Seena arranged for transportation for us. This time it was team of 14 members. All set for one more vacation, keeping huge crowd on long weekend in mind we decided to take one day off and start our journey on 13th August itself… 😊
Finally the day arrived and we were all set to start our journey. Yellapura is around 425 Kms from Bangalore and it is almost 6 hours journey since we take NH – 4 till haveri easily we can reach in 6 hours. We thought of leaving Bangalore at 10.30 p.m. (or max by 11.00) but heavy rain started from evening only, because of rain it got delayed to start our journey as per plan. Finally left Bangalore around 11.30 p.m…!!!
Day – 1: Yellapura.
Reached Yellapur around 8.00 a.m., finished our breakfast in Yellapur town and headed towards Satoddi falls.
Satoddi Falls is one of the most well-known falls in Karnataka. It is at a distance of 25 km from the town of Yellapura on the outskirts of Yellapura, traveling towards Hubli, is the left turn that leads to Satoddi. Part of the road is an all-weather road but a portion, nearly one-third the distance, is not motorable during rains. I heard from my friends that, it is not possible to visit the falls in rainy season. But if we go on rainy season then only we can enjoy the real beauty of waterfalls.
Need to walk around 500 mts to reach the waterfalls from parking place. Path is not so tough any one can easily reach the waterfalls in any season. But it's better not to get into water in rainy season.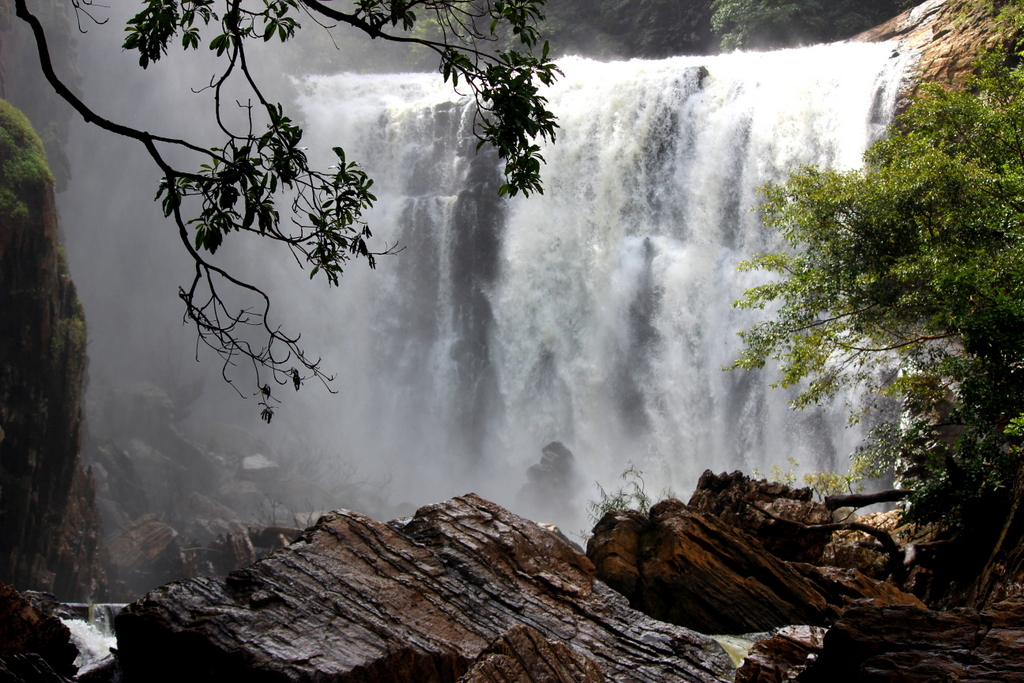 Almost all in this group were very good swimmers, we got into water and spent some time in water. Since we went on weekday there was no crowd at this place. So enjoyed our swimming at this place without any disturbance. Spent more than one hour at Satoddi Falls and headed towards Magod Falls.
Magod Falls: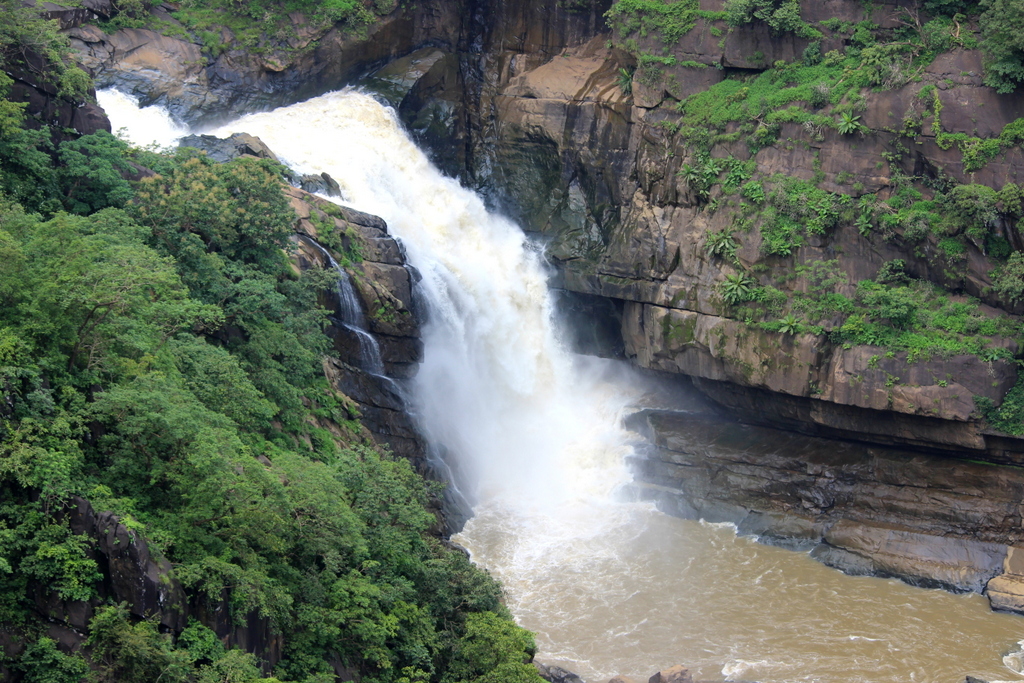 Magod Falls is situated 19 km away from Yellapur, in the village of Magodu. Here, the Bedthi River takes two distinct leaps to hurtle from a height of 650 ft. into a rocky ravine. To visit Magod falls we need to come back to Yellapur again and take Karwar road.
If you are vegetarian then you can visit "Sri Krinshna Vibhava" (Bhattara mane) for delicious food (Though you are a hard core non vegetarian once you should taste food from this hotel). In peak hours it's very difficult to get table at this hotel, always it will be crowded. Finished our lunch and headed towards Magod Falls.
In Magod Falls you can't get into water. There is no chance of going near to water; from far away you have to enjoy the beauty of the water falls. It was time for photo session… 😊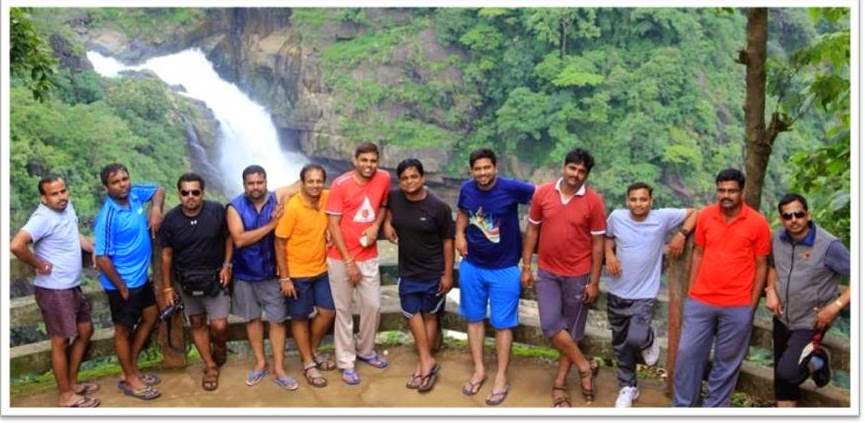 Jenukallu Gudda is situated 17 km from Yellapur. The Bedthi River from Magod fall cuts across the green hills and bounces all the way to join the Arabian Sea beyond the hills. This place is a viewpoint in the Western Ghat, which offers a panoramic view of the hills packed one behind the other. Jenukallu Gudda is one of the famous sun set viewpoints, but we didn't get a chance to view the sunset because of clouds.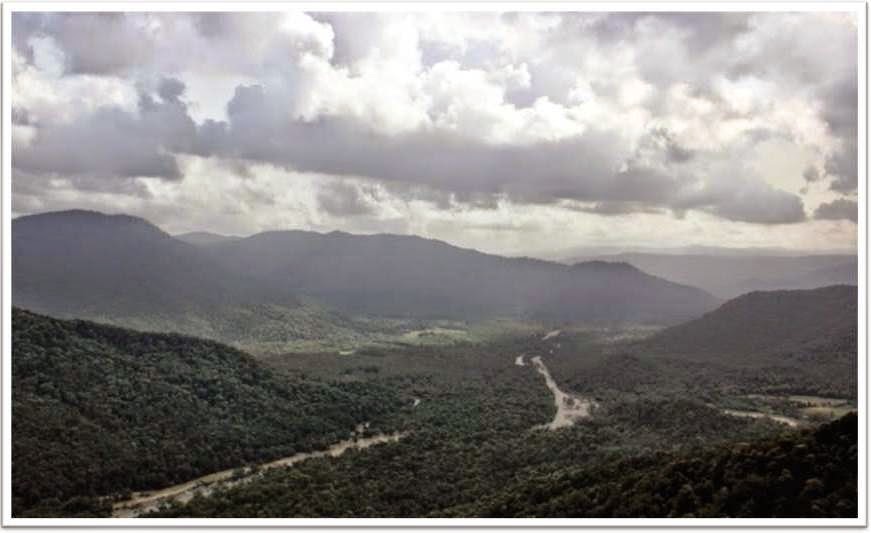 Our plan for that night was to stay in tent's finalised couple of perfect place for camping, but last moment we changed our plans due to rain. Came back to Yellapura and managed to find hotel to stay.
Plan for next day was to visit Gokarna and on the way visit Shirley falls.