Here we go, after riding through wonderful Changla Pass reached Lukung around 3.30 p.m.
First view of World famous Pangong Tso Lake 😊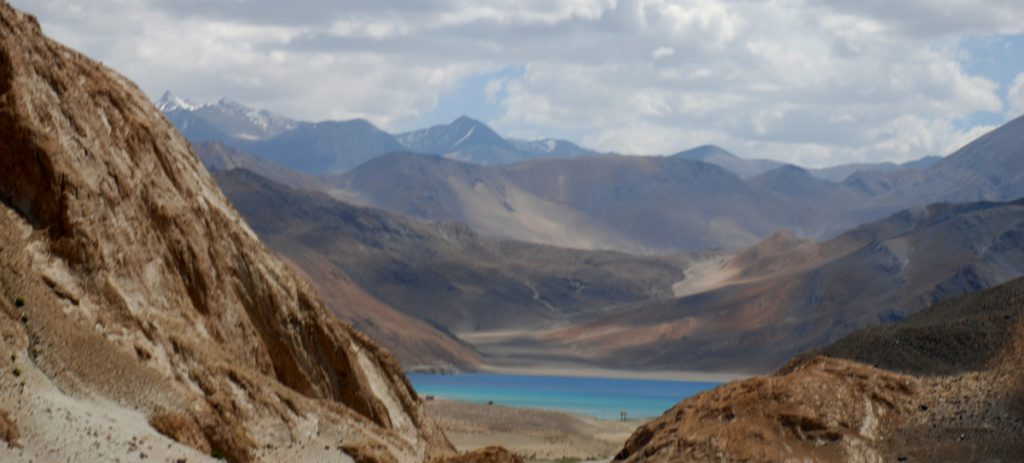 Pangong Lake is the famous & most attractive sightseeing point at Ladakh. Splendid, wonderful, colourful lake beauty which is not describe in words. One third of the lake is in India while the remaining two thirds lies in China. Majority of the streams which fill the lake are located on the China side. The lake has become a star attraction after being featured in blockbuster movie '3 idiots'.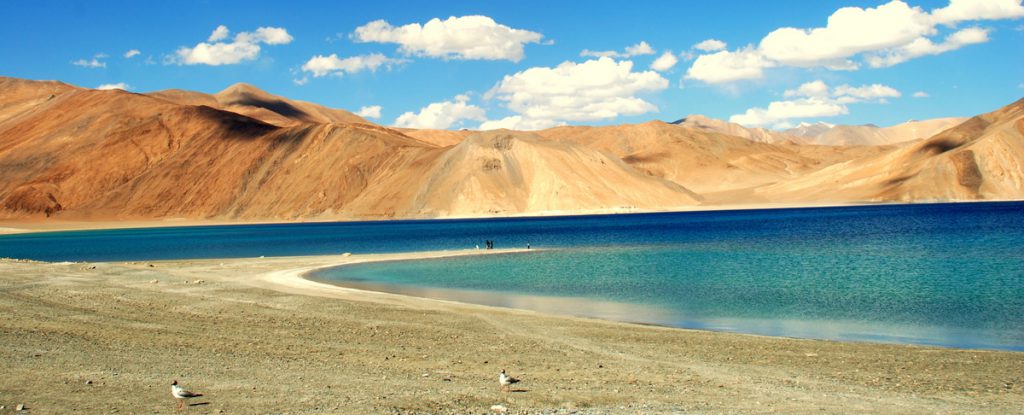 First we decided to fill our empty tummies and then go near lake. Funniest thing which I observed here was restaurant names, these guys were totally influenced by 3 idiots movie, most of the restaurants were named as movie characters (3-Idiots Restaurants, Rancho fast food, 3 Idiots cafe)…!!!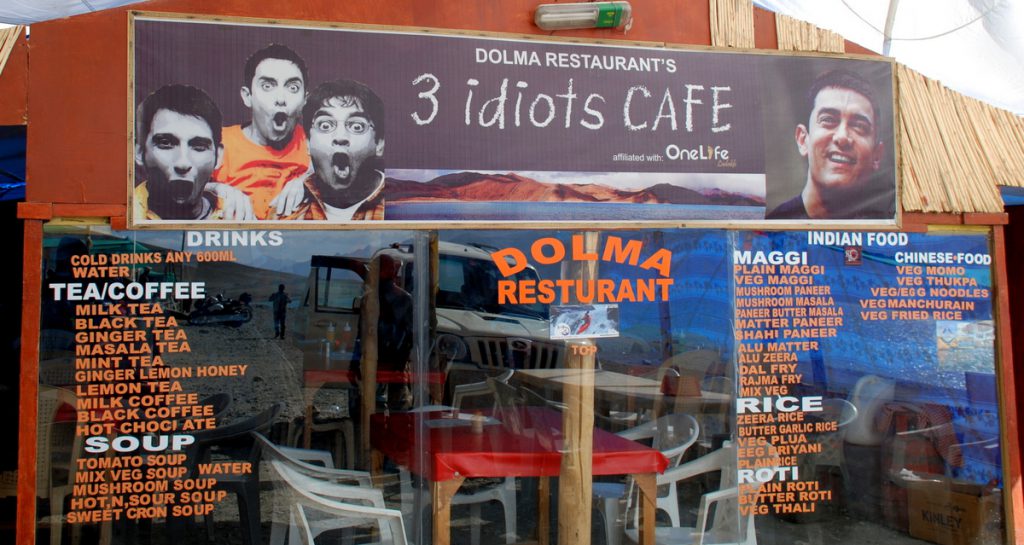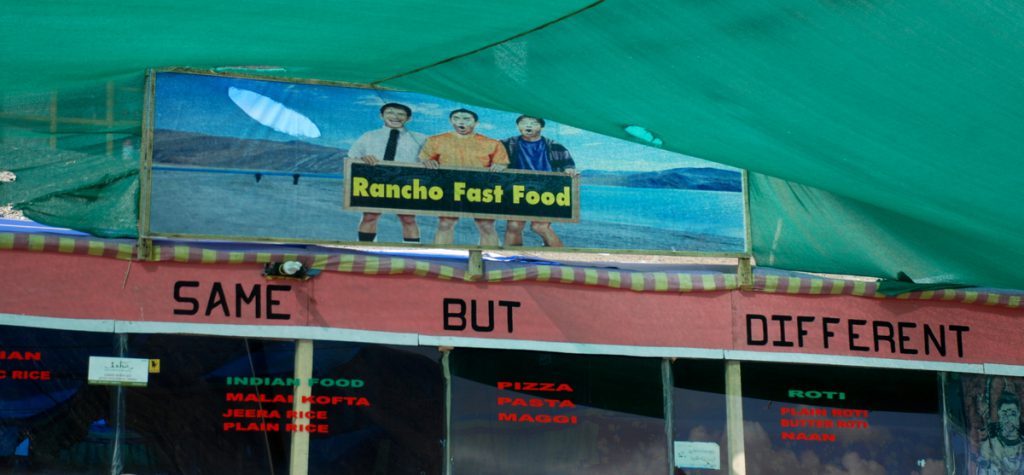 Once we finished our lunch thought of making arrangement for stay. If you want to stay near the shores of the lake then tents are the only option. The choice of stay near and around Pangong Tso is limited. Basic accommodation is available in Lukung, Local households also offer accommodation but most of them have shared toilets or toilets outside the house. Better accommodation is available only in Tangtse which about 35 km before Pangong would be the ideal place.
Since it was getting late we thought of checking options to stay in Spangmik. Checked with couple of tents but they were too expensive, but finally we managed to get tent for 1K. It's totally depends on you how you will bargain. Rented 3 tents for 1K each that to in front of lake.
Now we didn't waste any time, headed towards 3 idiots shooting spot. It's in between Lukung and Spangmik. It's not so easy to reach that point since you need to ride bikes on sand, somehow managed to reach the place. As we approached near it and no word was to explain its beauty. Crystal clear water reflecting the sky was amazing. No doubt journey was tiring but felt great being there.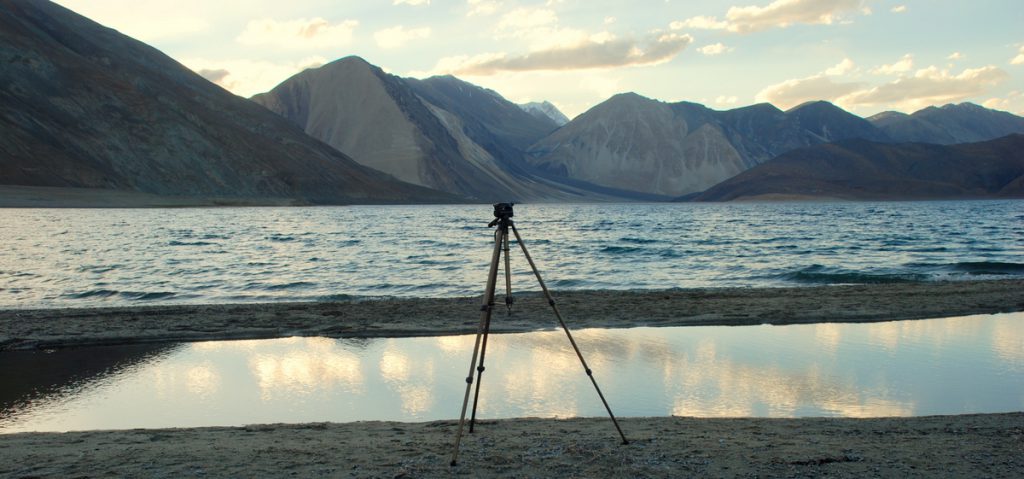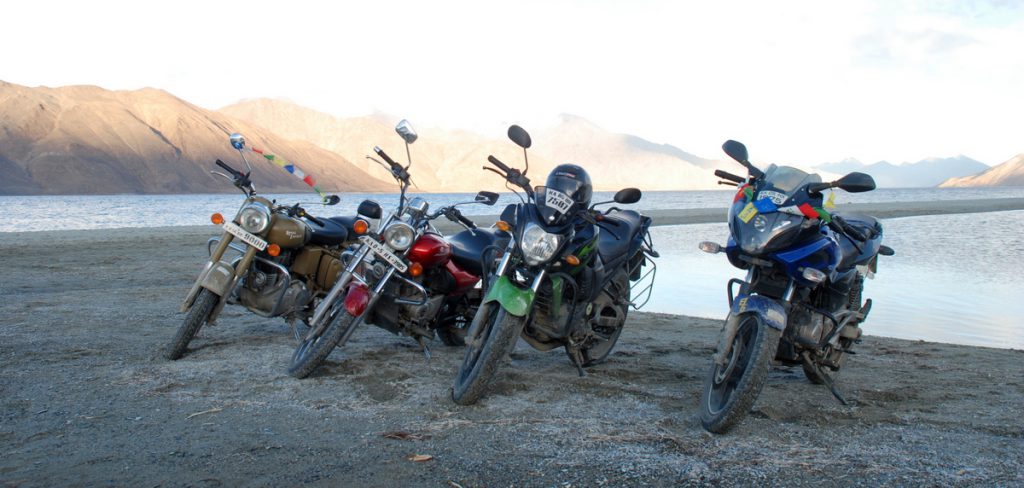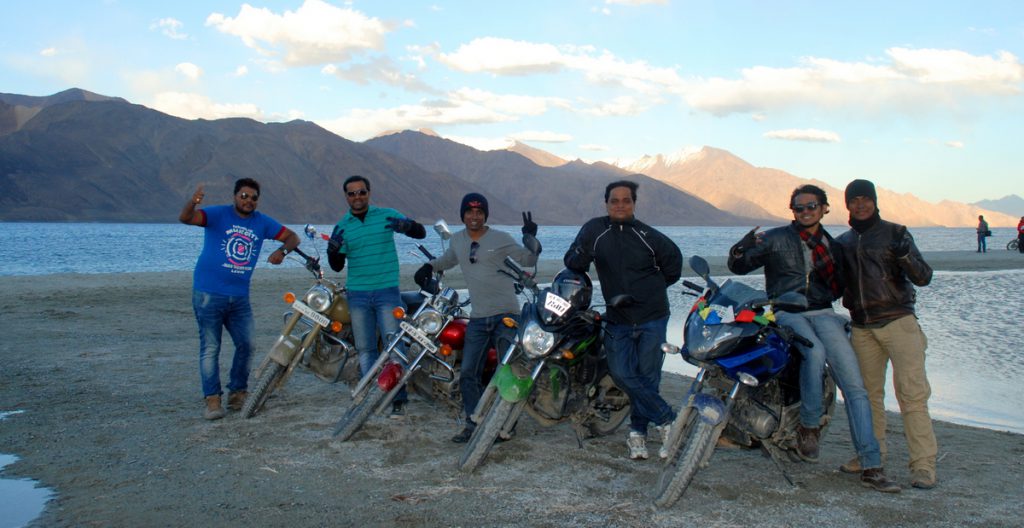 Since we were bit late in reaching the place it was getting darker and didn't get a chance to witness sunset. Time spent in this place was most memorable time of this trip… 😊
Came back to tents, by the time we were back to tents delicious food was waiting for us. After having nice dinner and tough ride throughout the day was feeling damn sleepy and decided to go to bed. Before that clicked couple of pics of our tents under light… 😊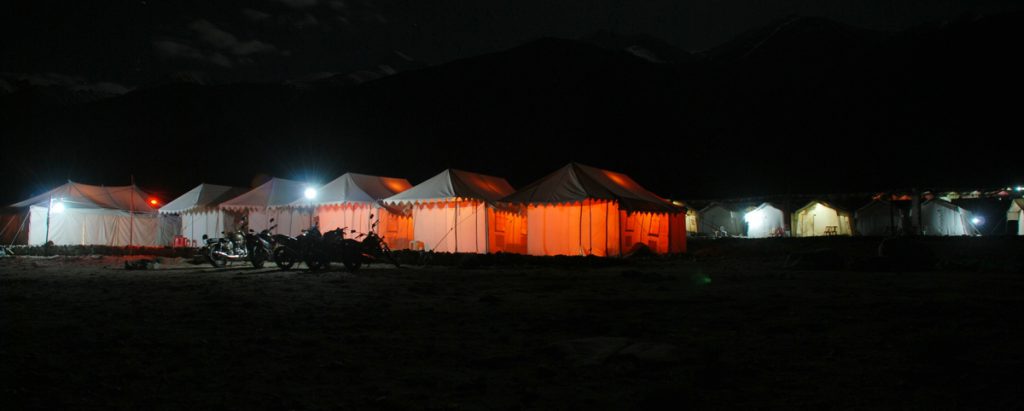 Since we missed sunset, I didn't wanted to miss sunrise in morning, so woke up very early and was waiting for sunrise.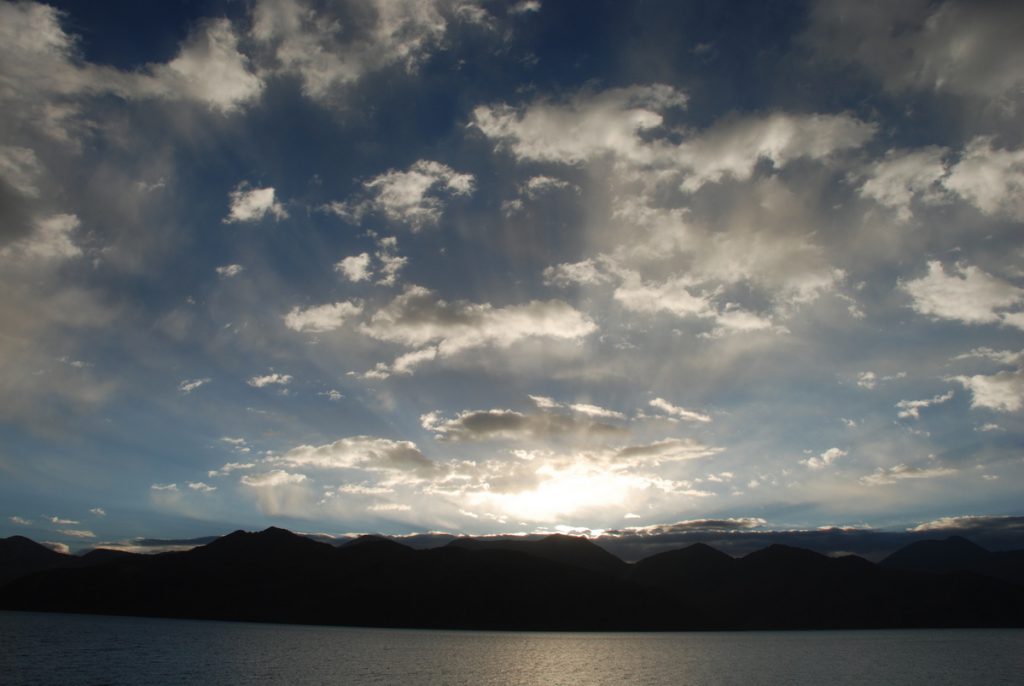 This place is a photographers' delight and camping is the only option if you wish to see the sunset and the sunrise. By the time rest of our team woke up, me and Deepu went for a walk across the lake for photo session.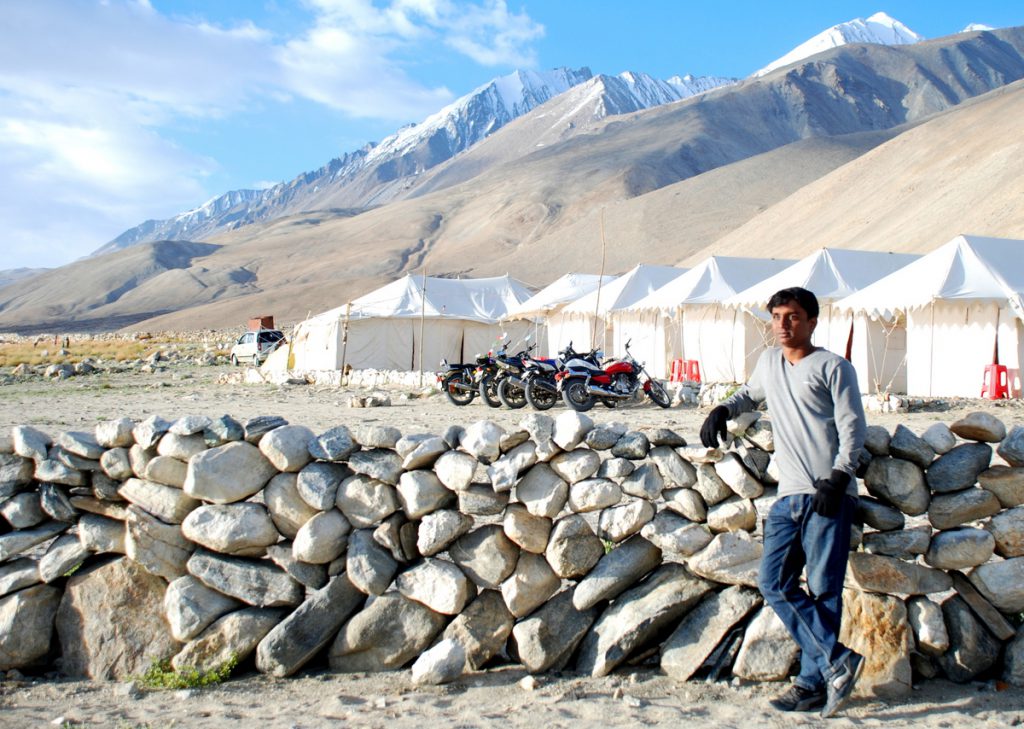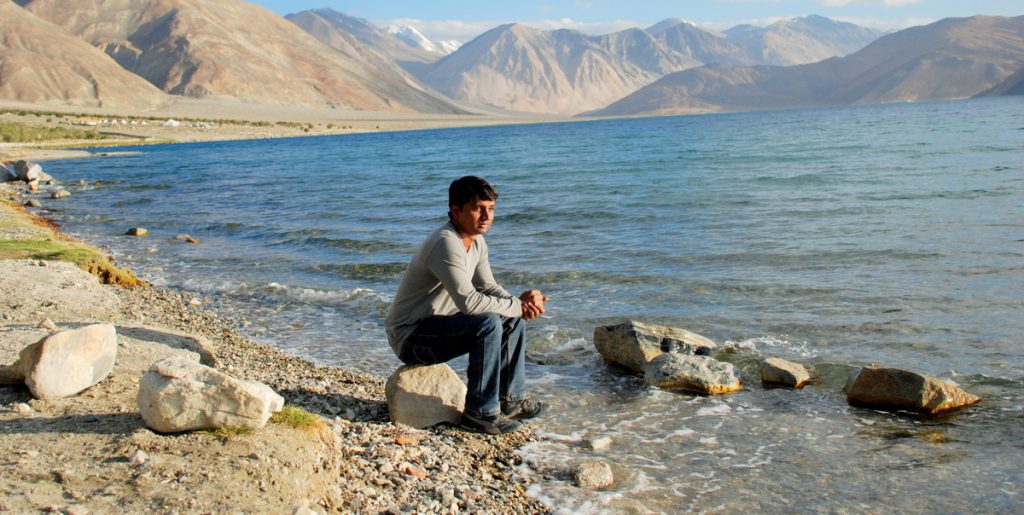 Only one thing I can say about this place "Heaven on Earth"… 😊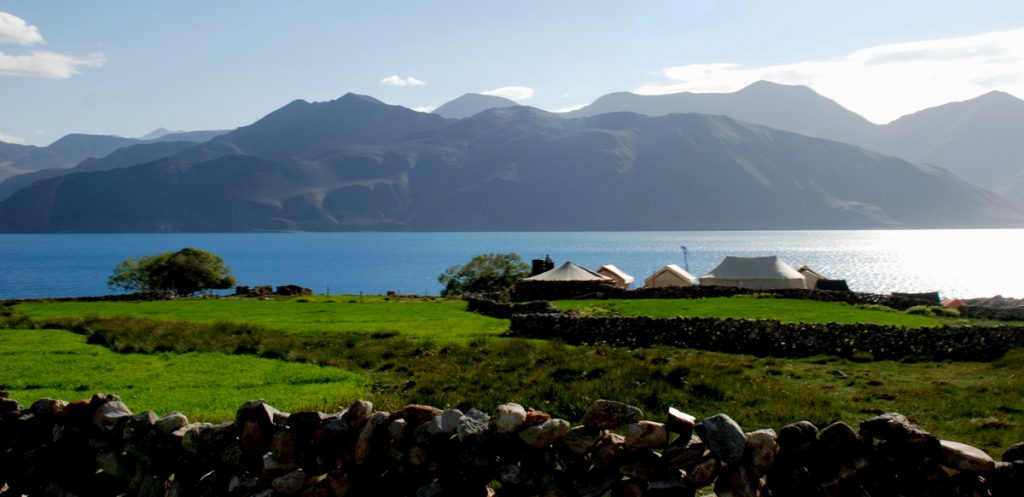 It was time to say good bye to the wonderful place, before we started clicked couple of pics in front of our camp… 😊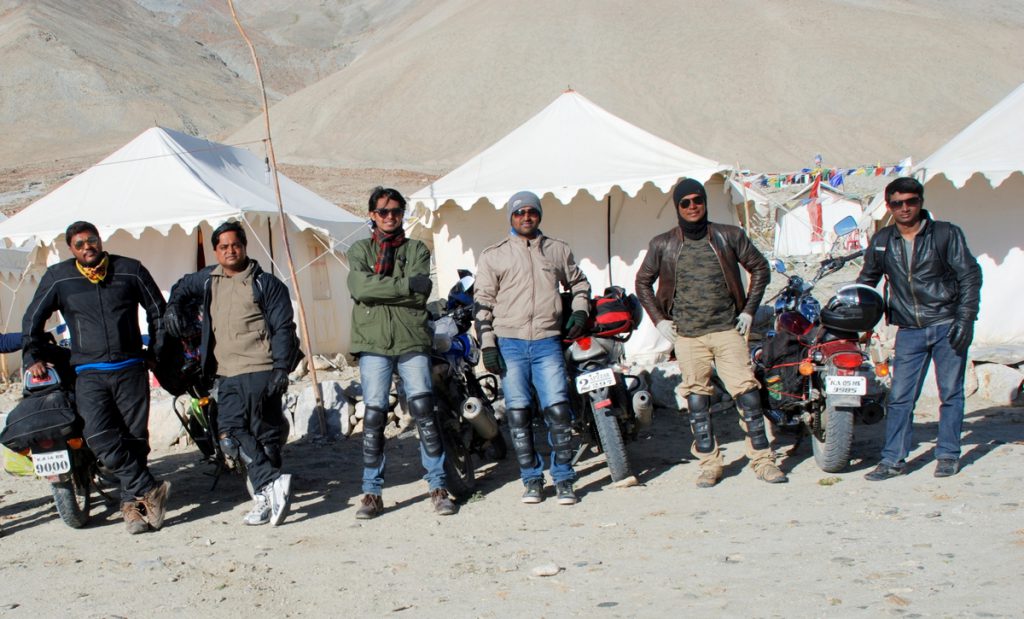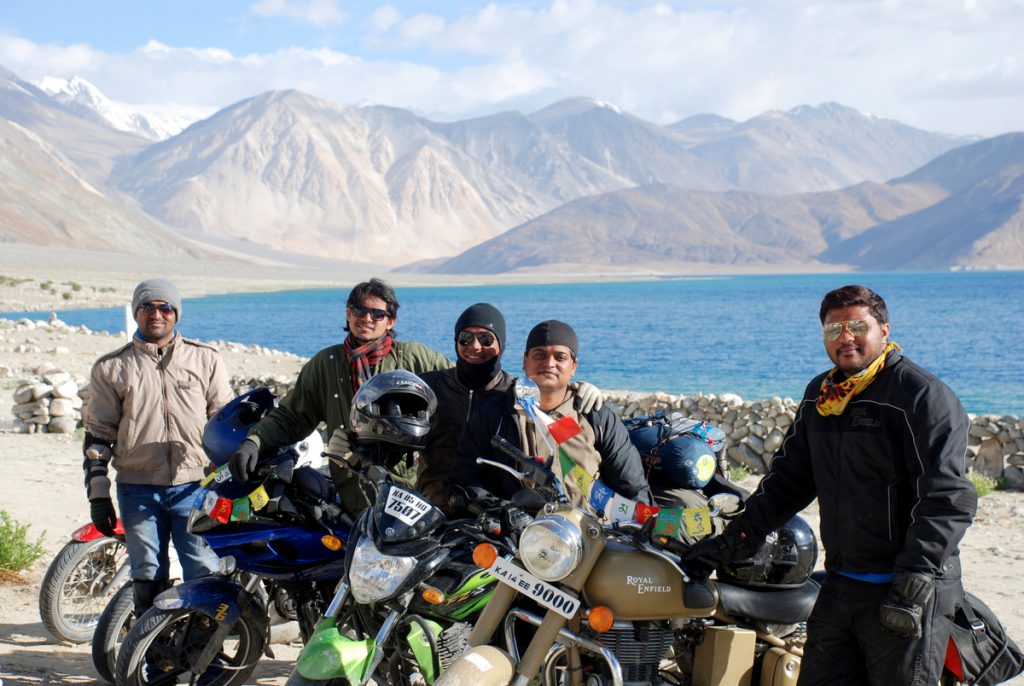 Stopped again at Lukung for breakfast, ordered food in 3 idiot's restaurant and again went near lake for photo session. One common thing with restaurants over here is, they will take minimum 30 mins to 45 mins to prepare food…!!! Instead of sitting and wasting time in restaurant, we decided to go near lake and spend some time… 😊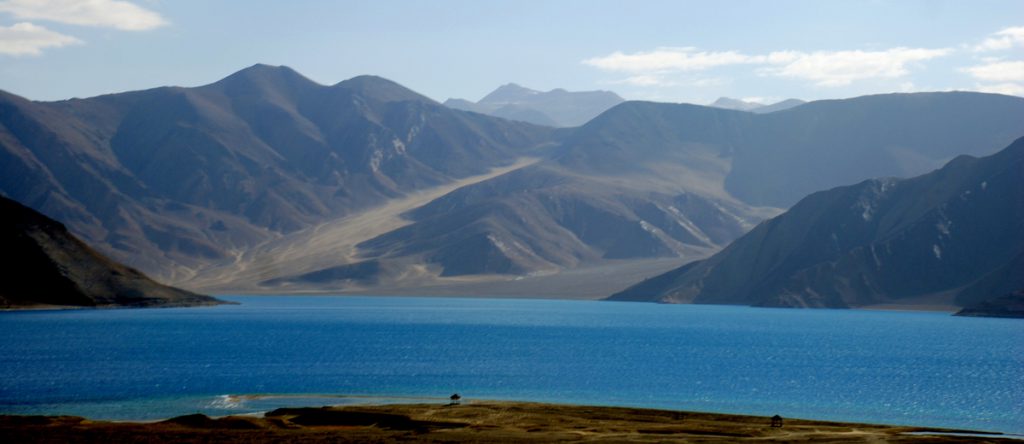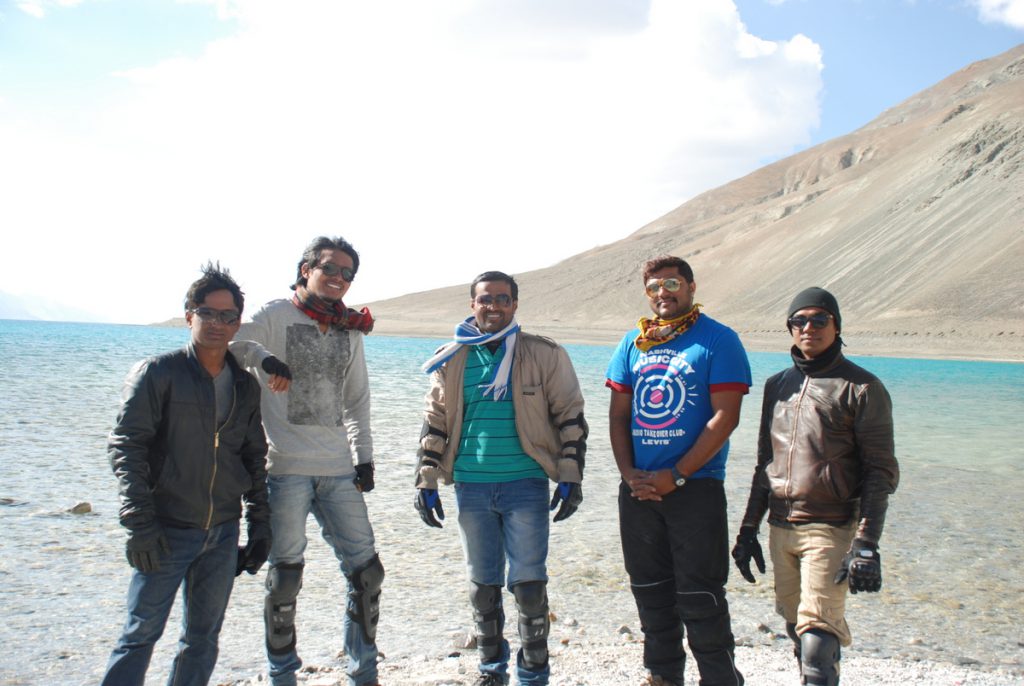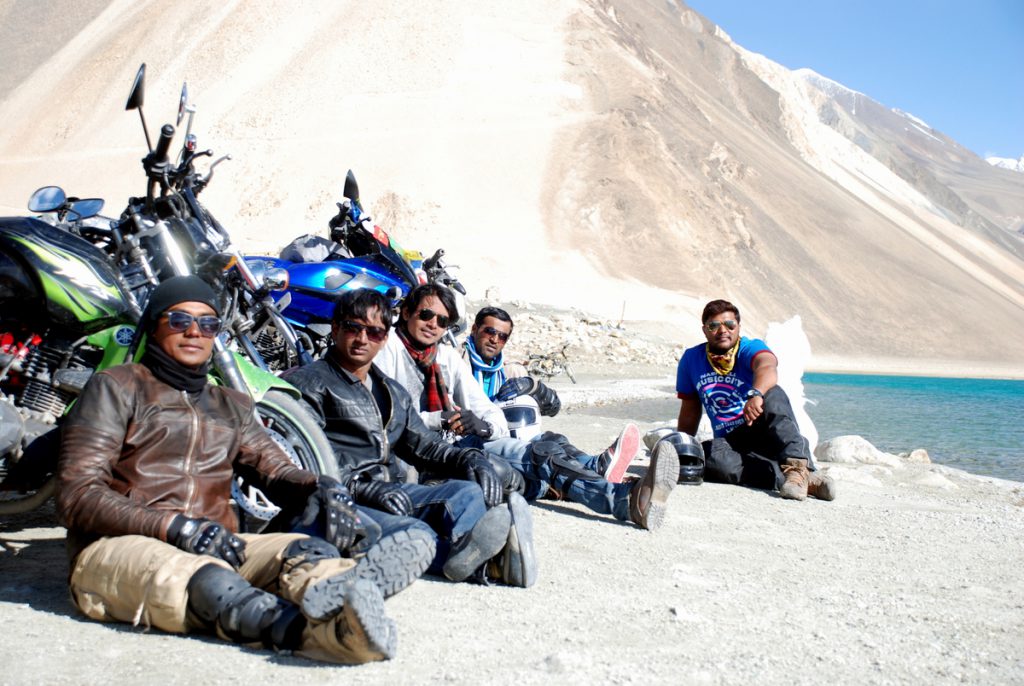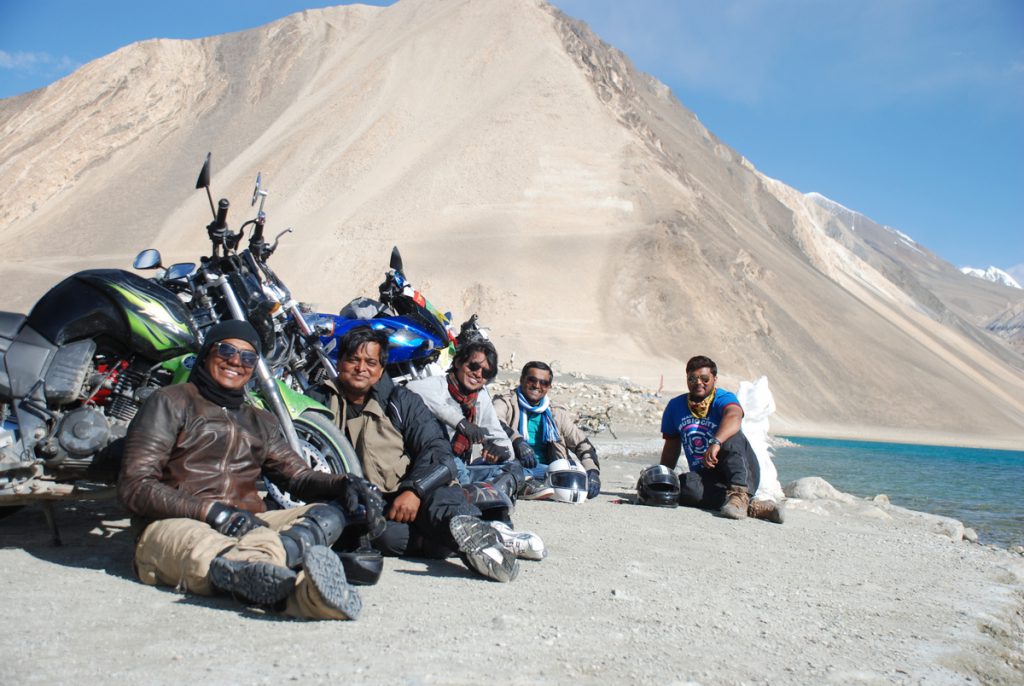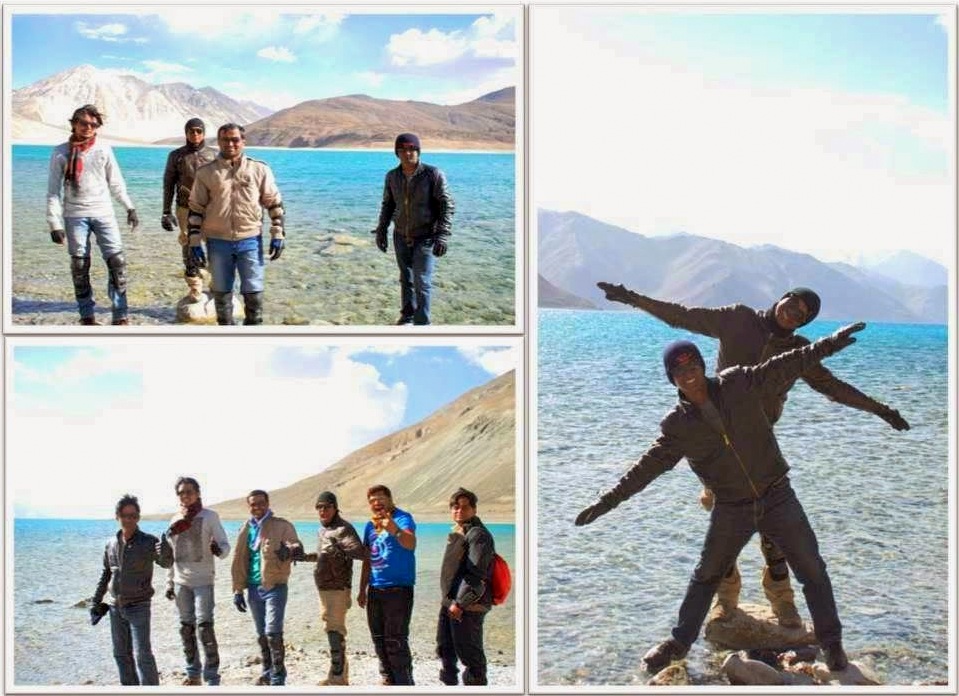 By the time we finished our photo session our breakfast was ready, had our breakfast and left from Lukung. Our plan was to stop near military camp and take pic in front of our national flag.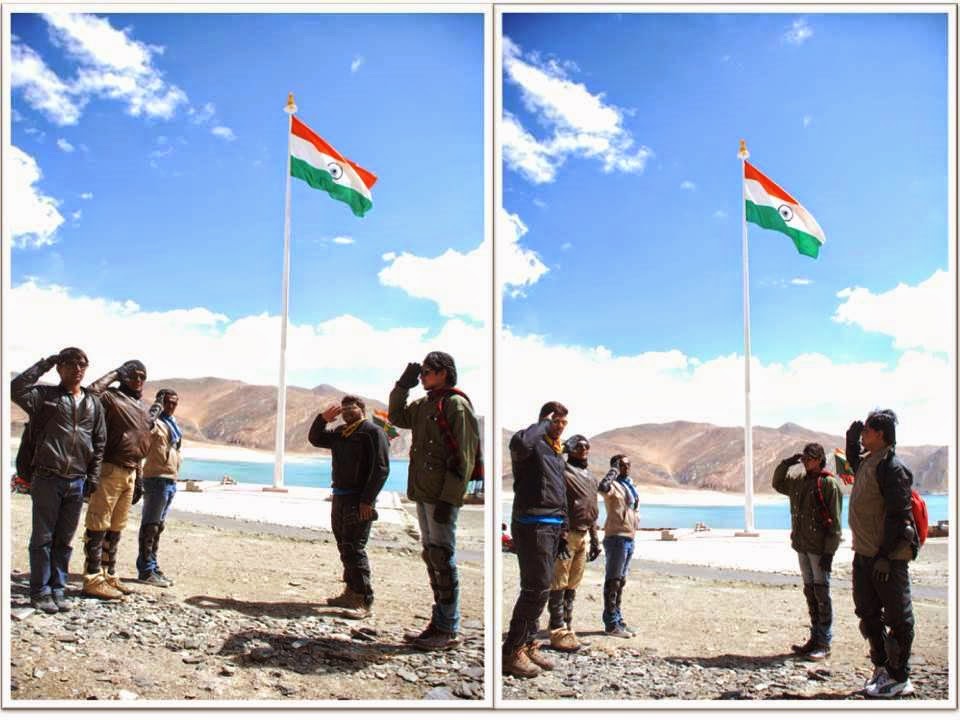 Started from Lukung military camp, our next stop was near Tsoltak for quick break. Once we started from Tsoltak didn't take much breaks in-between and headed towards Leh. Our plan was to reach Leh by lunch time, now all the bikes were running without any issues and even roads were good compare to previous stretch, without much struggle headed towards Leh.
Finally reached Leh around 4.00 p.m. had our lunch and picked all our luggage's from hotel and headed towards Kargil. Since we had enough time to continue our ride without wasting much time started our ride towards Kargil.
Will share experience of riding through NH-1 in next post, Keep reading!!
Cheers… 😊