Ride from Khoskar to Darcha ended covering only 75 Kms for the day. We were in a hope of clear roads and crossing the blocked streams.
Woke up early morning and came out of the tent. Already vehicles started moving. Checked with one truck driver who was coming from the other end about road, he said now it's clear you can move. Started packing all our luggage's and tied it to our bikes. Had morning tea and left Darcha around 6.00 a.m. Due to block from last night, early morning only there was bit traffic. Sun rays were falling on the mountains and perfect day to start.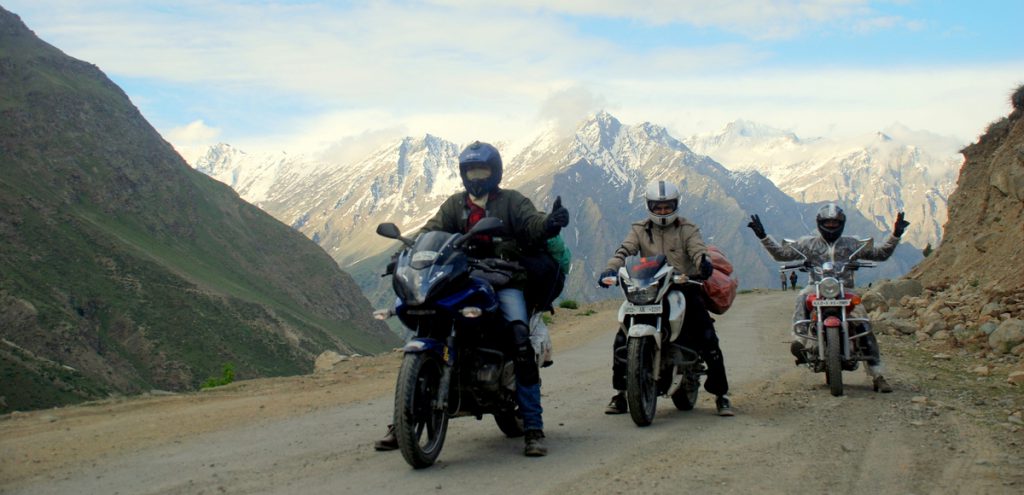 Not even 5 Kms we travelled, Stream was in front of us. On cold morning now it's our turn to get into chilled water. Our legs were completely wet even though we covered with plastic cover. Removed all our shoes, covers and we were waiting to dry our wet foots. One more gang of bikers came at the same time and they struck in stream, ran down to help them in bare legs and that time I realized what does cold (chilled) water means. Pulled both bikes out of stream and my legs were literally shivering due to cold. Later we realized that our legs won't dry if we stay at this place. With wet boots and wet cloths only decided to continue our ride.
Meantime 2 foreigners came on bicycle, they just removed their shoes and easily crossed the steam and continued their ride… 😊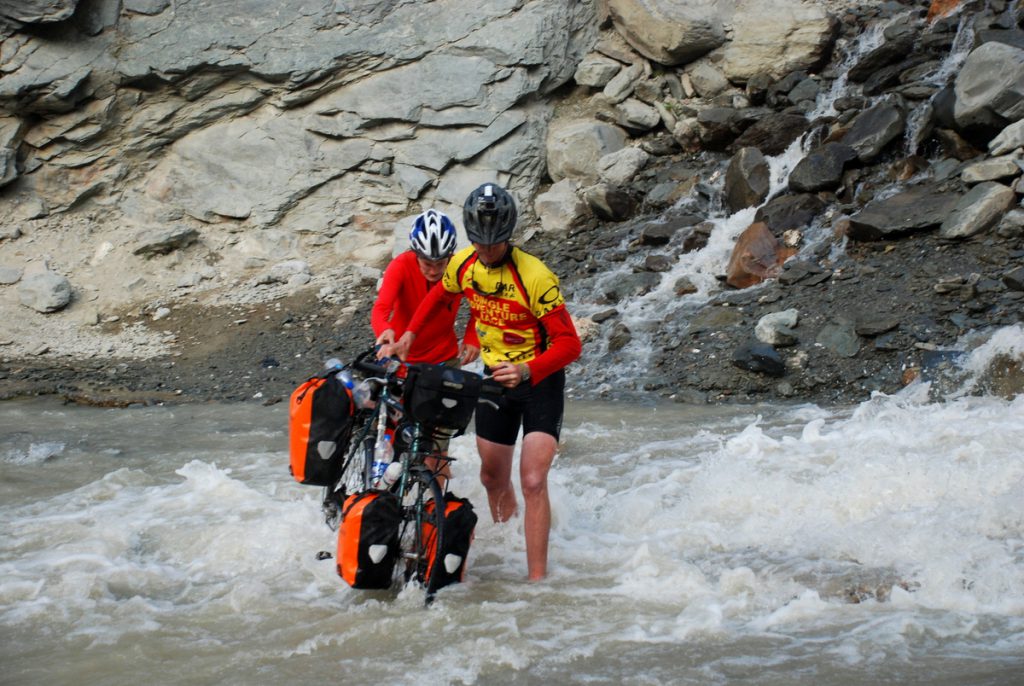 After seeing these guys we have not wasted any time and just continued our journey in wet cloths only. We reached a place where land slide happened last day, now slowly (with lot of circus) vehicles were moving through this pass. There was no road at all, for me it was appearing like waterfalls only…!!!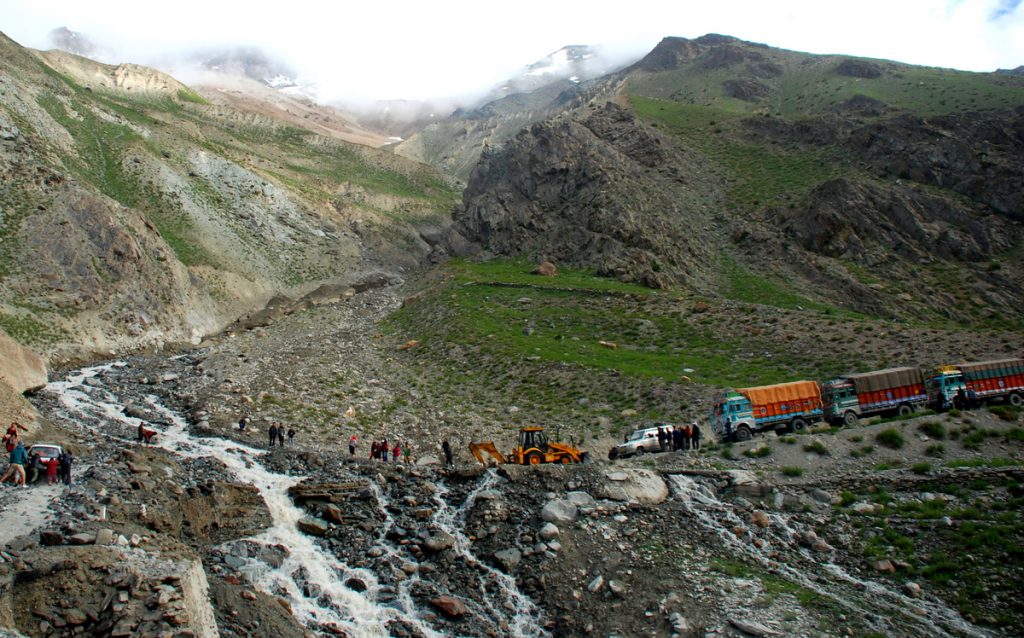 Deepu managed to cross this stream with the help of localities before we reached this place. He parked his bike on other side and came down to help us. Whichever bike you might have, you may be an expert rider but in this place you need help of others to cross this sort of streams. Pulled all our bikes one by one and passing through stream showed us the meaning of hell… (As I mentioned earlier, you will experience both heaven and hell at this stretch). Now we stared cursing the streams whenever we have to pass it.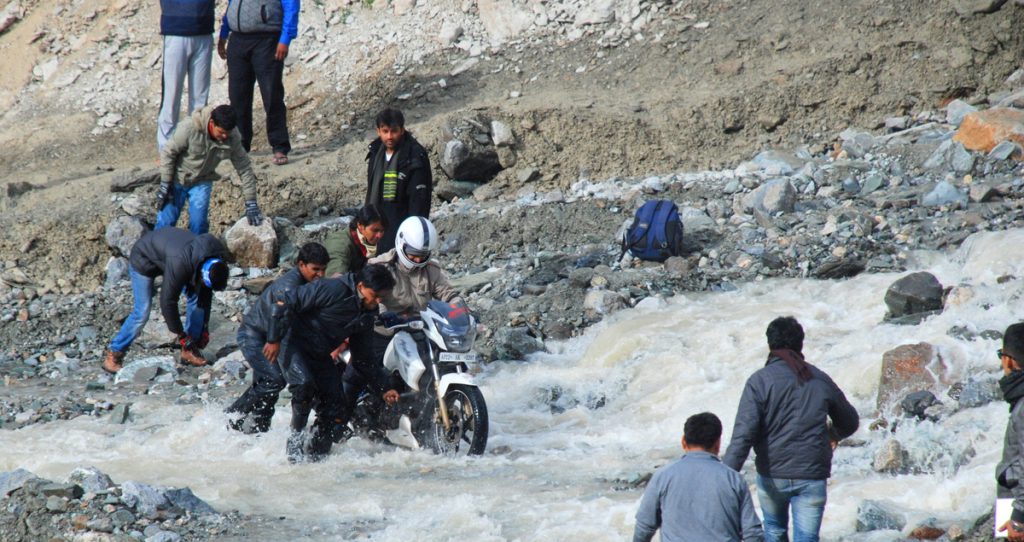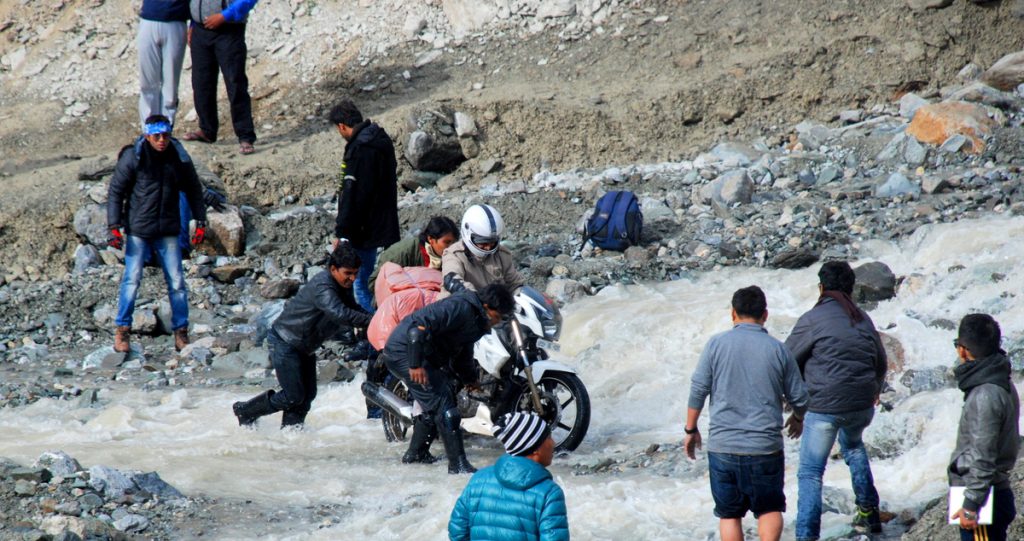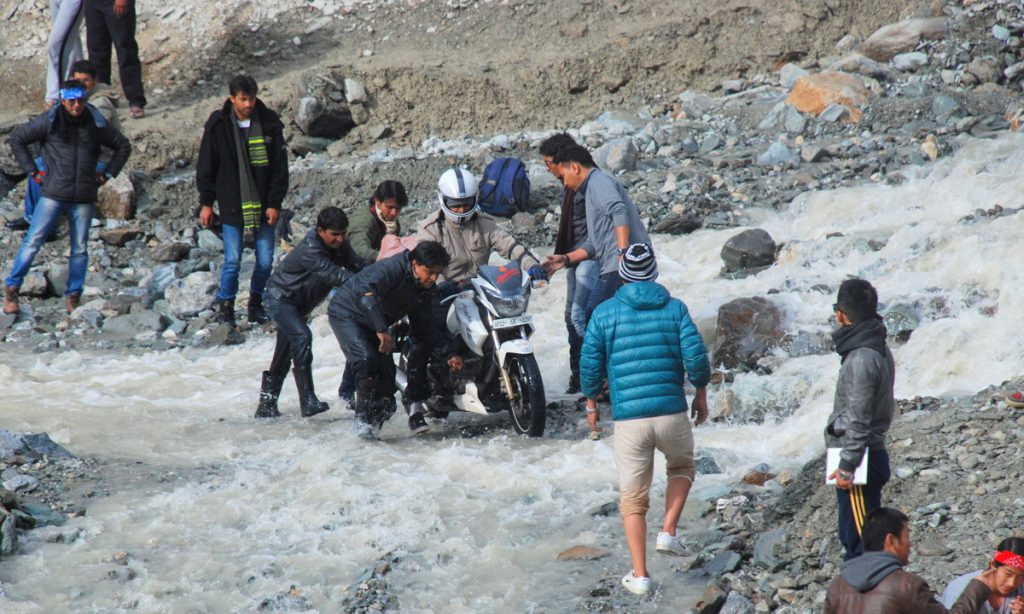 We thought of drying our wet foots, but the truck drivers asked us to take our bikes out of the way so that they can move. So with no other option moved forward.
Once we crossed this stream road was awesome, the beauty sounding us made us to forget the toughest path which we passed. It was just amazing ride.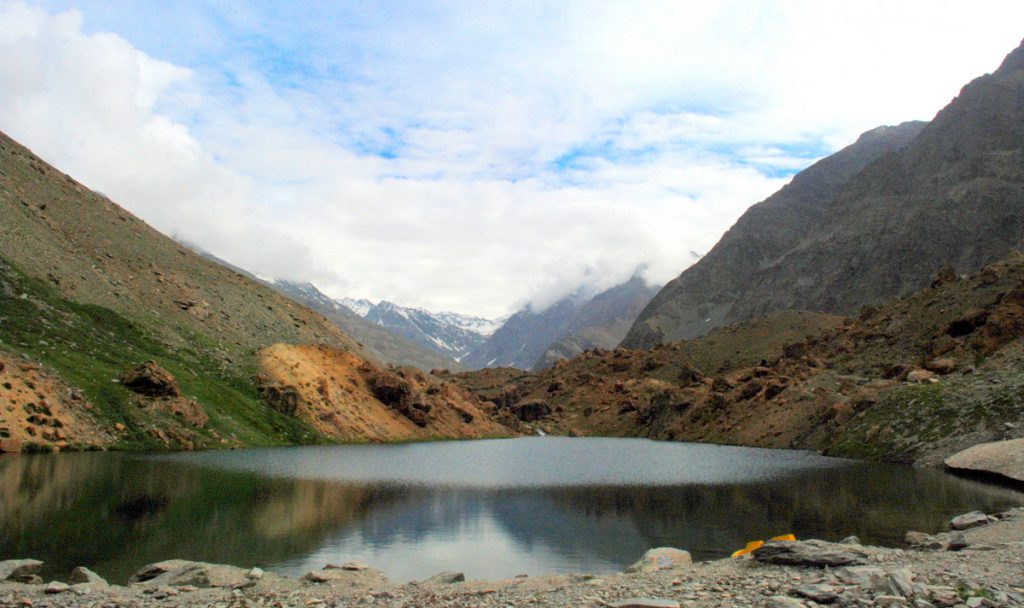 Thought of stopping near Patseo — Army camp, but rest of our team members were already moved ahead so without stopping we just rushed to catch them.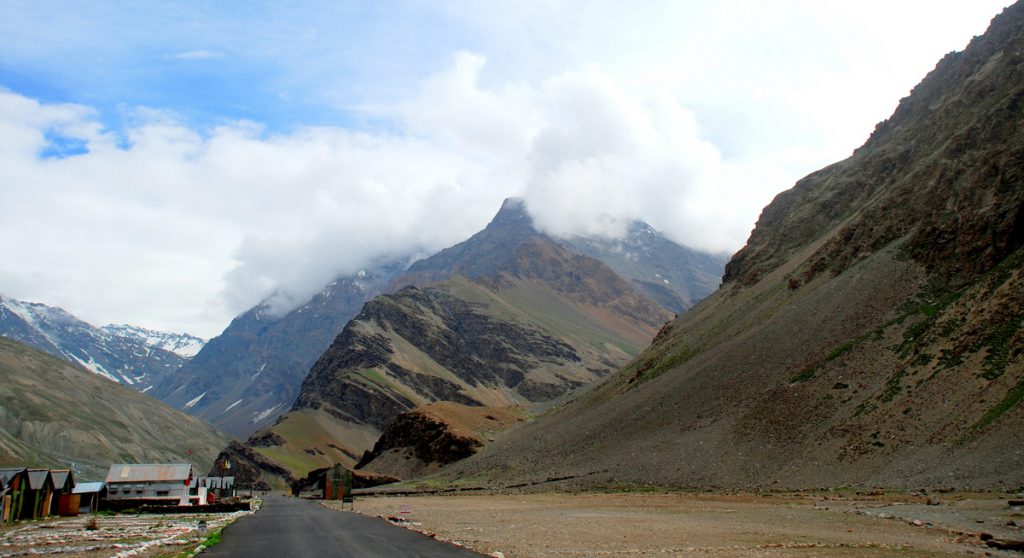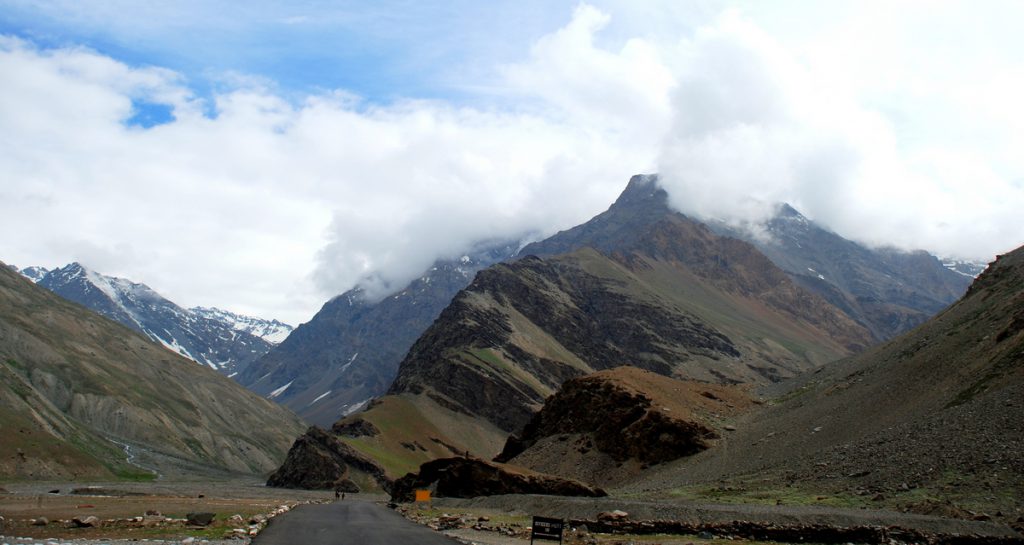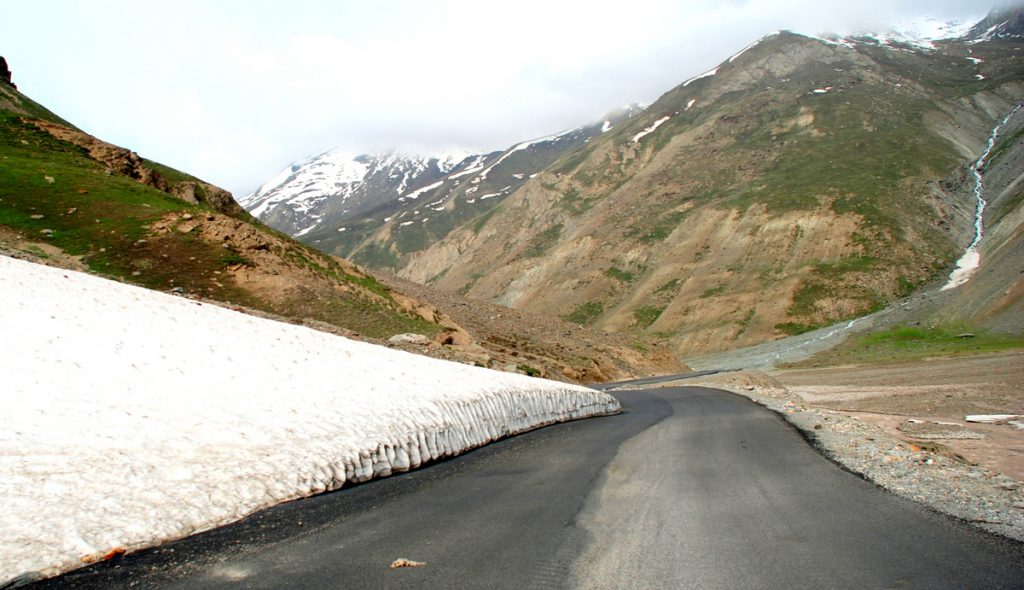 Not even 10 Kms we enjoyed this ride, saw a huge traffic jam from far, all trucks were waiting in the queue for their turn.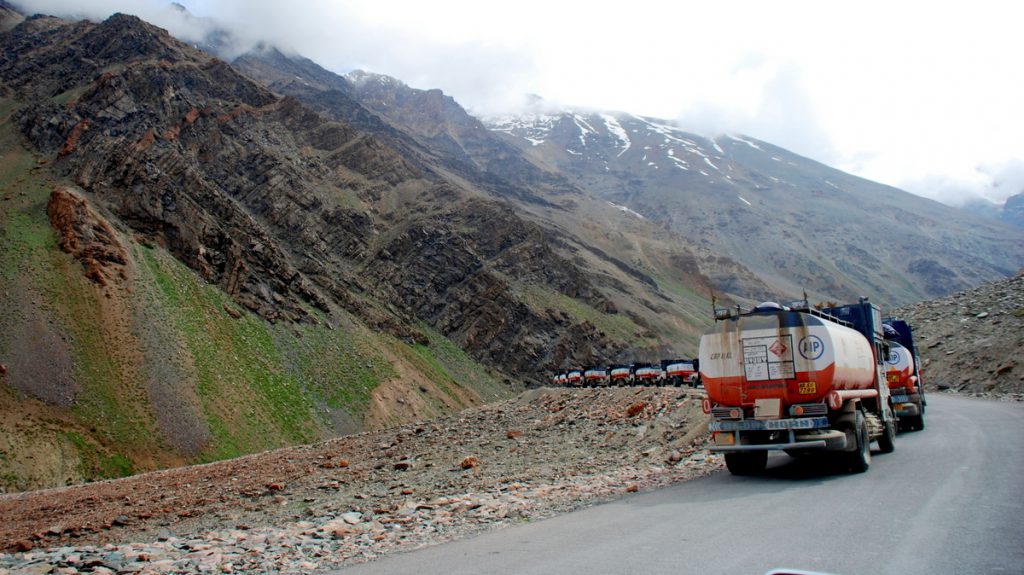 Ohhh… another stream was in front of us. This was also more or less looking like waterfalls. Ride on this roads reminded me dirt tracks :P. They were not stopping bikes, we managed to go front and cross the stream.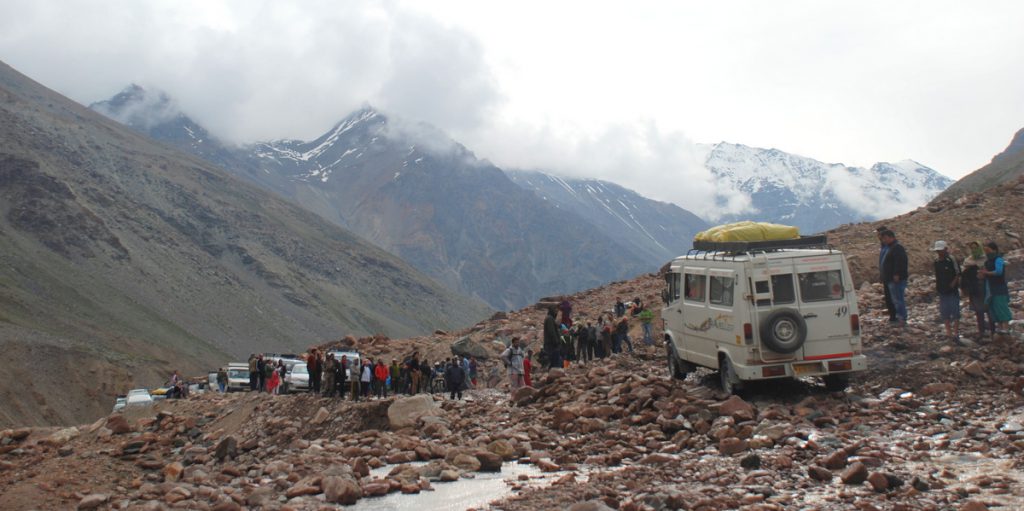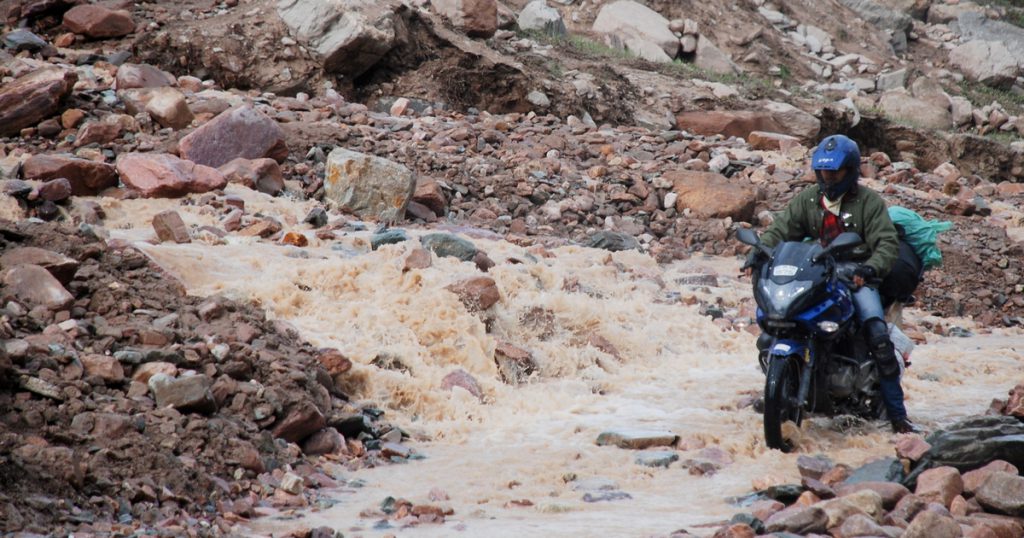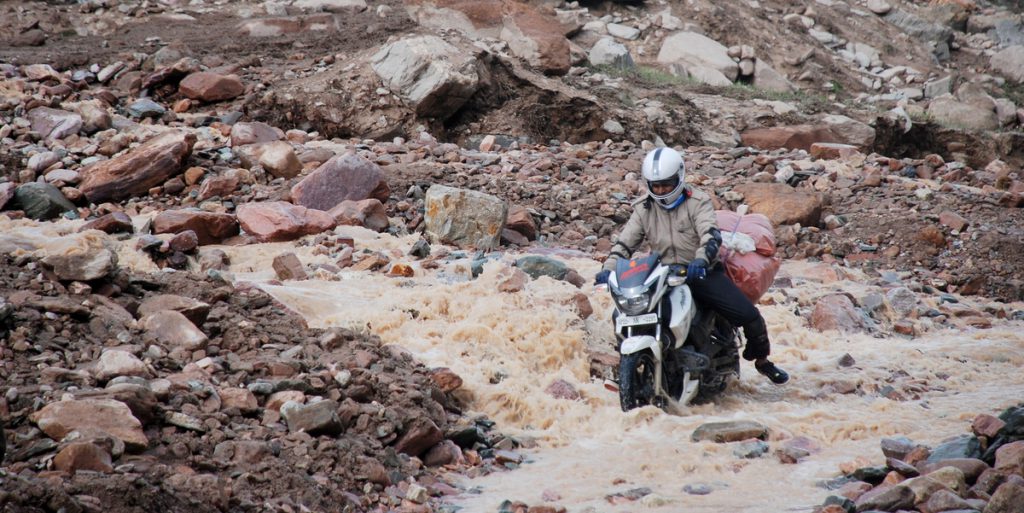 Met one gang of bike riders from Bangalore, they were struck here from previous day afternoon, they were supposed to catch their flight in next 18 hours. Don't know how they managed to reach Manali…!!! Thank god we were not struck on roads like this. At least we got shelter when we stopped our rides due to road blocks. This was the last major road block of this stretch.
Again smooth road was in front of us, thought from now on our ride will be good and we can reach our destination as per plan. No… we were completely wrong…!!! Even though roads were good, Deepu's bike started giving problem, pickup was totally dropped, RPM on the meter was not showing more than 5. Next nearest place was Zing Zing bar, thought we will manage till we reach zing zing bar and we may get mechanic in that place.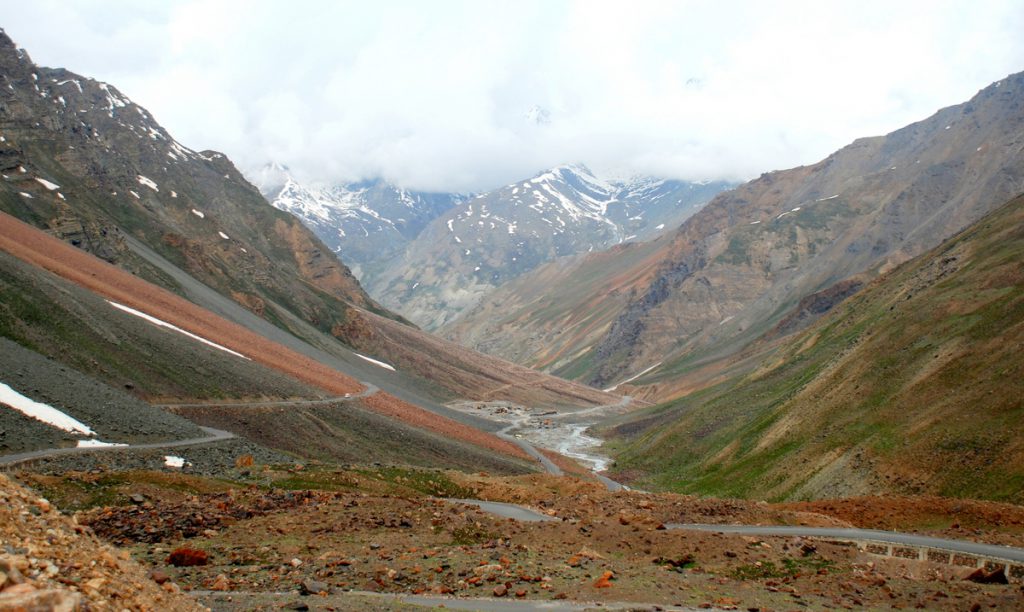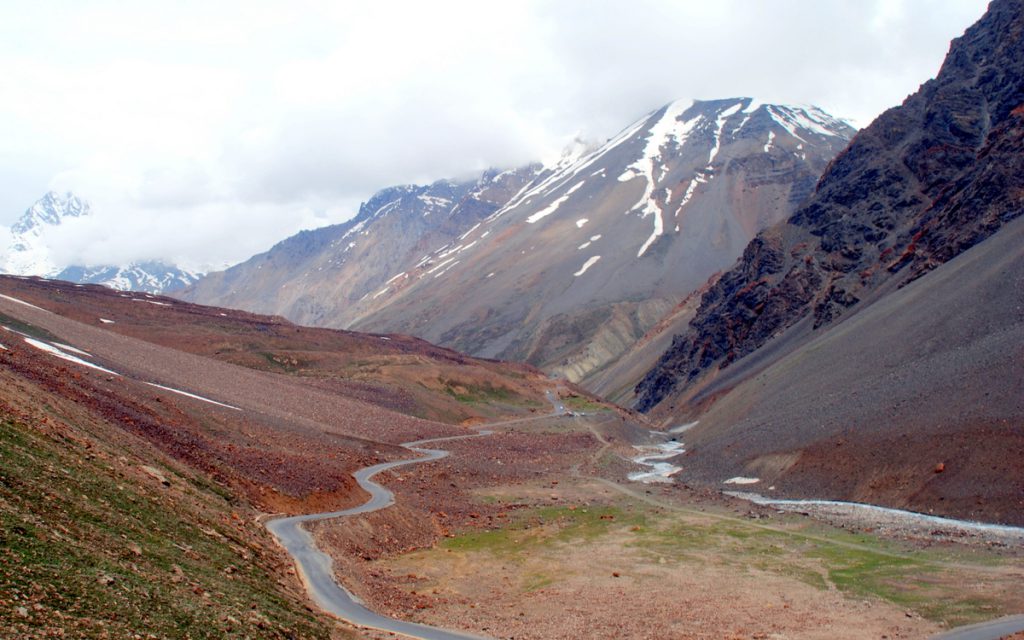 Again we missed our team members, only Deepu, Vagee & me left behind. With all struggle Deepu's bike going front and we were giving some support to push it forward. My stomach was singing song in hungry (guess every ones) it was already around 10 a.m. we didn't had our breakfast and after all the circus, all our energy was burnt out completely…!!!
Over all it was not good start for the day, but once we reached zing zing bar valley we forgot everything. Again this was one of the beautiful valleys of this stretch.
Since we were riding bit slow due to bike problem, rest of our team already crossed zing zing bar and they were waiting for us near road side Dhaba. Ordered for some soup and breakfast, by the time it was ready, try to fix the issue with Deepu's bike. He done some adjustments, for that moment it was looking fine. After all circus relaxed for a while near Dhaba. Met one more group of Kannadiga's, felt so happy to talk to them. Finished our breakfast and continued our ride.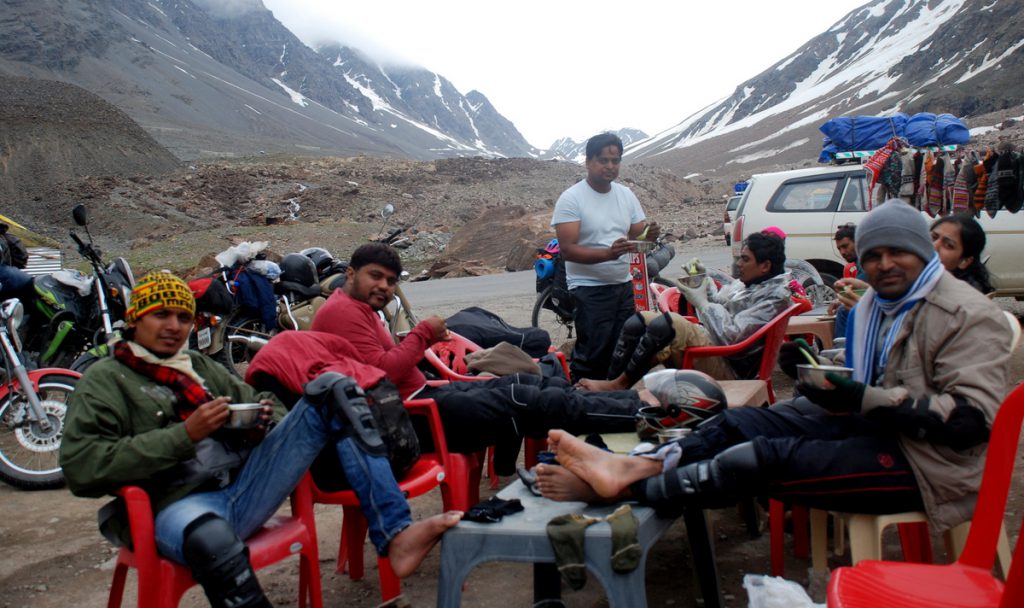 Many songs were running on my mind during this journey, but while crossing this path reminded me song from movie "Jab We Met"… Haan Hai Koi To Wajah, Jo Jeena Ka Maza Yun Aane Laga, Yeh Hawaon Mein Hai Kya, Thoda Sa Jo Naasha Yun Chane Laga…………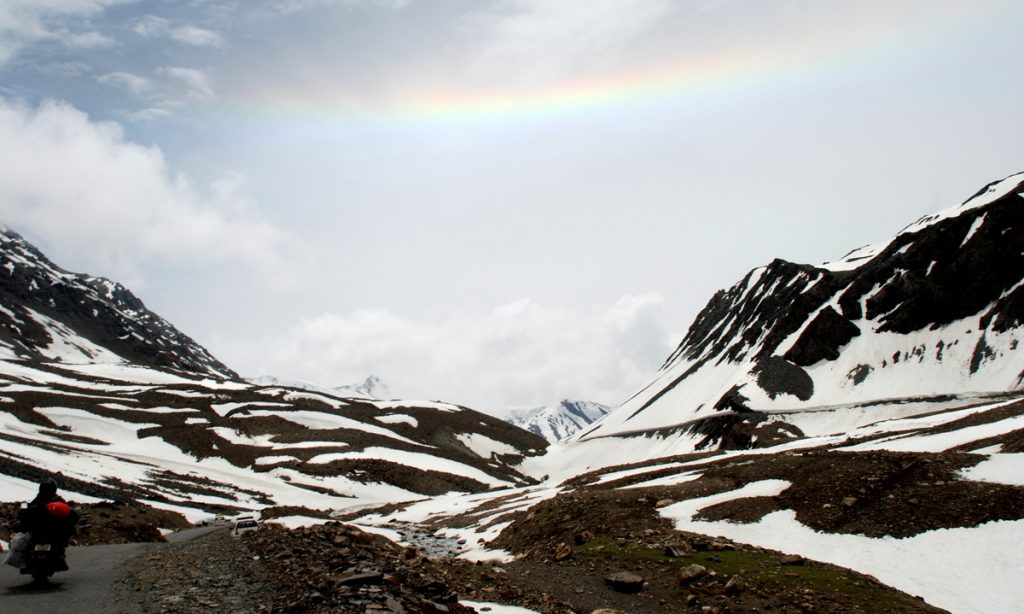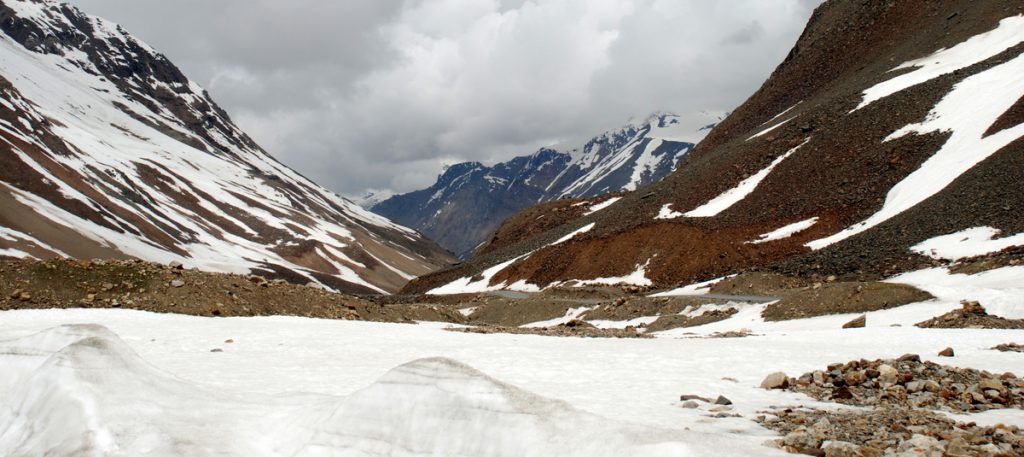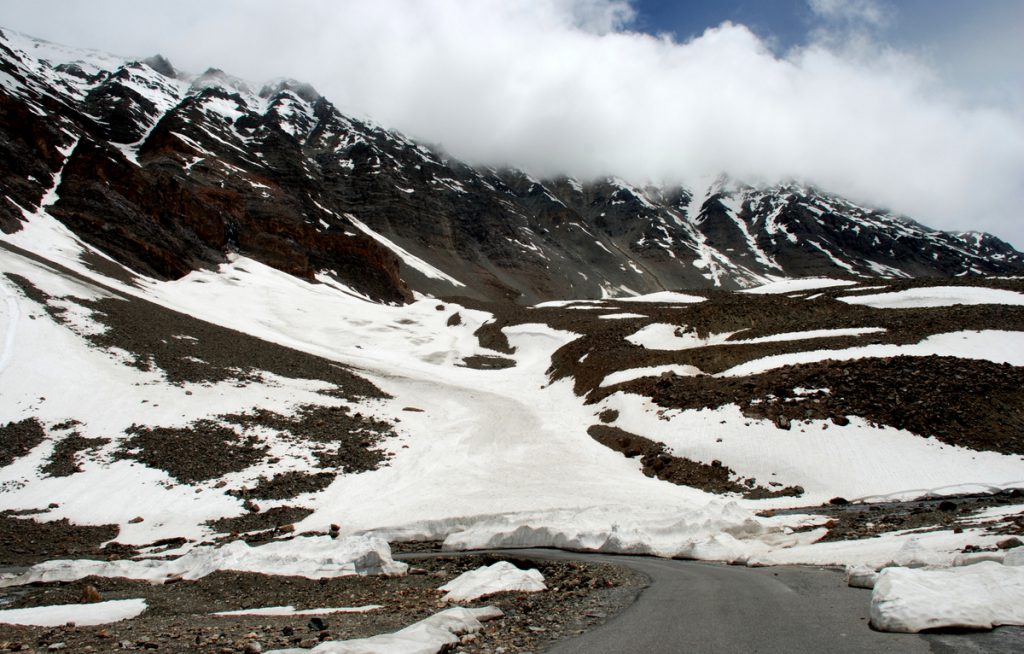 It was totally a new experience for me, saw snow first time in my life in this journey. Though we got snow in Rohtang pass didn't get chance to play in snow. But here again stopped for a while and spent some time playing in snow and as usual in photo session 😊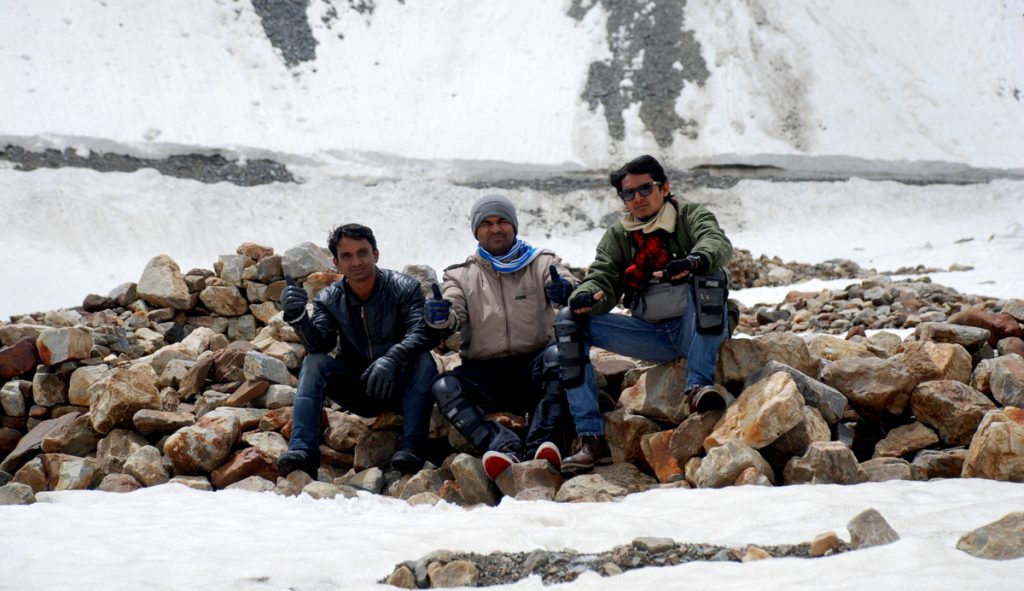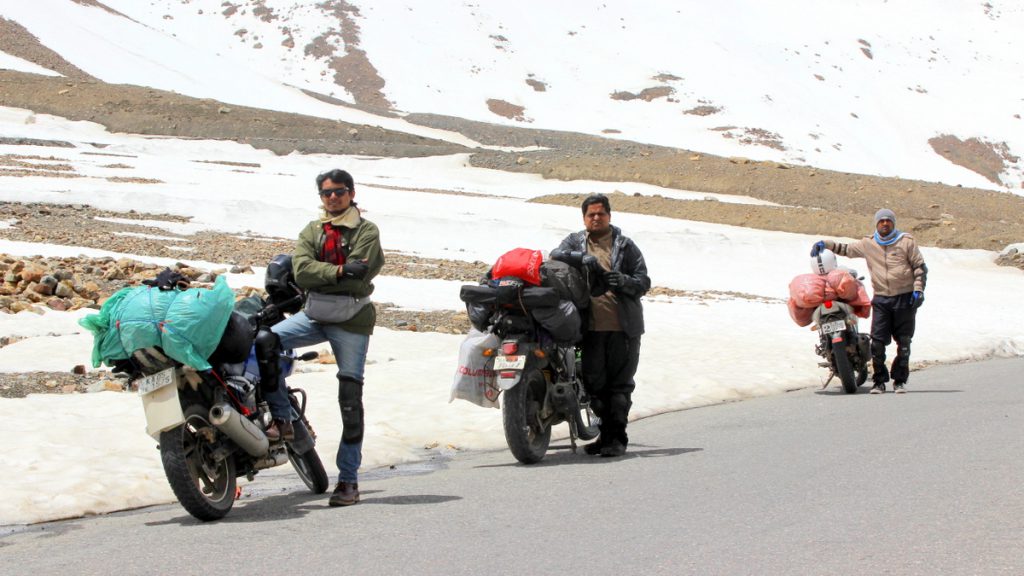 Mean time Deepu's bike was giving problem in other end. Tuning near Zing Zing Bar didn't help. Didn't get any mechanic at this place, but still slowly moved towards our next destination. Pick up was completely dropped; he was struggling to climb uphill's. He was trying many things to fix issue, but still nothing worked out. Our tool kit was tied to another bike, but he went forward so without proper tools he could not do anything.
Though we were struggling with bike issue, never missed an opportunity to capture the beauty around us. 😊 Beautiful Suraj Tal Lake.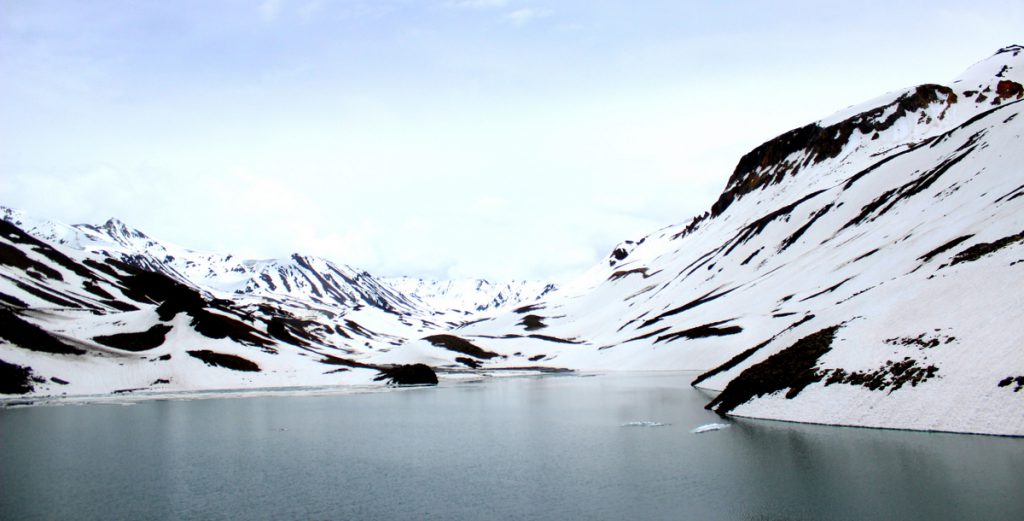 We sensed the problem of standing in high altitude, feeling headache and vomiting sensation, before it get worse thank god reached some Dhaba and took some rest. Its suggested to eat garlic when we hit with AMS (Acute Mountain Sickness), all of us took few pieces of garlic and relaxed for a while. Had lunch and took short nap break and once we felt okay then continued our ride.
This was very hectic day of our ride, not even 10 Kms we travelled again there was road block…!!! Thank god this time it was not because of stream, just a land slide and already JCB was there and they were clearing the block. Thanks to BRO (Border Roads Organization) for such a hard work. Waited for 15 – 30 mins and it was good to go.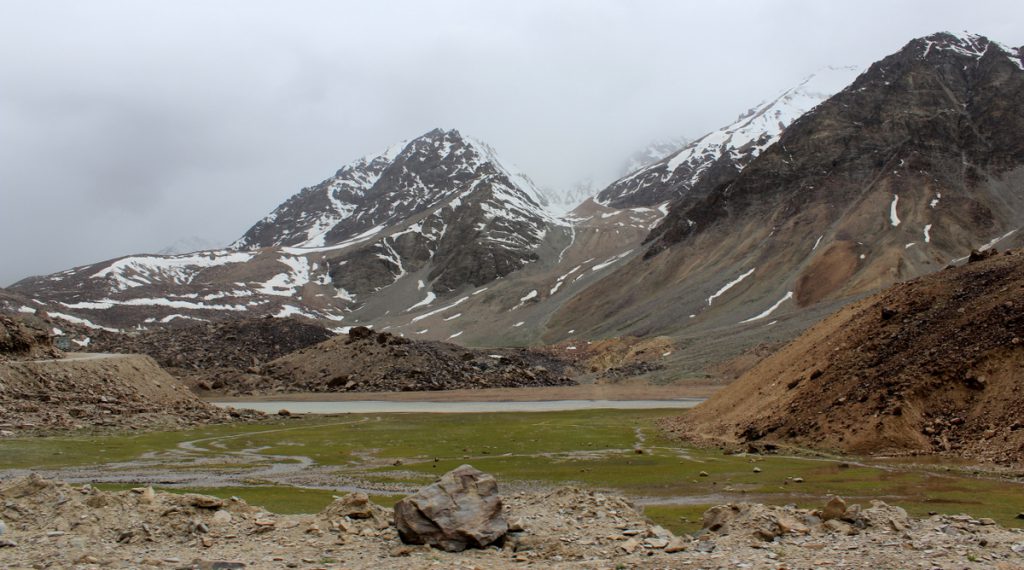 Reached Sarchu around 5.00 p.m. and in check post checked with military officer that how long it may take to reach Pang, he said it will take Max 3 hours. But same time one group of bikers were coming from Pang, when we checked with them they said it will take 6 hours minimum…!!!
After listening that we dropped our plan of reaching Pang and settled in Sarchu only. Managed to get tent house in Sarchu for Rs.200/- per head. Without much negotiation we hired that tent house.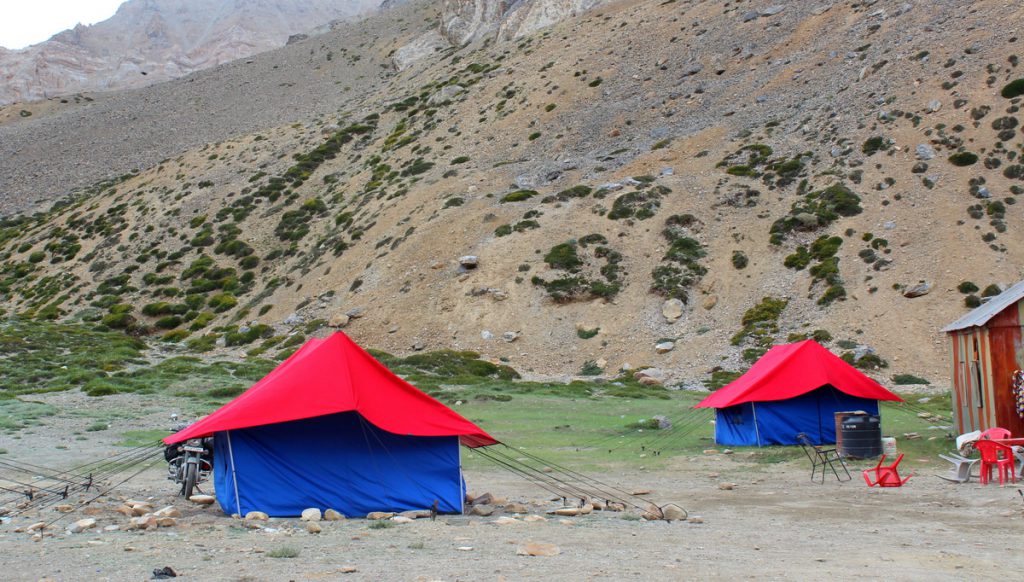 Day 5 also ended up without reaching our destination as planned. We just covered only 74 Kms on day 5. It was very challenging day for us, same time it was one of memorable day of our ride 😊
More memorable ride story in following post, keep reading!!
Cheers… 😊