Khoskar is around 70 Kms from Manali, Day – 3 ride was limited to covering only 70 Kms. We were forced to take this ride and change our plan at last minute. By the time we reached and settled at hotel it was bit late, we needed some rest and new start for our ride.
Morning when I just came out of room, I was just stunned by looking around. It was a beautiful morning and could not imagined we were staying in such a lovely place. Because of night ride we could not witness the beauty of the place when we reached Khoskar.
Ran inside the room, picked up camera and started capturing the beauty of this place.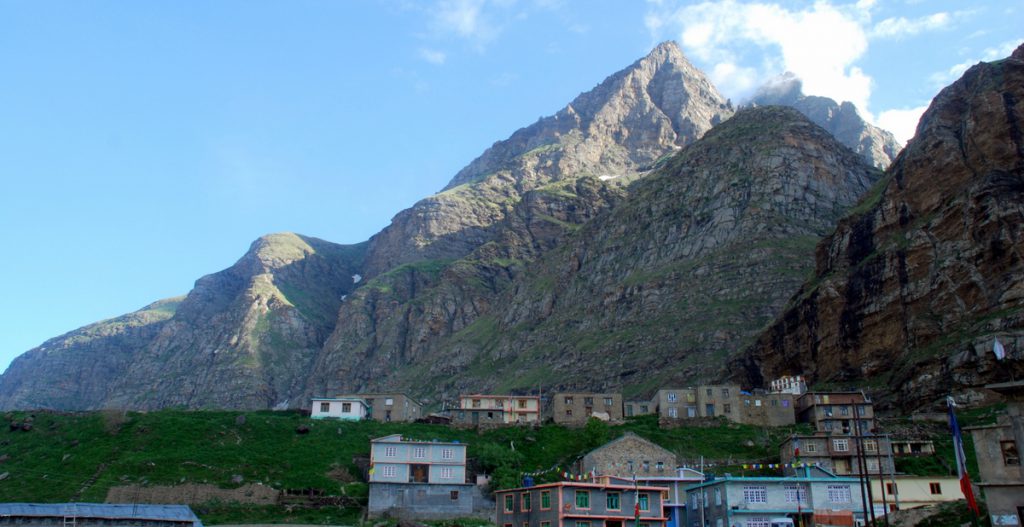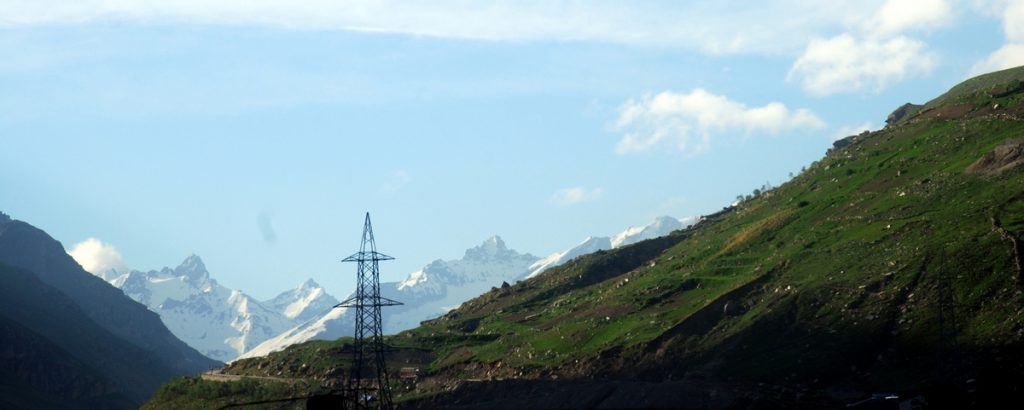 Mean time every one woke up and started packing. Had early breakfast since taste of food was good at this place. Before we started our ride, it was time for photo session (Even though we didn't had bath every one gave pose to camera nicely 😛 Including me :D).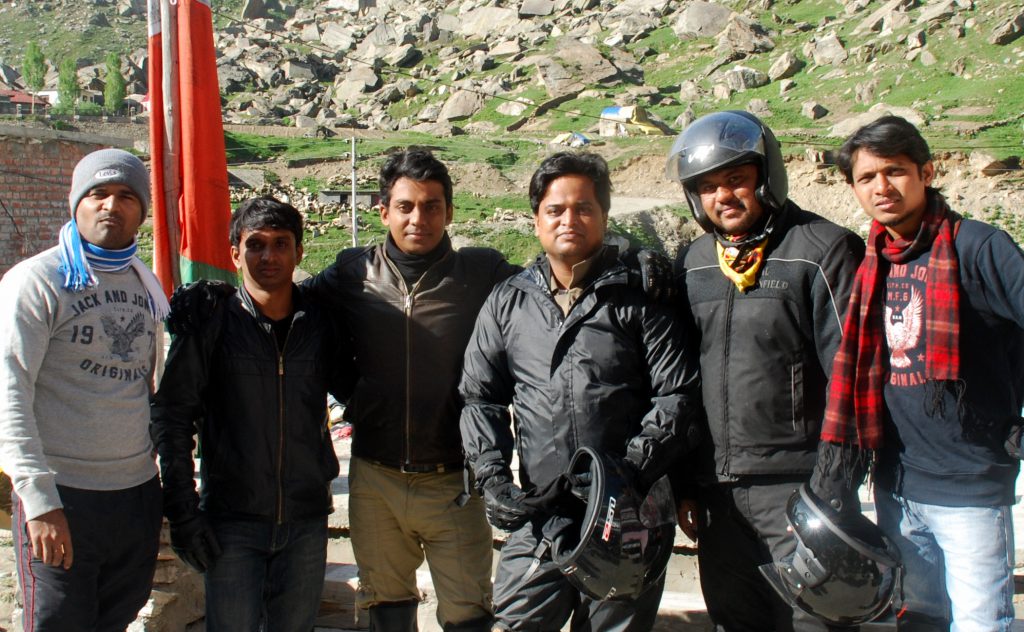 Plan for the day was to reach Sarchu which was around 150 Kms, If possible Continue further and reach till Pang. Started from Koksar around 7.00AM. Though we woke up early morning, by the time we finish our packing, tying our luggage's to our bikes, breakfast, Photo session and all it turned 7.00 a.m. Said good bye to Devanand Uncle 😛 and continued our journey towards paradise.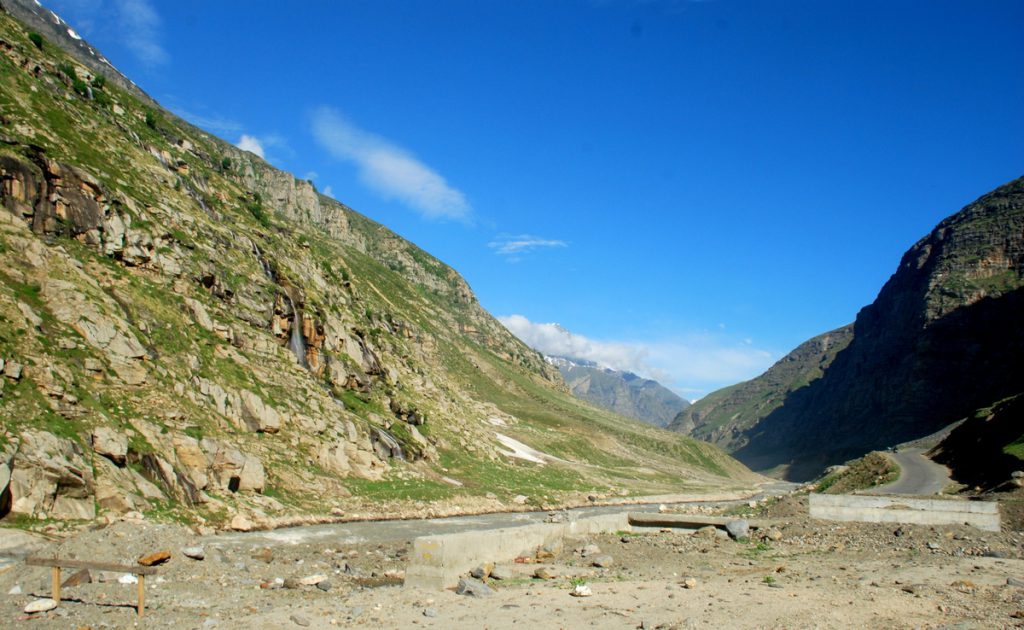 We were back on road, Manali – Leh highway. Seriously it was like heaven on the earth. (You will see both heaven and hell on this stretch). For that moment it was like a ride on the heaven. Stopped many times for the photos session and continued our ride. None of us were in a hurry and every one of us was enjoying the beauty of the place.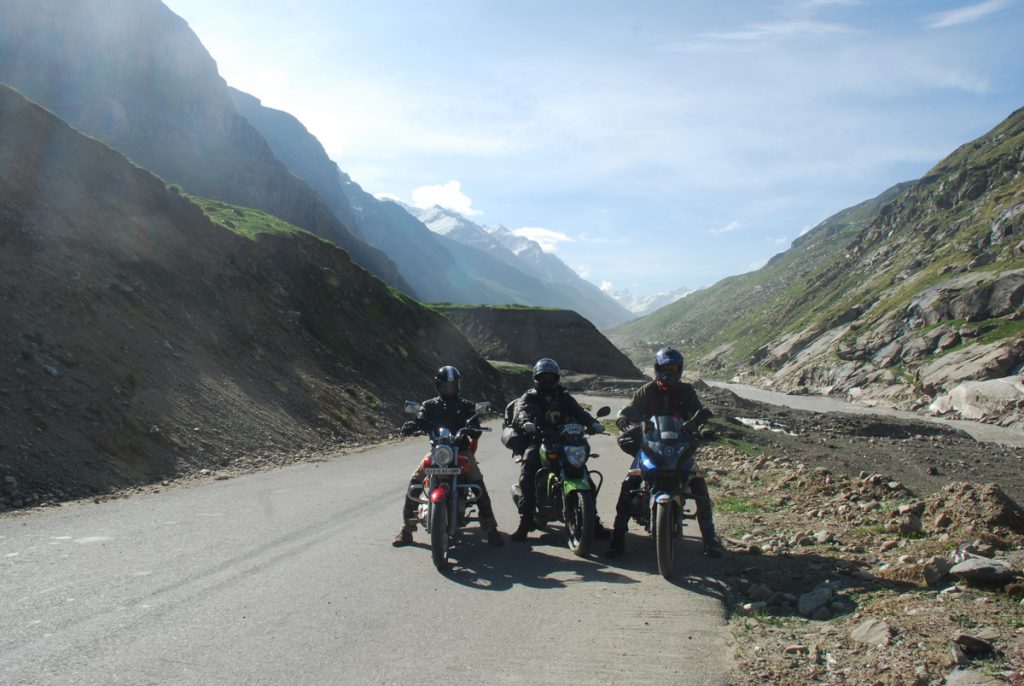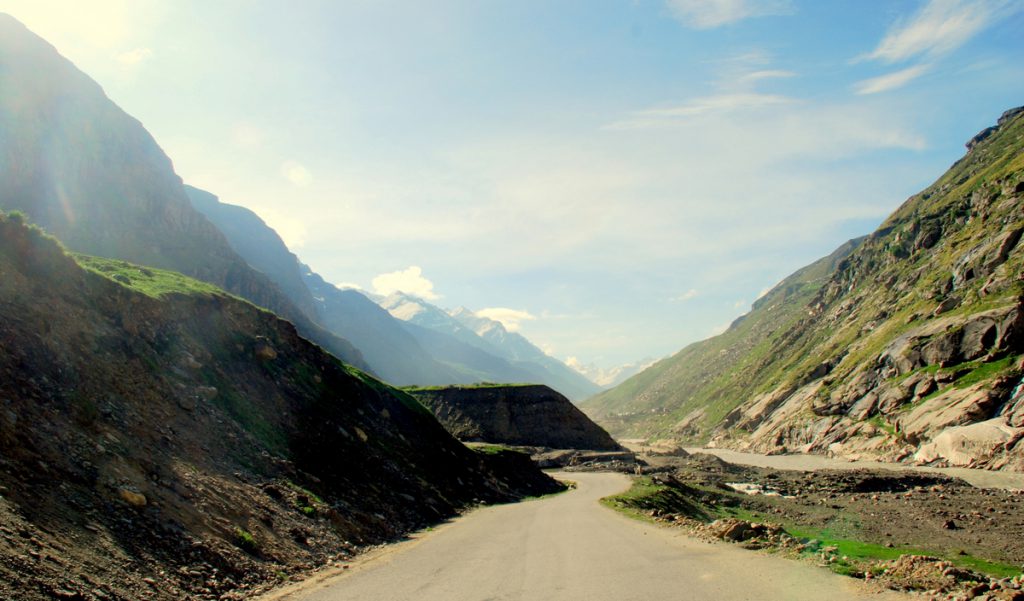 It was completely a new world for us. Roads were also in good condition once we cross Koksar till Keylong. Not many streams we came across, few small streams we crossed but not big one. Main thing to remember while passing through road is; start as early as possible because at morning time water flow in the stream will be less. This was just beginning of our journey and we were enjoying the streams too… 😊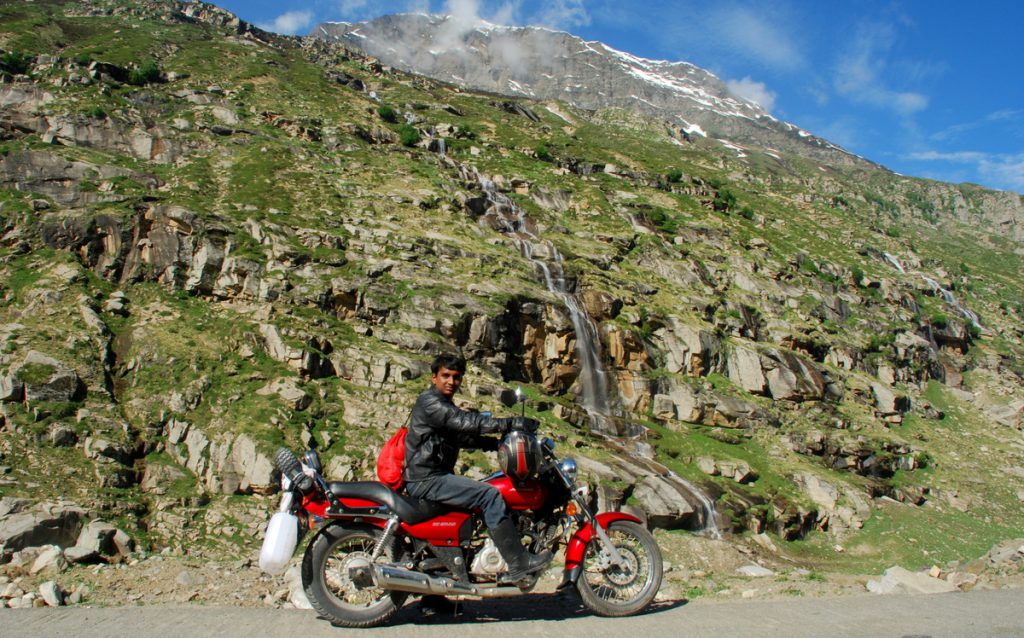 Temperature at this place was around 10 to 15 degree Celsius. Being a South Indian it was very cold for us.
Due to many photo sessions again we 3 (Deepu, Vagee & me) were at last and there was a big gap between remaining team and us. At some point even rest of the team stopped for photo session and we joined them.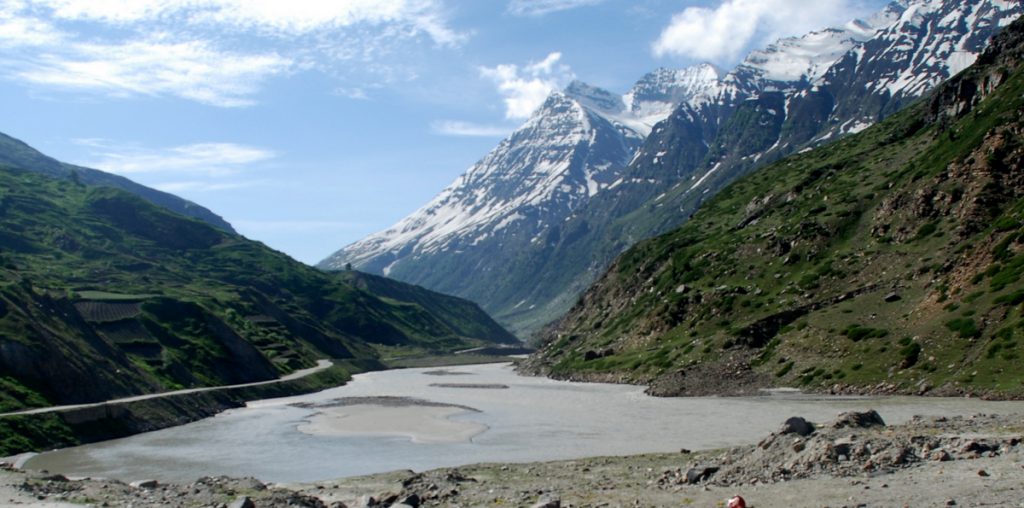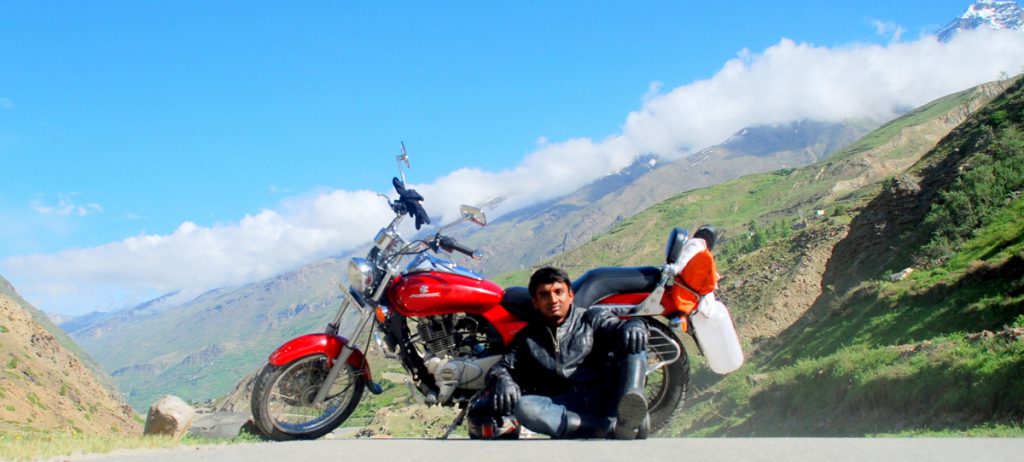 Witnessed many waterfalls in this road, but this waterfall was rally very attractive. No words to explain this place. We just need to experience it.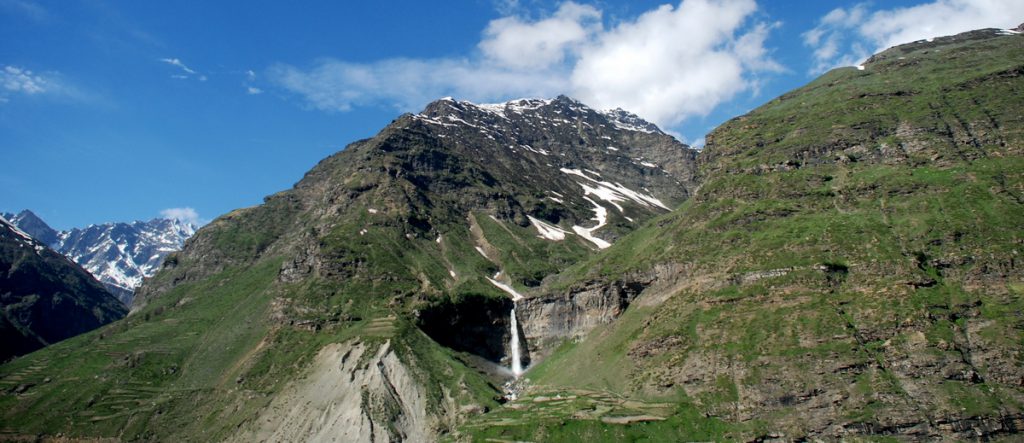 Once we started finishing our photo session after few kilometers only Sunil left behind, he was alone and he was facing some problem with his luggage from morning. Though road condition was good at this place, the luggage on the bike used to fell down. When we came to know that he is not visible distance we thought of waiting for him.
Meanwhile started one more round of photo session in that waiting period 😀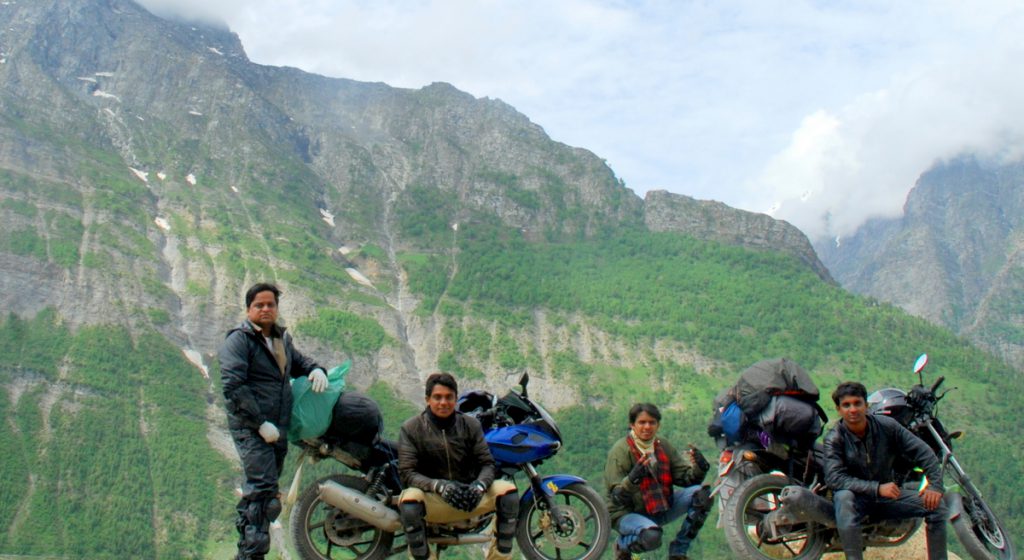 Sunil reached us in 10 minutes, our guess was correct. His luggage was about to fall from his bike, somehow he managed to reach us. It's difficult to tie luggage's alone. Again it took another 30 minutes to tie all luggage.
It was already 11.00 a.m. and almost 4 hours we started our journey but managed to cover only 20 to 30 Kms..!! Not even passed 5 Kms from previous stop, now its Guru's bike turn… Luggage from his bike fell down. Tied luggage to Guru's bike and started again.
Reached Tandi, Tandi is a place where will get last Petrol bunk in this stretch. They have put large board on this petrol bunk saying 'Next filling station is after 365Kms'. Filled full tank fuel for all the bikes, filled extra can also. It took almost 30 mins to fill fuel for our bikes. Always this bunk will be crowded.
Just after crossing Tandi, road was blocked due to land slide. Only Deepu, Guru, Vagee & me left behind. Remaining 2 bikes already crossed this place. I guess it was happened just few minutes back.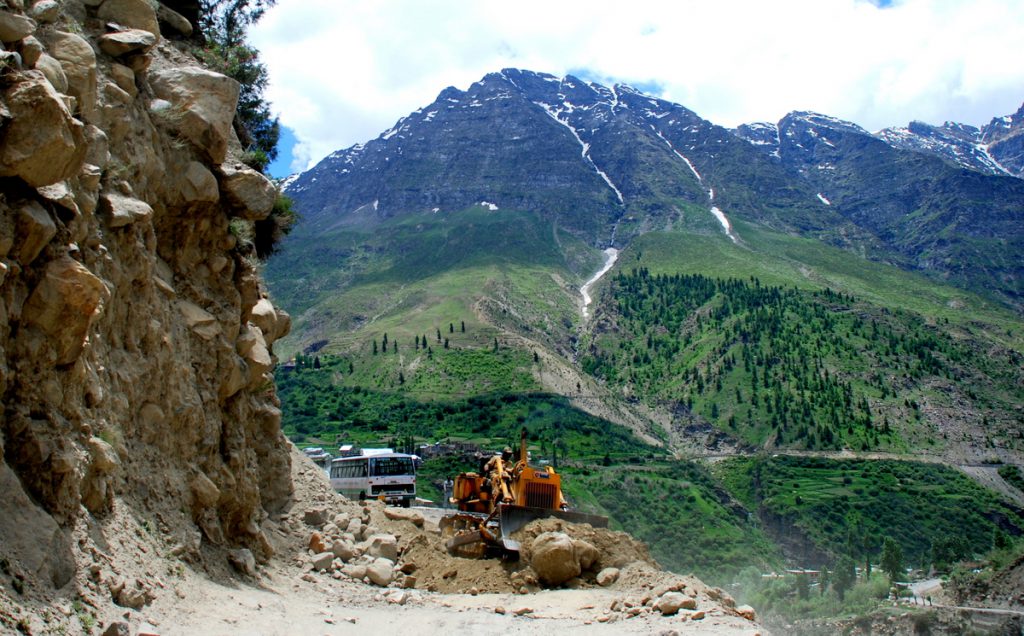 Waited for another 15 to 20 mins for road clearance. Finally reached Keylong around 12.30 p.m. From morning 7.00 a.m. to 12.30 p.m. we just managed to cover 45Kms…!!!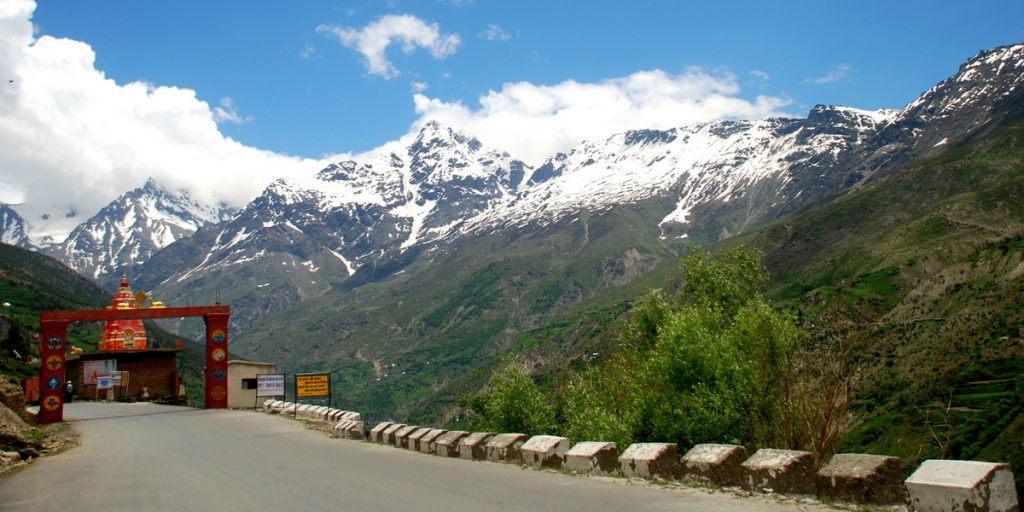 Stopped near one mechanic shop in Keylong for our bike check-up. Checked all bikes breaks, chains and fixed some small issues with bike. As suggested by friends tuned engine for pick up. But as per my experience, if your bike is running fine then don't tune your bikes. After tuning only one of our bikes started giving problem. Spent more than 1 hour in mechanic shop and now it's all set for our adventures ride…!!!
Time was already 2.00 p.m and thought of having lunch in Keylong only before we start our journey. I was feeling damn hungry since we had our early breakfast. Near mechanic shop only there was some restaurants, settled in one of the restaurant for lunch. The view of Keylong from this restaurant was awesome.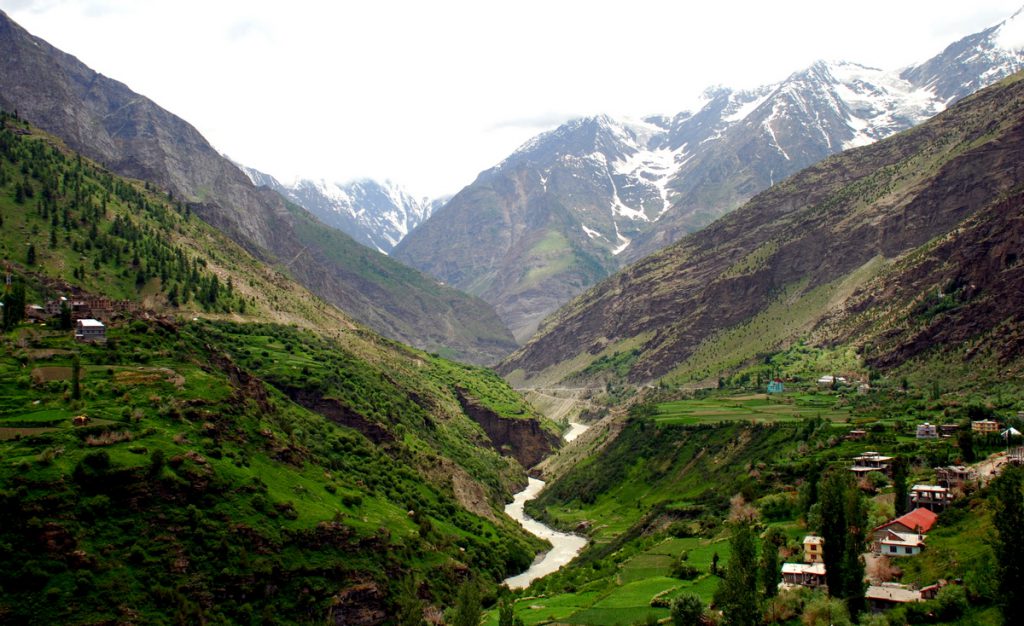 As always Deepu ordered for our food, don't know what and all he ordered but first we got Onion Pakoda with some schezwan Chatni or sauce that sauce was too spicy and I love spicy food… J Because of sauce only ordered 2 more plates of Onion Pakoda :D. Had delicious lunch and we were back on road.
Again one small steam welcomed us on board.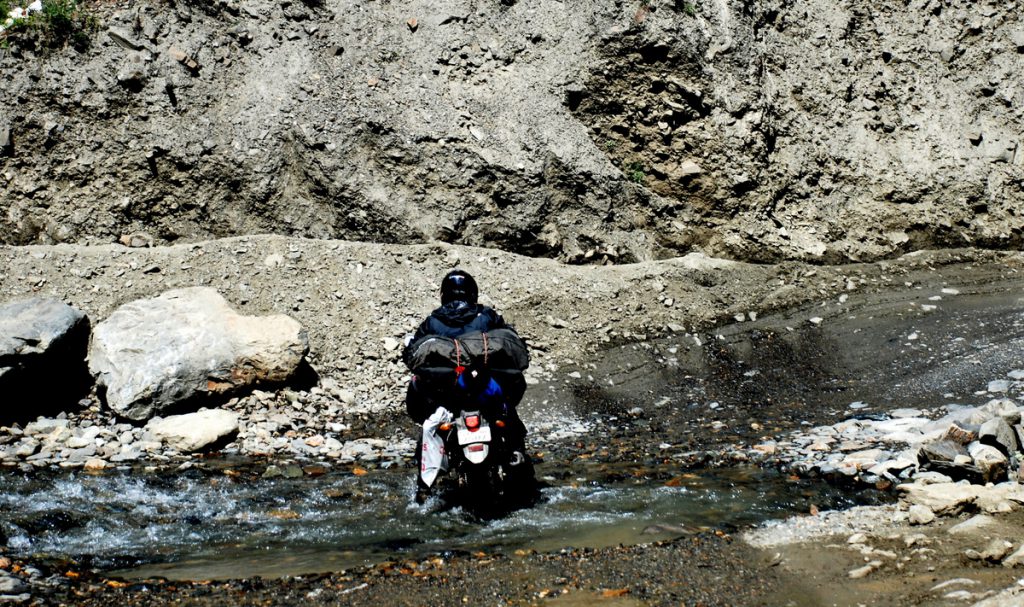 Once we cross this stream road was good only. And no need to mention with super surrounding. Nature and its best…!!!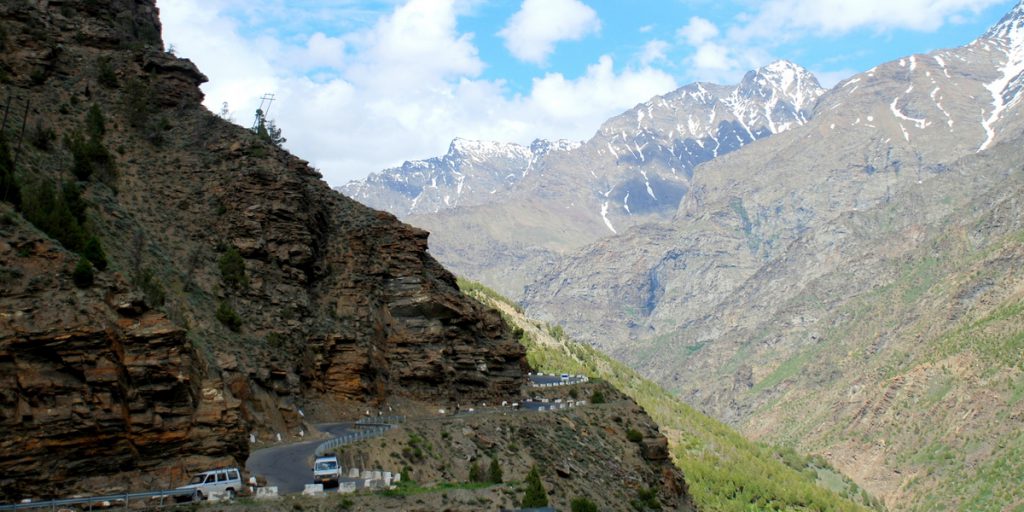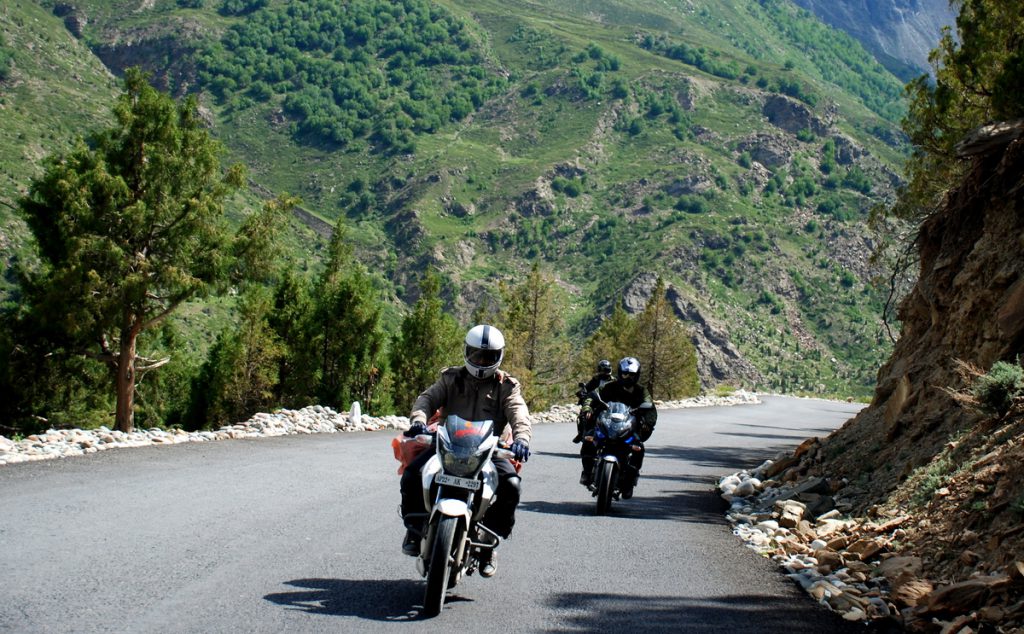 Reached Jispa around 3.30 p.m. In Jispa we will get many tents to stay. Most of the people who start their journey from Manali will stay in Jispa.

Since we had enough time and energy left in us we continued our ride without stopping in Jispa.
After heavy lunch we were waiting for one pit stop so that we can relax for a while. Once we crossed Jispa (not even 5 Kms I guess) reached one place which was perfect place to relax & for photo session. No second thought we just stopped for photo session again..!!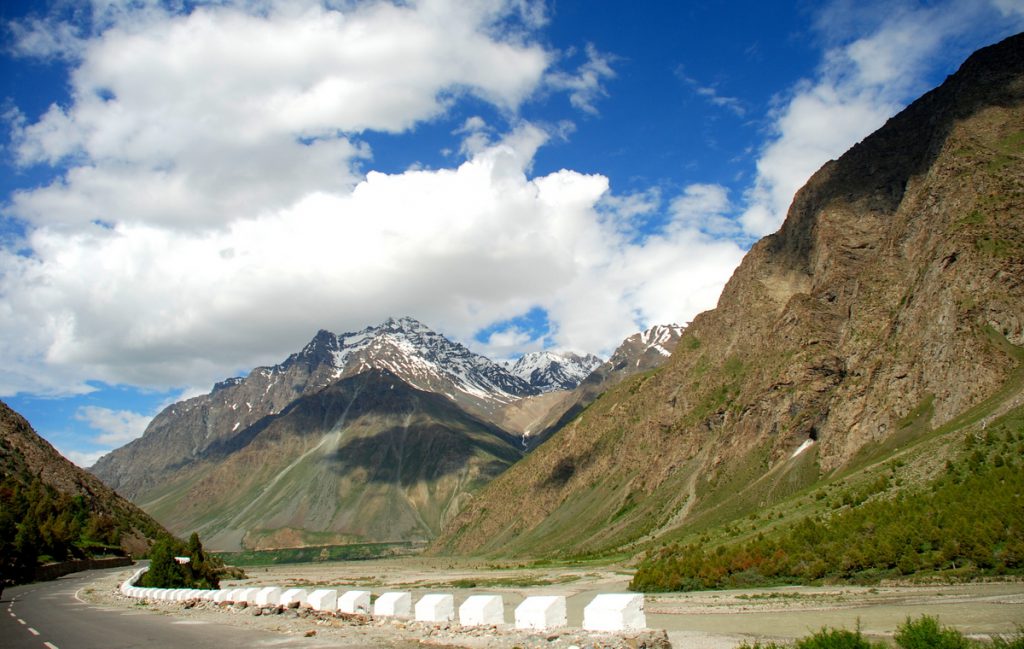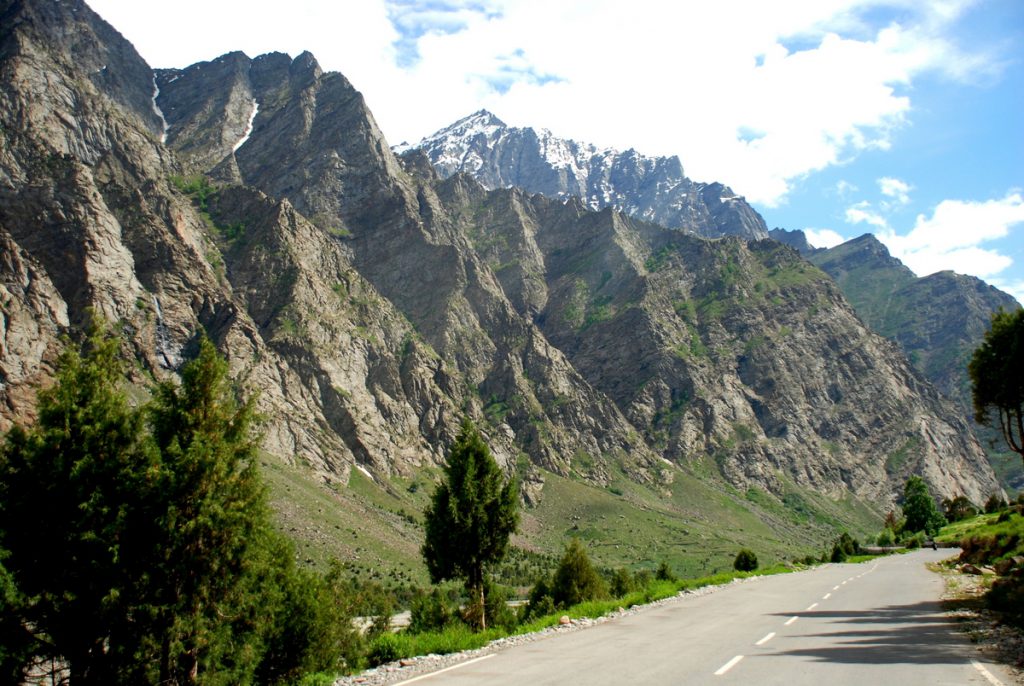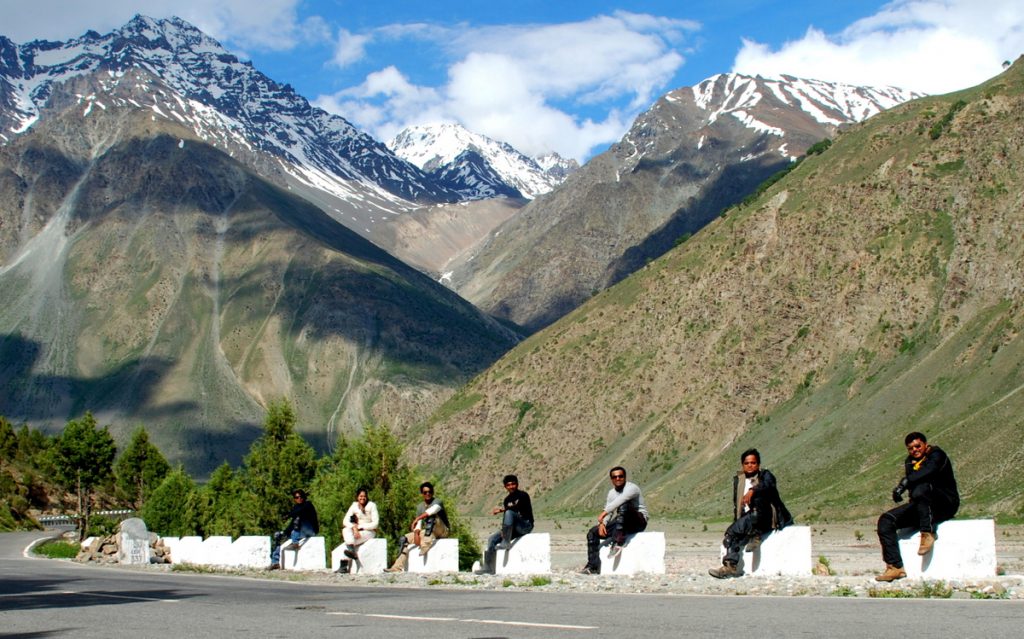 Don't know what was wrong with lunch, All of a sudden people started dancing 😛 and it was very funny moment. Unfortunately I couldn't join them because I hurt my ankle while trying Jumping pic… 😀 Had very good time out there… 😊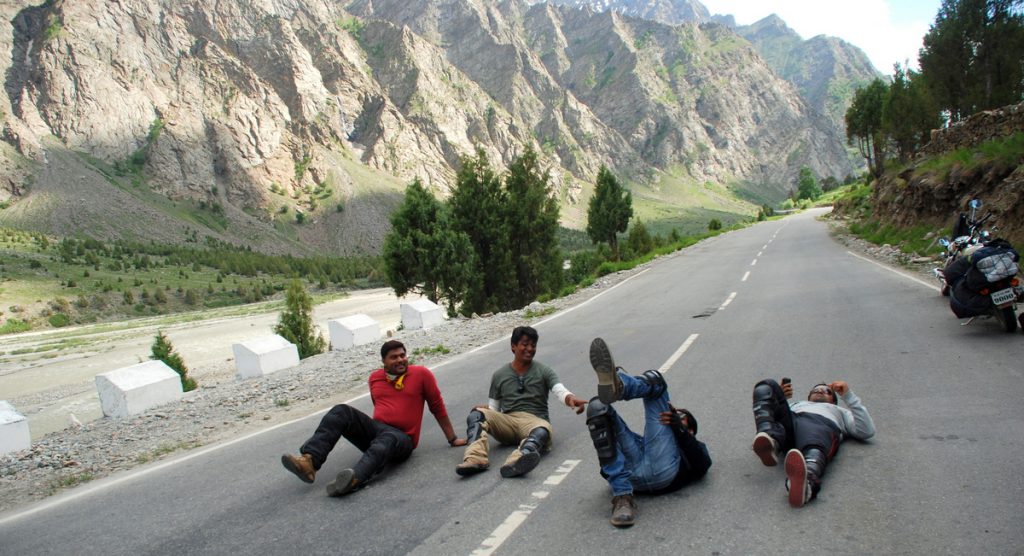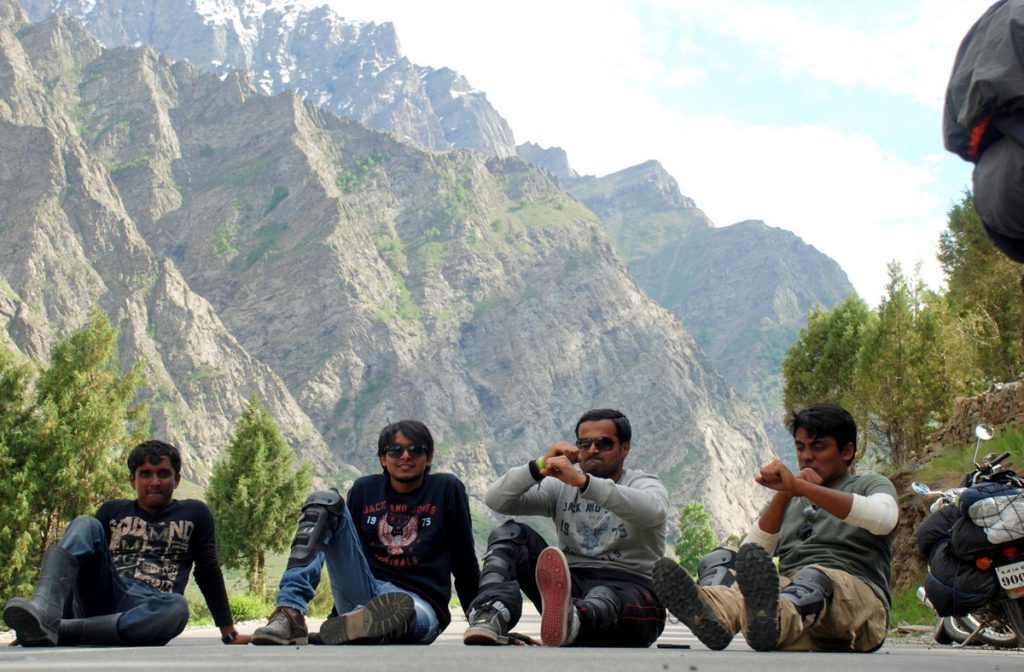 When we were out of our mind and dancing, one biker came and informed us that road is closed due to land slide near Darcha and we can't go ahead..!!!
Now all of us were back on track and started to think what's next…?? Still it was around 4.00PM and we were in a dilemma to go ahead and check in Darcha or go back to Jispa. Finally we decided to go ahead and check in Darcha if its minor block and bikes can move then we will proceed or else will stay in Darcha. Reached Darcha and checked in checked post, they stopped us from going ahead. Without any other option we ended our ride on Day 4 in Darcha. Just covered 77Kms on Day 4..!!!
Managed to get one tent for rent at cost of Rs.100/- per bed, which includes common bedroom, attached dining hall, nice view of river…:D. Please don't imagine it, just check the below pic… 😛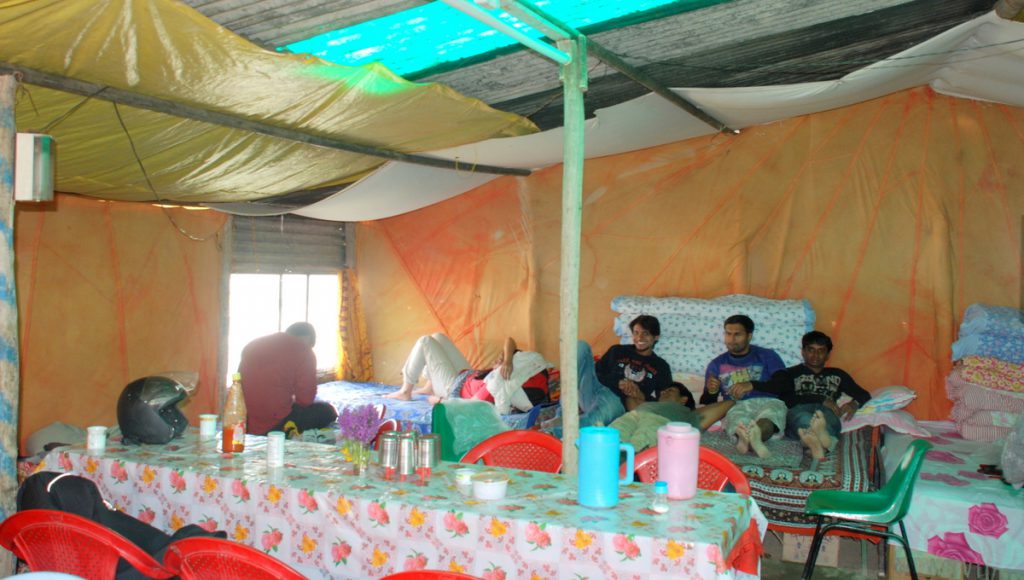 We were relaxing in the tent and got a chance to talk to army people, who went till that land slide and came back due to block. They showed us the video clip which caused land slide. There was a water fall flowing on the road and it was impossible to cross that road for that moment….!!! They even said that don't know when that road will open again. Hopefully by morning water flow will reduce, if that is the case then you guys can continue your ride or else you need to wait…!!!
No other option left for us, borrowed cards from the tent owner for time pass. Guru taught us one new game 'American Show' it was again a fun time. Don't know how we spent 2 hours. Nice time pass game.
We were bit tired (by doing nothing :P, No no by giving pose to camera :D). Had early dinner and went into deep sleep hoping that road will clear by morning… 😊
More adventure story in following post, keep reading!!
Cheers… 😊