Day – 1 : Bangalore – Chandigarh
Time had raced past to 28th June 2014 sooner than we anticipated & there we were, woke up early on Saturday morning around 2.00 a.m., started calling everyone just to make sure everyone is ready. Our flight was at 6.30 a.m.., booked cab at 3.00 a.m. Since we had multiple pickups from different places, so we decided to leave early. Started sharp 3.00 a.m. from my place, by the time we pick every one and reach airport it was around 5.00 a.m. Ullas was about to join us from Chandigarh. Reached Airport well in advance. Checked in all our luggage and we were all set to go.
Though it's a short journey from Delhi to Chandigarh (around 35 mins by air), took almost 7 hours to reach Chandigarh with one stop in Delhi [3 hours waiting for next connecting flight to Chandigarh]. Finished our lunch at Delhi only to save some time in Chandigarh. Finally reached our destination Chandigarh without any delay.
Once we reached Chandigarh, we headed towards Panchakula to collect our Bikes from the warehouse of GATI Couriers from who we sent our bikes to Chandigarh. It was about 12KMs from Airport, while getting down from the Taxi guru lost his mobile, but we are not sure where he missed it. (First gift to Chandigarh from our end 😊).
Entered GATI warehouse and checked with the staff about bikes, our bikes were standing in one corner of warehouse and by the way bikes were packed we thought our bikes will be fine, but after unpacking we find out some of the minor damages on our bikes. Deepu's bike mirror was broken; my bikes front indicator was damaged. At this point we have not noticed the bullet, actually bullets center stand was bended.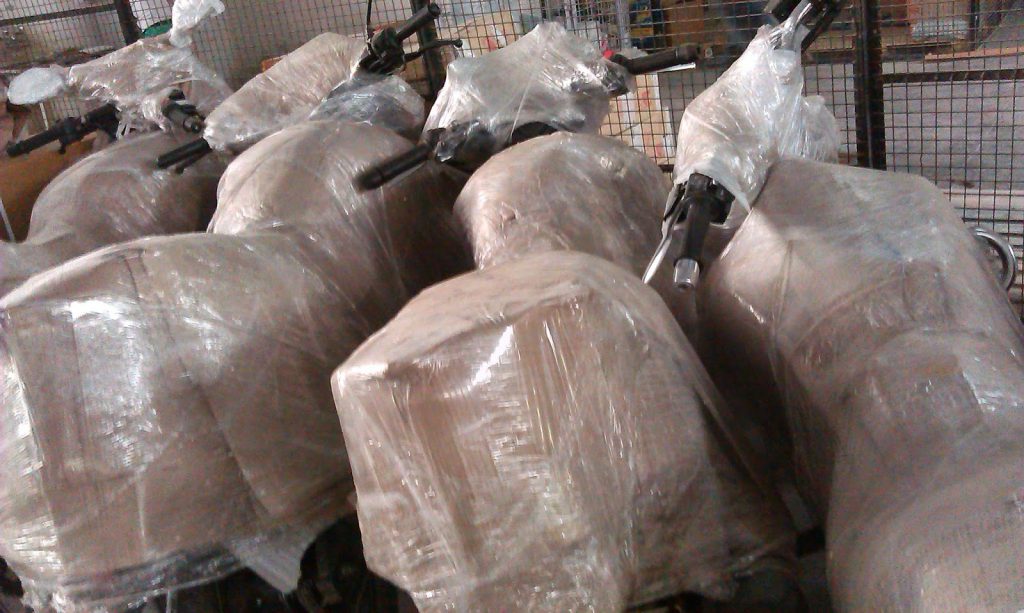 Met one more group of bikers in Gati office. Those guys were from Mysore J and they were about to start journey to Leh after one day. After unpacking bikes next challenge in front of us was petrol…!! Since before packing bikes they will empty the fuel tank for bikes safety. The other group guys gave us almost 2 litres of petrol which they barrowed for their bikes. Two litre of petrol was more than enough for all 5 bikes to reach petrol bunk. Filled full tank petrol for all the bikes and it was my turn to gift something to Chandigarh :P, forgot to collect my ATM card in petrol bunk after paying for fuel (funniest part was I realized it after one week when we reached Leh..!!).
Came back to Gati office where we kept our luggage, collected our entire luggage and we were waiting for Ullas who was about to join us in Chandigarh. He was supposed to reach Chandigarh Airport by 5.30 p.m. We decided to leave Chandigarh on same day, so by the time he join us we started to tie all luggage to our bikes. I went to airport to receive him, by the time we were back all bikes were ready with luggage tied and without wasting any time we headed towards Manali which is around 290 Kms.
Chandigarh to Baddi
Let me start this wonderful experience with a quote "The one thing to remember about an adventure is that, if it turns out the way you expect it to, it has not been an adventure at all…!!!". When we started our Adventures ride we planned to reach Bilaspur which was around 150 Kms from Chandigarh, but rain started before we covered 50 KMs of our journey, we were not expecting rain at this point and it was already 8.00 p.m. as we heard from our friends even roads were not good till we cross Bilaspur. So we dropped our plan to reach Bilaspur and stayed in Baddi… Our first day ride ended before we reach 50 Kms …!!!
Day -2 : Baddi to Manali
Actually our ride started with full-fledged from Day 2 only, we were all set for long journey. Our next destination for the day was Manali, which was around 260 Kms. Luckily we will get more day time on this part of the world (during summer). Sun rise will happen around 5.00 a.m. and sun set will happen around 8.00 p.m. So we had very long day time to cover our destination. Woke up early in the morning and got ready very quickly, but took almost 2 hours to tie all our luggage's to bikes. Since it was our first day of journey took more than expected time to tie our luggage. Finally we were ready to move around 6.30 a.m. Done quick round of photo session before we started our journey.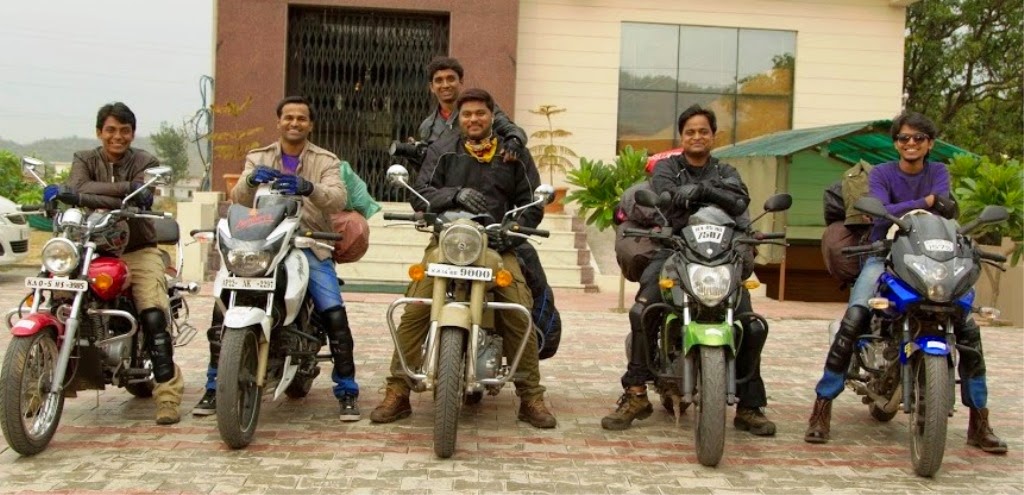 With empty tummies we started our journey. We know it's the best time to cover maximum distance since traffic will be bit less at this time and even heat..!!! As per Guru (he went through 'n' number of blogs to collect more and more information) roads till ACC cement factory was not good and its muddy road, his suggestion was better to cross ACC cement factory junction before heavy loaded trucks occupy the road.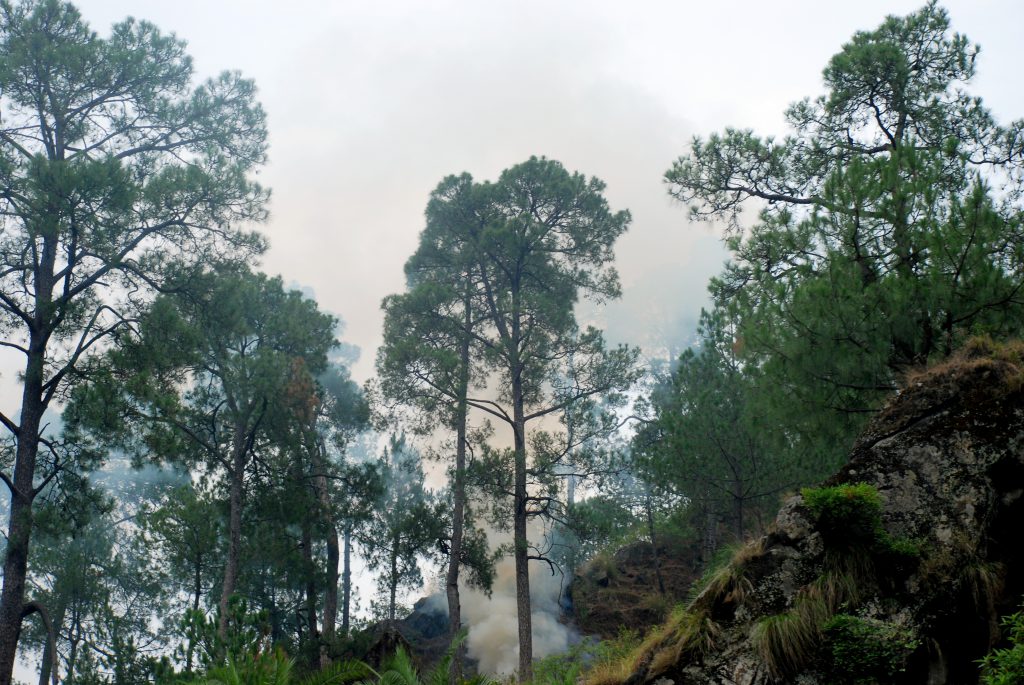 Day 2 again rain welcomed us on road, but this time we were fully prepared for the rain. Everyone was riding bikes wearing bomb squad uniform 😛 (Rain coat). So we did not stop our ride because of rain. Due to rain muddy roads become even worse to ride our bikes.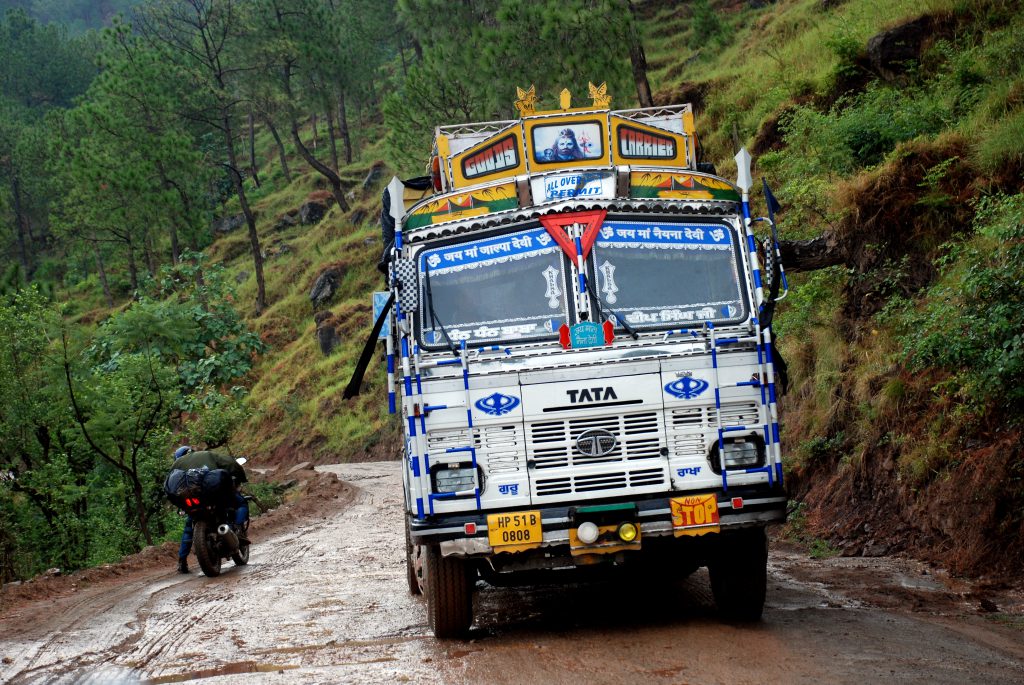 Already clock was turned 11.00 a.m. our hungry tummies were giving signal for a break, but we were searching for some good hotel to stop and have breakfast. Didn't find any hotels when we were together, when we found some hotel one or the other bikes were passed us without stopping…!!! Even we missed one deviation too, but gathered at one tea stall again and had decided to follow some rules. Decided the positions of each bike, Deepu was Leader followed by Guru, Ullas, Sunil and we were sweepers at last (Vagee & me).
After the deviation to Manali main road, rain was stopped and even road was good. Finally we reached Bilaspur and stopped for food, by the time we stopped it was lunch time…
Had nice parotas and some yummy food. After long ride relaxed for a while and back on roads again. Stopped near one reservoir near Mandi for a quick photo session, most importantly some of us were feeling sleepy after heavy lunch.
At this point we switched our partners, Vagee took Ullas bike since he was feeling sleepy and Ullas came with me. Again we spread up due to tea breaks. Me, Ullas & Sunil were at last and rest of team members were far away from us. From Mandi again it was around 110 Kms to Manali; the ride through this stretch was amazing.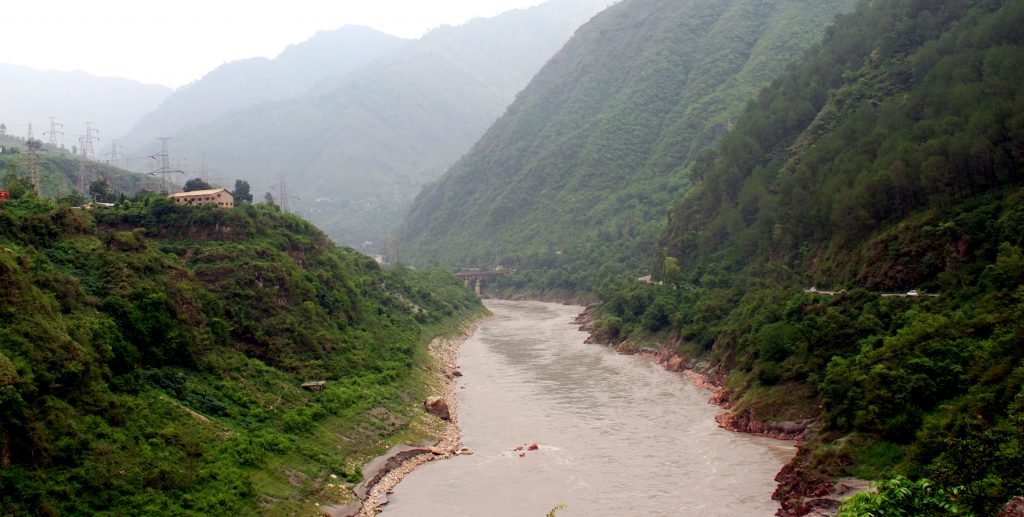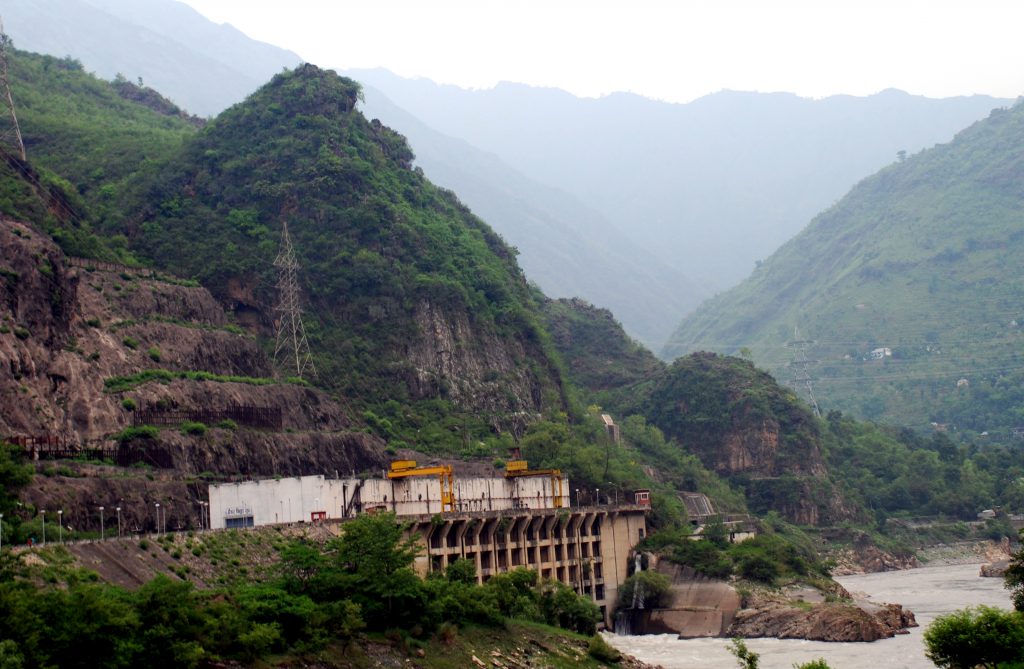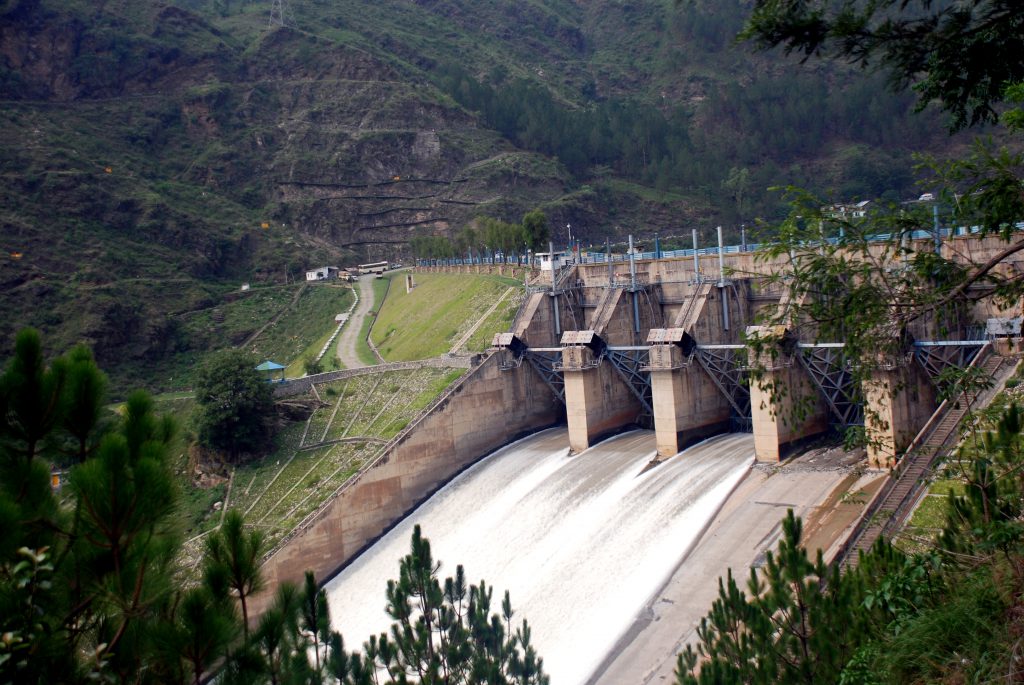 Nicely curved rocks at one side, roaring river at another side, on top of that Slight drizzling, ohhh., I just can't explain it with words…!!! Unfortunately could not capture this beauty in my camera since it was raining. Usually I used to see this highway in movies, but I was riding on this road on my loved bike.
Once we cross Mandi we will get tunnel which joins road to Manali, this was almost 5KMs tunnel build recently I guess (since lots of work is going on) ride inside this tunnel was simply superb. Seriously it was wonderful experience which we had while riding on this river band J.
We were about to reach Manali but still we don't knew where are rest of the guys. Got mobile signal at one point and then called Deepu, after calling him only we realized we overtook them and they are behind us. Deepu, Vagee & Guru were waiting for us near Kullu, but we did not notice them. Deepu told us reach Manali and search for Hotel to stay.
At one point we could not resist our self from stopping for tea break after seeing tea stall next to the river. It was so attractive and nice surrounding too. Luckily we got hotel to stay at this place only. Which was just 8 Kms away from Manali City. By the time rest of the team joined us me and Ullas went and checked the rooms and booked the hotel.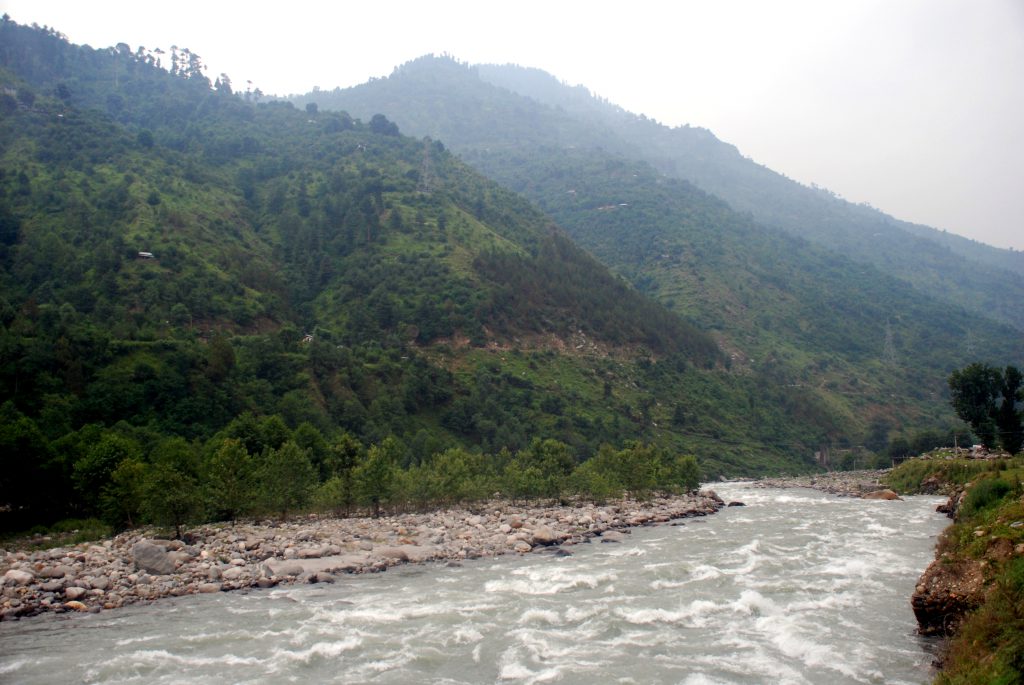 We covered almost 250 Kms on day 2. Most importantly we reached Manali as per plan without any deviation in the plan. (I guess this is the only day our plan executed without much trouble).
Next plan was to explore Manali for a day and continue our ride.