Leh Ladakh bike trip – Dream ride of every biker. Recent days I was seeing many pictures of the Leh – Ladakh bike rides which motivated me to plan for this trip, mainly one of my friends Vinay had been to Leh on his bicycle and captured wonderful pictures in his camera, by seeing those pics decided to plan for this dream trip. I was waiting for right opportunity to execute this plan. Finally decided to execute this plan in this year (Actually I wanted to execute this plan before I get married :P). As mentioned earlier it considered to be a dream ride for all hard core bike ride lovers, being a passionate rider wanted to execute this plan at any cost.
Leh – Ladakh route will open for the tourists from June to September, so we thought of planning this trip in the month of June. Guru and I made a rough sketch of the route. When we planned for this trip, first person we approached is our friend Vinay MP; since he had been to Leh last year I thought he is the right person to guide us. When I contacted him and asked him to help us, he was very keen to help us. Explained him about our plan, after discussing with Vinay we changed our plan, as he suggested we postponed our traveling date to July and trip for two weeks. Applied for leaves well in advance, once leaves approved we gear up with other planning's.
Next challenge for us was to form a team for this trip. Initially when we planned we were group of just 3, approached my friends who were passionate in travelling, finally we were group of 7 members.
Since the journey involves a lot of planning – we started planning for this trip almost 6 months before the tentative travel dates. Discussions with friends begin & frequent mailers with the subject "Manali – Leh – Ladakh Bike Ride" starts floating around. Gathering information about places, negotiating deals for the bike transportation, catching up with friends who have already achieved this dream journey & collecting information on the challenges & risks involved.
Vinay introduced us with his friends who had been to Leh – Ladakh on bike in recent past. Their inputs also helped us a lot in planning. One common thing we used to hear was, all these planning will not help for that route…!!! Since we can't predict the weather and road conditions out there. These words were not scaring us; in fact they were preparing us for worst conditions. We all knew that it would be one of the adventures trips of our life, The one thing to remember about an adventure is that, if it turns out the way you expect it to, it has not been an adventure at all…!!!
We decided to start the journey from Chandigarh instead of Delhi to save time and we made plan for 16 days with 1 day buffer in case any problems arise. And Dates are fixed from June 28 to July 13 and we booked the flights to Chandigarh through Spice Jet Airlines.
Initially thought of hiring bikes from Manali, but later we decided to ship our own bikes to Chandigarh and start our journey from Chandigarh only. For bike transportation finalized Gati Courier services, again Vinay's friend Ravi helped us to get contact details of the Courier service.
With the help of Vinay, Guru came up with Route Map and Deepu prepared checklist of things to carry. Me and Deepu went for shopping and purchased all required bike spares like (Extra tubes, Puncher Kit, Accelerator cable, Clutch wire, etc.,) almost 90% of shopping we finished from Bangalore only, since we wanted to start our journey as early as possible from Chandigarh.
Trip was planned for 16 days, Traveling approximately 3 thousand Kilo meters, covering 3 States (Himachal Pradesh, Jammu & Kashmir and Punjab), Main places planned to cover are Kulu – Manali, Leh, Kargil, Srinagar & Amritsar.
Approximate Distance: 3,000 Kms
Duration: 16 Days
The Gang: Sandeep, Gurudatt, Kishore, Vageesh, Sunil, Ullas & Sowmya.
Mode of transport: Motor Bike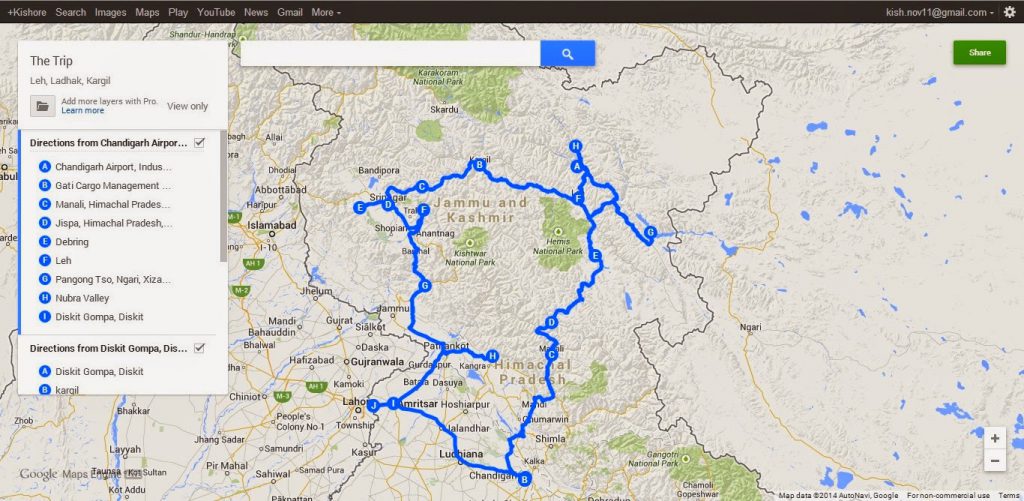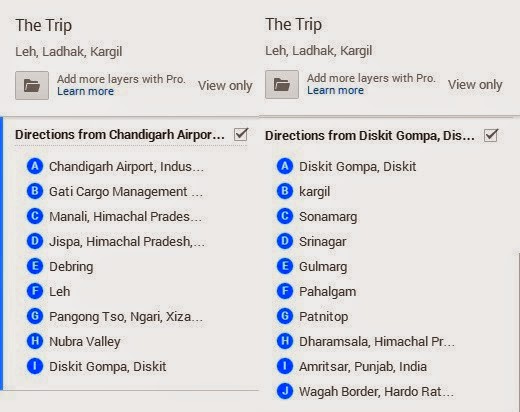 We were very excited about this trip… Finally we are all set for one of the ADVENTURES trip of our life… 😊