This was the first trip in the year 2014 and also first trip with this group. Planning for this trip began in the month of November 2013. But we had decided to execute this plan in January. In fact this was the 5th time I had planned to visit Mallalli falls, Previous 4 times i could not make it, due to one or the other reason it got cancelled.
Madikeri is not too far from Bangalore. We just need about 5 hours to reach our destination. We had decided to leave Bangalore late night and spend some time at the Cafe Coffee Day on the way, so that even the driver could take some rest and we could reach Madikeri early morning as per our plan.
Our intention was to reach Madikeri early morning around 6.30 or 7.00 a.m. and start our journey to Mallalli falls which was around 80Kms from the place where we booked home stay. On the way to Maddur we get 3 Cafe coffee day outlets, Cafe coffee day provides service 24X7. We had decided to go to the newly opened Cafe coffee day which we get just before Maddur city. In this route we had already visited the other Cafe Coffee Day outlets. Hence we choose this one. We reached Cafe Coffee Day around 1.00 a.m. and asked the driver to take rest for a couple of hours.
Around 3.00 a.m. in the morning we had decided to wind up and continue the journey. The driver was sleeping in the TT, we woke him up and asked him to get refreshed and continue the rest of the journey. The answer which I got from the driver was very strange (for the first time I heard such an answer). He said 3.00 a.m. is not the correct time to start the journey so he wanted to us to wait for 15 mins and start. How superstitious people are, I never followed all this but just said okay. (But I guess he was feeling sleepy so he gave that reason, did not know the fact but we still listened to him and decided to start after 15 mins). Even in that small space available at the Cafe Coffee Day we managed to take our group photo.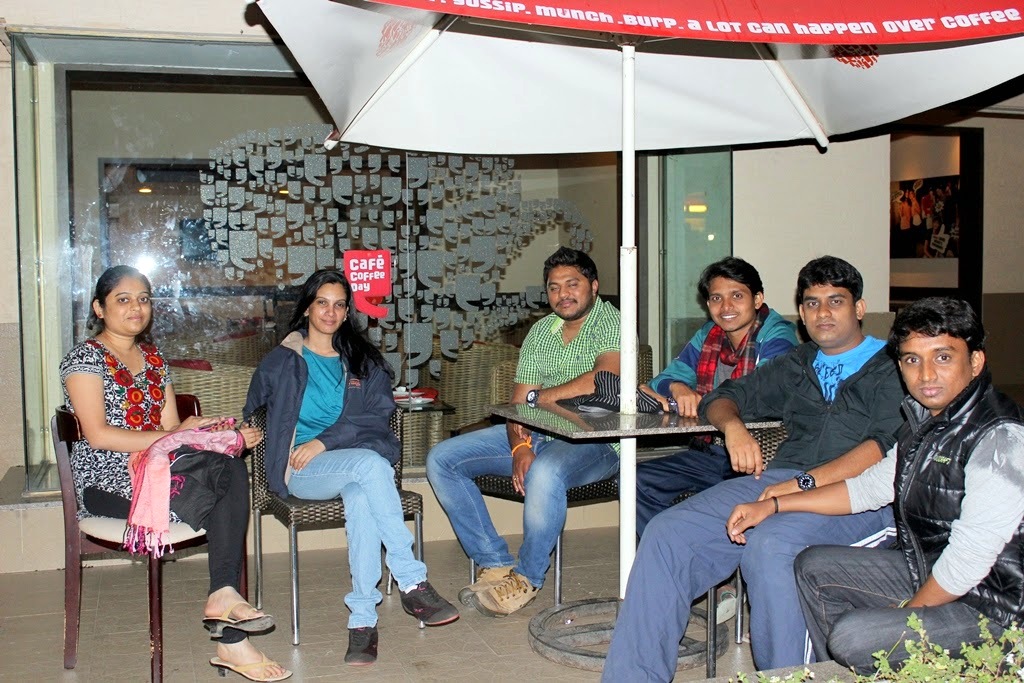 We continued our journey and we just needed about 3 hours to reach our destination. When we were almost reaching our destination, the roads were covered by mist and not even 50 yards was visible properly. It was an awesome experience. Again I was thinking it would have been great if we were going by bike. We asked the driver if we could sit above where the luggage is kept, he was fine with it. We were extremely happy and we were waiting for him to stop. Me, Guru & Amruth climbed up when the driver stopped for the tea break.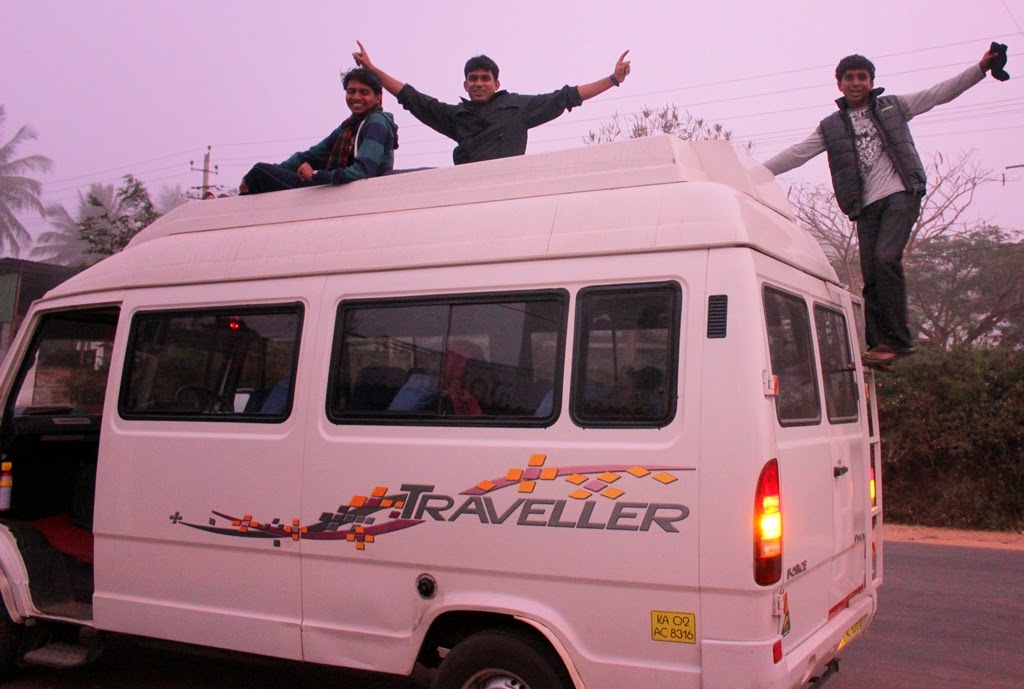 It was an awesome ride in the cold breeze; I must mention that this is one of my all time favorite rides. Guess the members who were sitting inside the vehicle would have thought these guys are mad!! but trust me, the experience of this ride cannot be expressed in words. When we were nearing our destination the driver stopped the vehicle and asked us to get down from the top. Since it was not safe to sit on top when we reach the city limit. If the police caught us then it would be an unnecessary problem for the driver. We were just 5 to 10 KMs away from our destination. We called up the Home stay owner and took the details to reach the destination.
We reached the home stay at 7.00 a.m. which we had booked in advance. The Home stay "Devarakadu Valley View" was located near Bhadrakaleshwari temple, Kedakal. This is 10 Kms away from the Coorg city. As there is a proverb "First impression is the best impression" loved this place. The Home stay is located inside the coffee estate and there was no vehicle sounding or any other disturbance. We decided to get fresh soon as possible and finish our breakfast.
We were supposed to travel 80KMs more to reach Mallalli Falls which is near Somwarpet. We started our journey finishing our breakfast, this route has a bit of ghat section (Lot of curves around the corner) but nothing stopped our driver. He was driving like he was driving for some race. I loved the way how he was drifting. The driver had a complete control over the vehicle. Now everyone was awake (don't know if it was because of our drivers crazy driving or the beauty of the city). But Kumbkarna's sister also came with us for the trip and was sleeping!!! Suddenly she woke up and scolded the driver and went back to her sleep. The expression she gave while sleeping was mind blowing.
Mallalli Waterfalls:
Mallalli Falls is situated in the northern region of Kodagu District. Mallalli falls is situated in the slopes of Pushpagiri Mountains, around 25 km from Somwarpet (and 80 km from Coorg). The Kumaradhara river is the main watercourse for this waterfall. The Water in the falls in only during the monsoon season and there is no availability of water during the other seasons; hence it is better to travel during the monsoon season to visit the Mallalli falls.
Usually we have to park our vehicle near the check post and have to walk for about 3 Kms. Our cab driver saved 3 Kms of walking for us by dropping us near the waterfalls view point. If he had not dropped us near the view point then I guess most of our group members would have not come with us near the waterfalls. From there again we were supposed to walk for another 1.5 KMS to reach waterfalls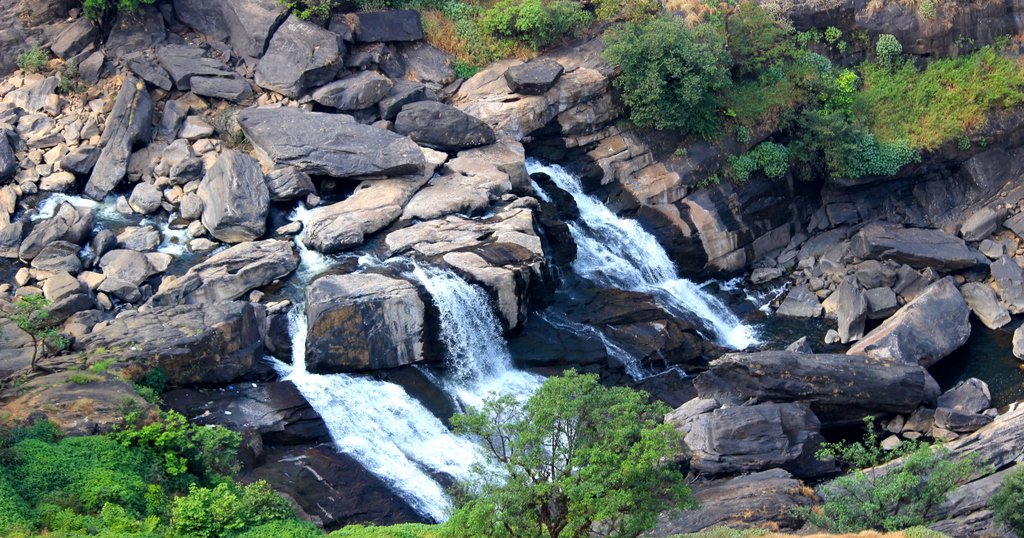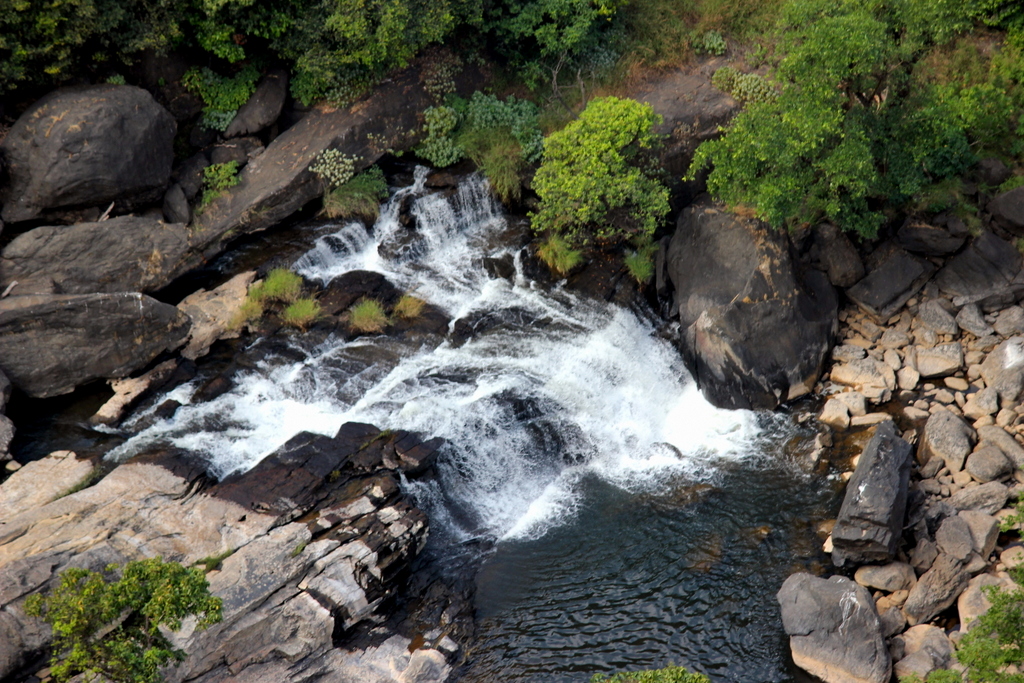 It was a wonderful experience to view the waterfall. We had to walk down about 3000 steps (not sure about the number of steps, someone told us there were about 3000 steps) to reach the waterfalls. They have started constructing the steps but unfortunately only half of the route is covered and the other half of the construction was stopped.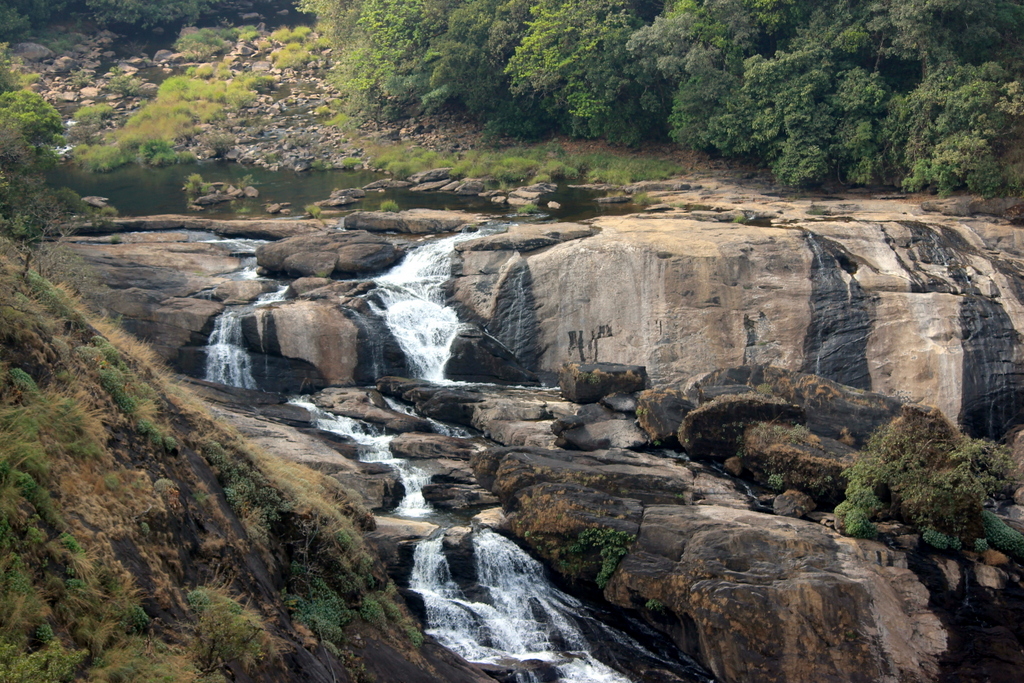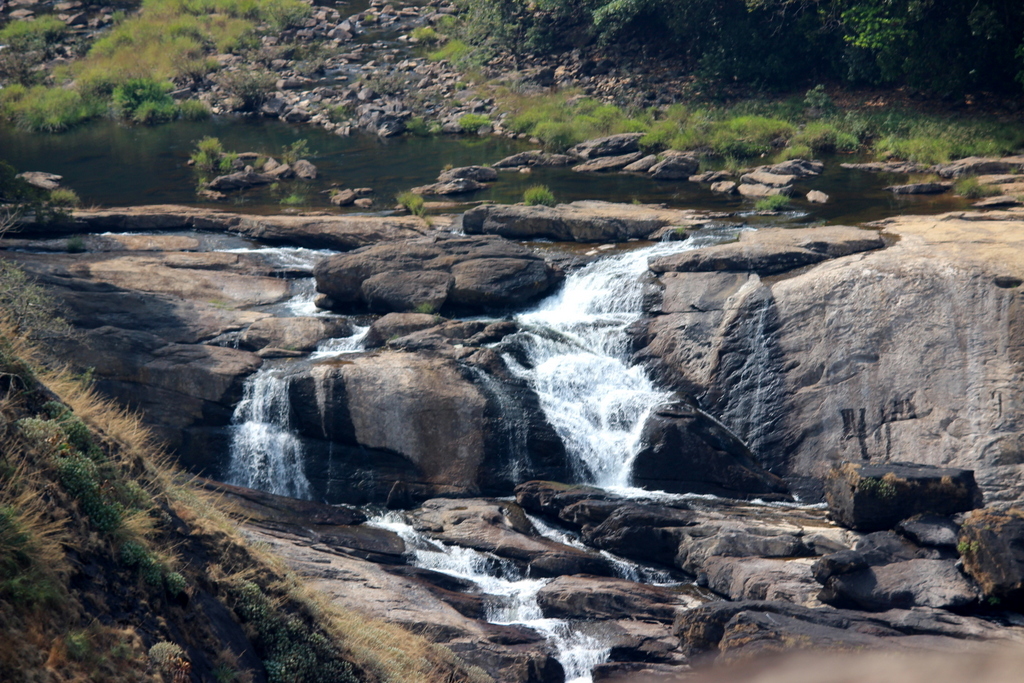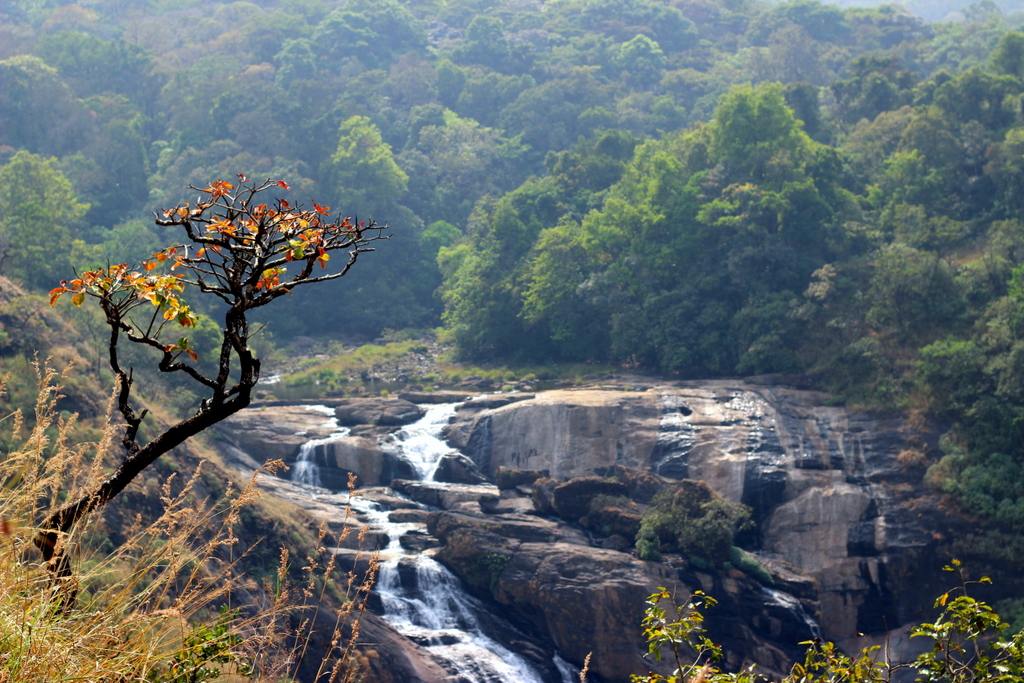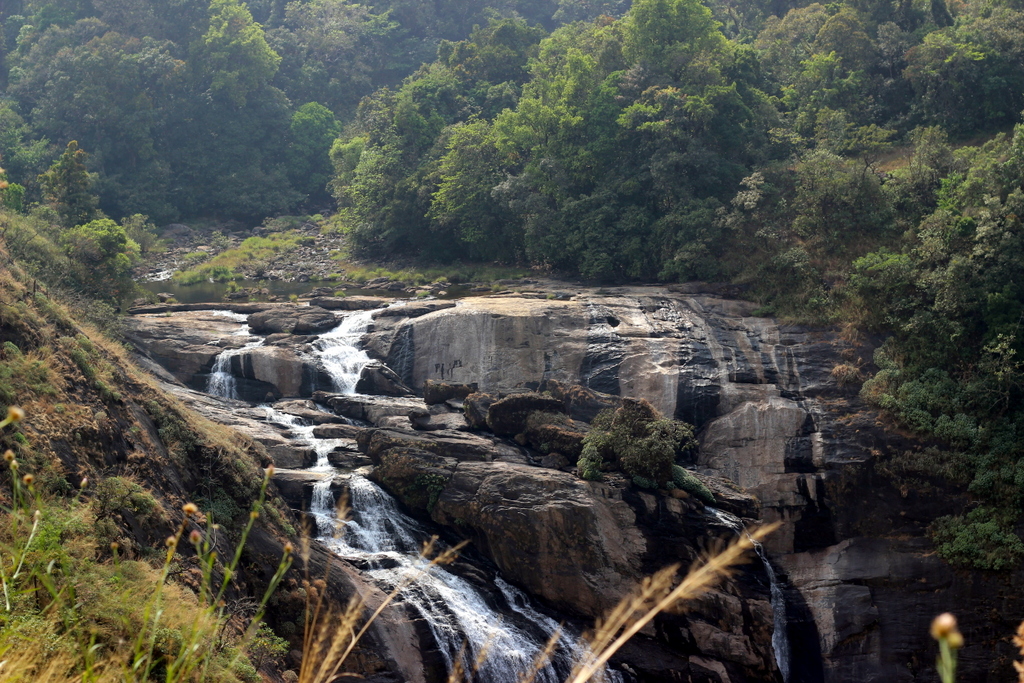 Reached the waterfalls with all difficulty, in fact it was not a difficult trekking but because of the night journey and for few of us it was the first trekking it was quite difficult. It's not safe to get into water in this place, so we have decided to not to get in. Spent some time near waterfalls, relaxed for a while and as always clicked some pics.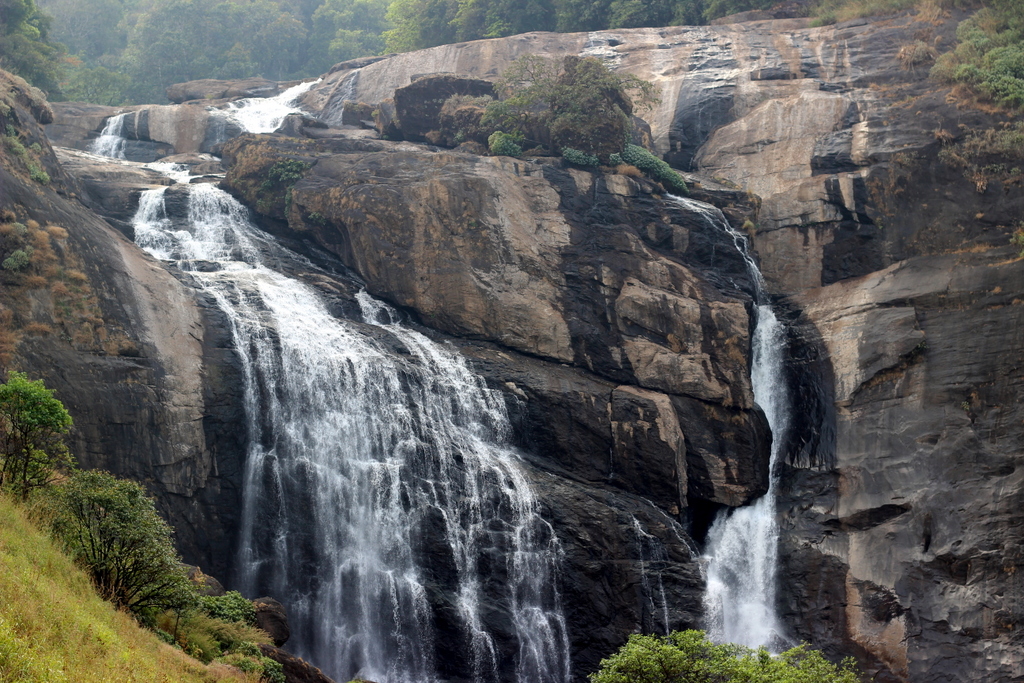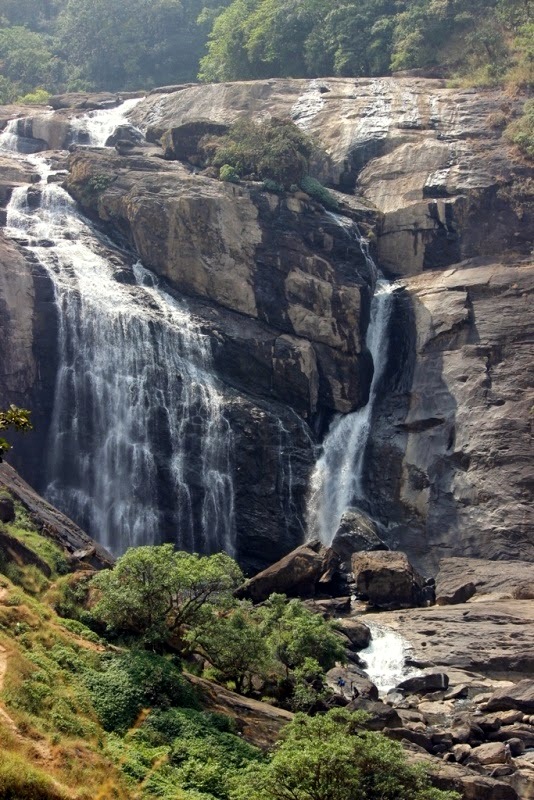 One of the member who enjoyed this trekking the most was Sanvi. While coming back Guru was holding her and he was jumping on the rocks, and Sanvi started shouting uncle jump jump.
We went back to the parking area around 2.30 p.m. and relaxed for a while. Continued our journey towards Abbe matte water falls. Abbe matte is not a recommended place to see, felt it was totally waste of time. We got back to Somwarpete and had our lunch and then got back to home stay.
On the way we thought of visiting some other places like Raja Seat which is famous for sun set and sun rise or Abbe falls, but all of us were totally tired and already it was 6.00 p.m. we decided to go back to Home Stay.
Reached home Stay, got refreshed. We were waiting for the campfire and dinner. The place for campfire was extremely good, spent some time in making fun of each other, some horror stories from our Captain.
Meanwhile took some pics near Campfire (took individual photos here, but could not get a chance to click group pics here). Meanwhile we celebrated Ullas birthday in advance. It was really a nice and memorable moment for all of us. Delicious food was waiting for us, filled our tummies with nice food.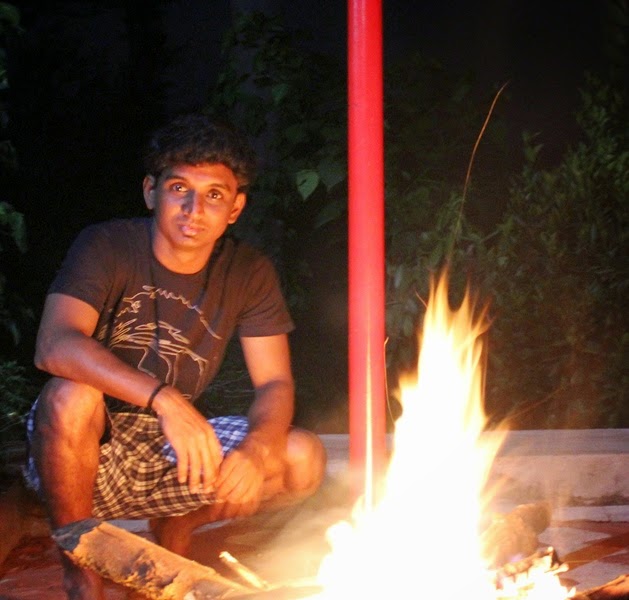 Once we are all done with our dinner, we dispersed to our rooms. None of us were getting sleep, so we decided to go for a walk in the estate. Took out the torch and went for walk. It was amazing walking experience, in that cold breeze and dark night. After relaxing walk around the estate it was time to pack up for the day.
Plan for rest of the trip was to visit Mandalpatti.