We were in a dilemma because of last moment cancelation of Chadar Trek, not sure what to do for rest of the days. Couple of friends in our group went back to Bangalore. Lot of debate was happening and finally our Singh Sab (well known as Mestru) contacted one of his friends, Jayo who runs 'Mitra Tours & Travels' (they organise trekking across Leh). Jayo suggested about trekking around Stok, We happily agreed to follow his plans.
Stok, a village with a population of about 1500 people, located 15 km away from Leh. In Shanti Stupa there is a direction board written as 'Stok – the home to the royal family of Ladakh' (First time when I visited Leh I have not noticed that board). We planned to stay for 3 days at Stok. Jayo Bhai only arranged for accommodation for us.
We stayed in a home stay run by Jayo Brother in Law, they charged 800/- per day (because of off-season). After seeing the hospitality & the place we felt it's too less 😊
First day at Stok, it was time to explore the village & get accustomed to high altitude. Jayo told us that he will join us after lunch and take us to walk around the village. So we had enough time to roam around and chill out.
After finishing breakfast we just went out for a walk, we just went around 500 meters from homestay and found some of kids playing on ice (Actually it was a frozen river). We decided to walk on that frozen river instead on normal road. At one point don't know what exactly Sheethal was trying and he found a new way to walk on ice (it's not a walk… Slide on ice…J).
We spend almost 2 hours sliding down at that place, it was filled with lot & lot of fun… 😛
After having wonderful time out in sliding we came back to Home stay and finished our lunch. By the time we finished our lunch Jayo joined us took us for a walk around the village.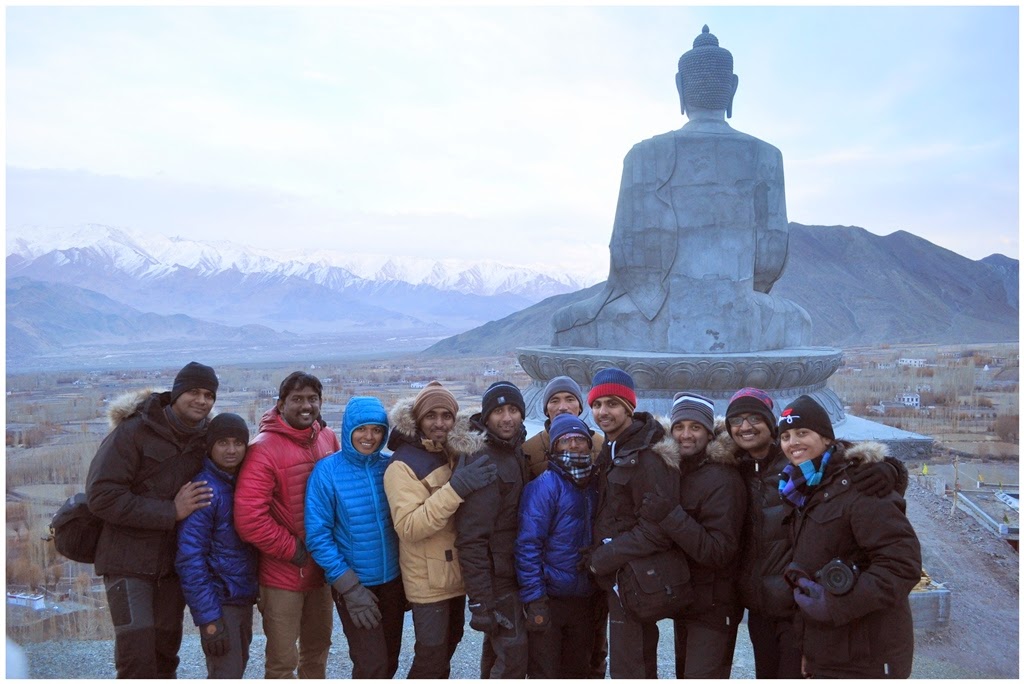 Day 2: Started with surprise, overnight there was a heavy snowfall and when we looked out entire place was filled with snow.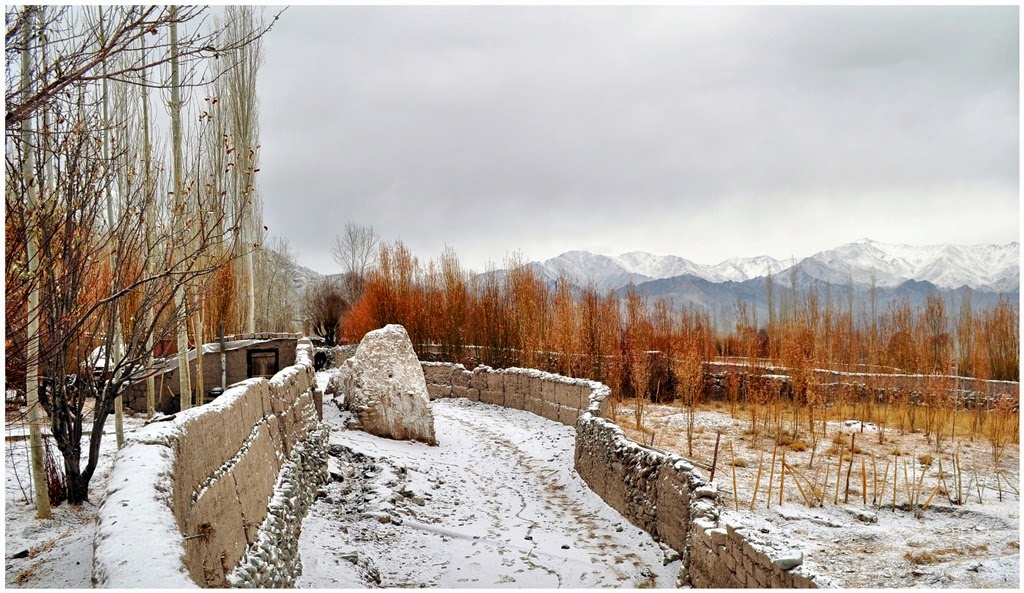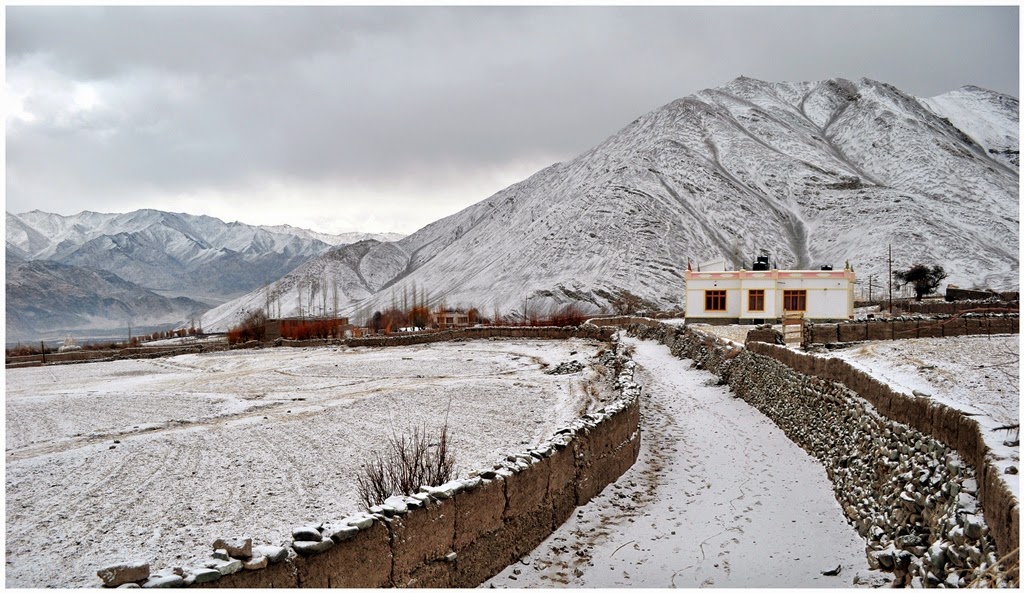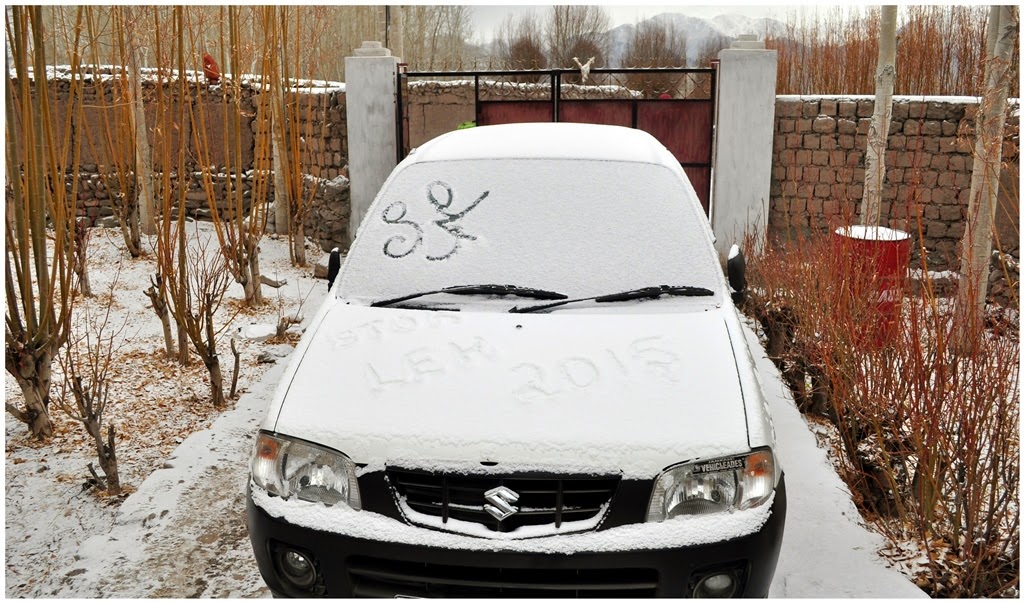 After finishing breakfast we are set for the trekking. Packed some food for Lunch and packed our self with warm cloths (temperature was around -10 degree Celsius).
Personally I was very much excited for this trekking. This was my first trek on Snow 😊
When we were waiting for Jayo he joined us with one more guy 'Kaspin' and informed us that he will be leading us from front. And Speciality of that person who leading us was, he was the youngest kid to complete that trekking and he was just 13 Years old 😊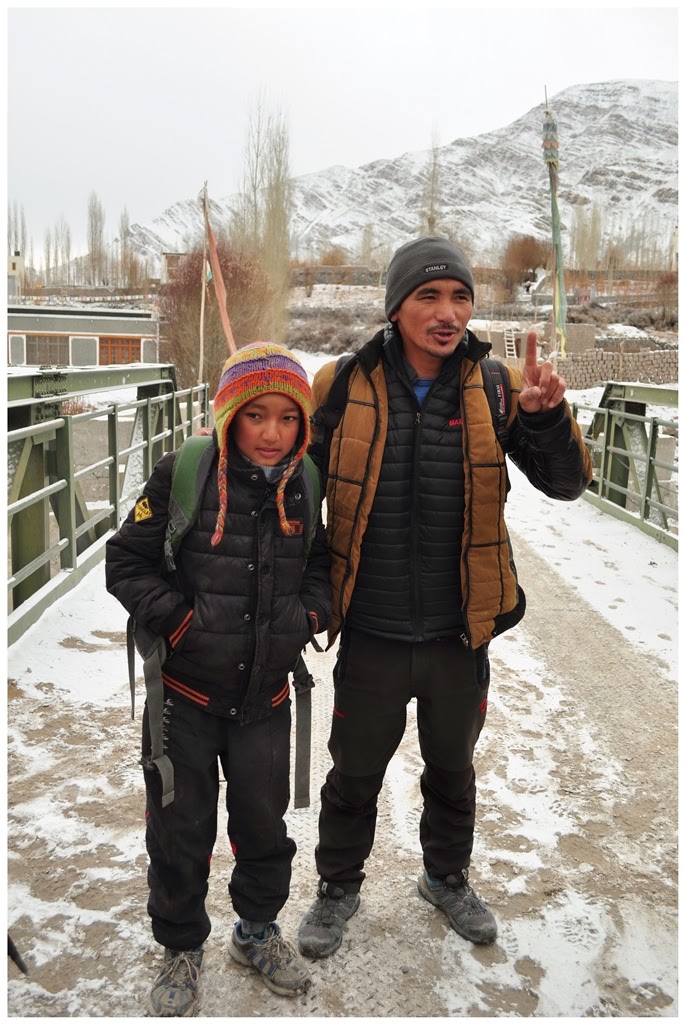 Jayo gave some instructions before start; we were all set to go for one more memorable trek 😊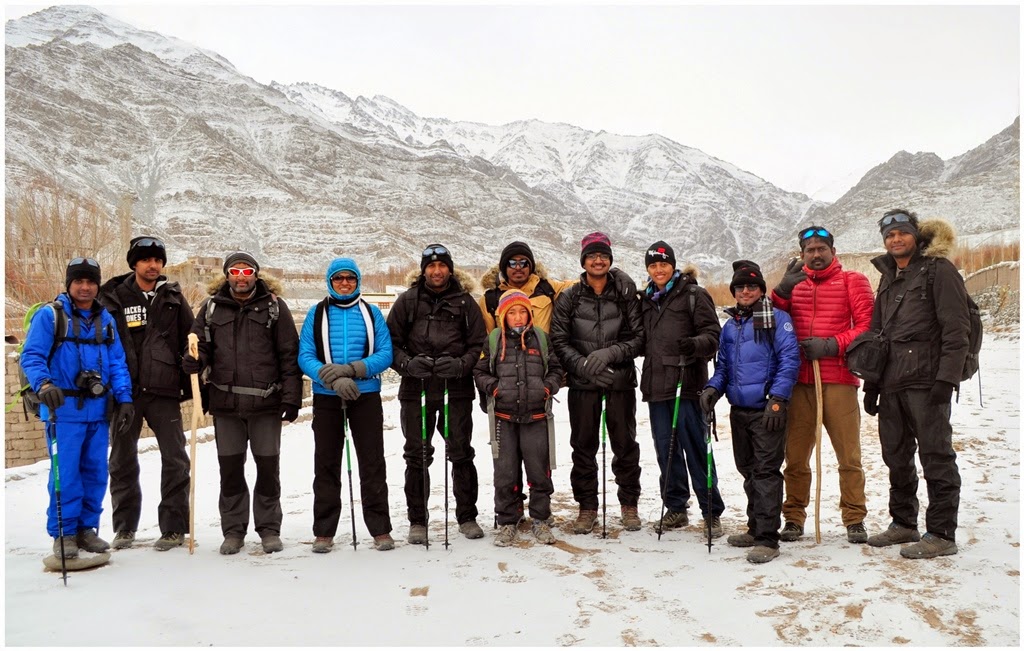 We started our trekking on time, Jayo told he will be joining us in some time after finishing some important work and our chota captain will lead us.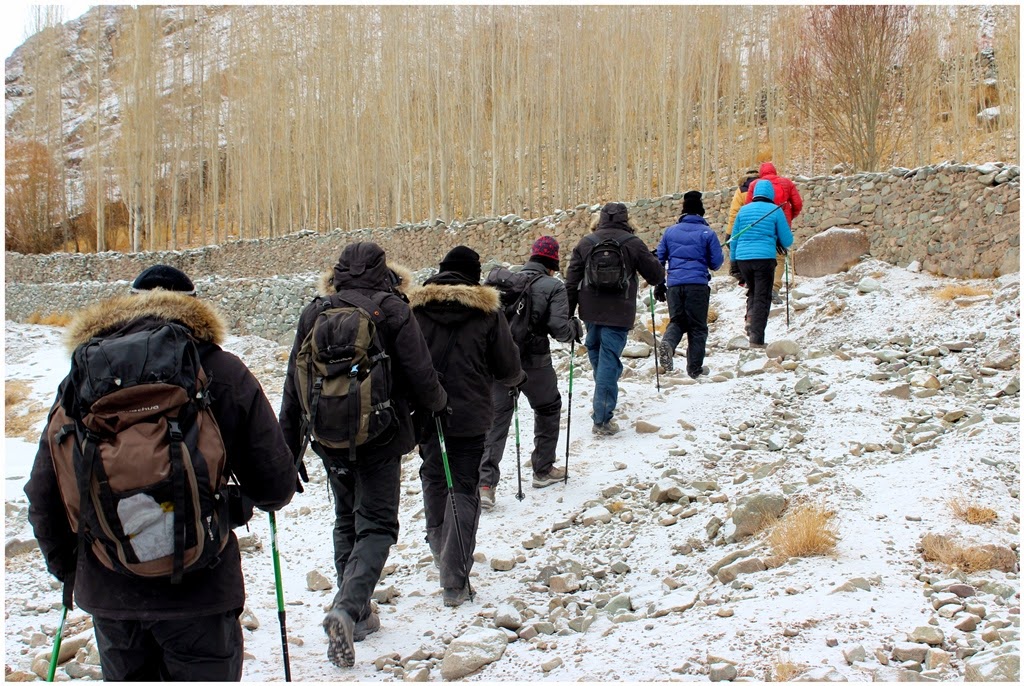 No words to explain the beauty of this place…!!!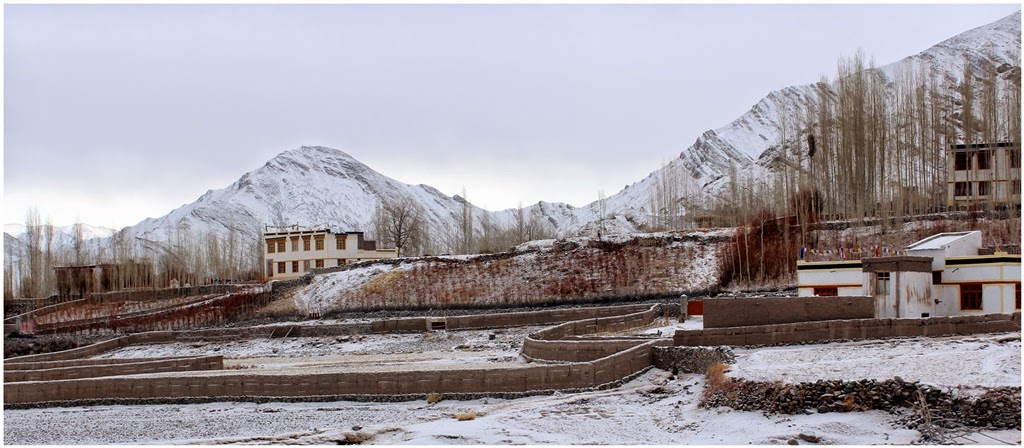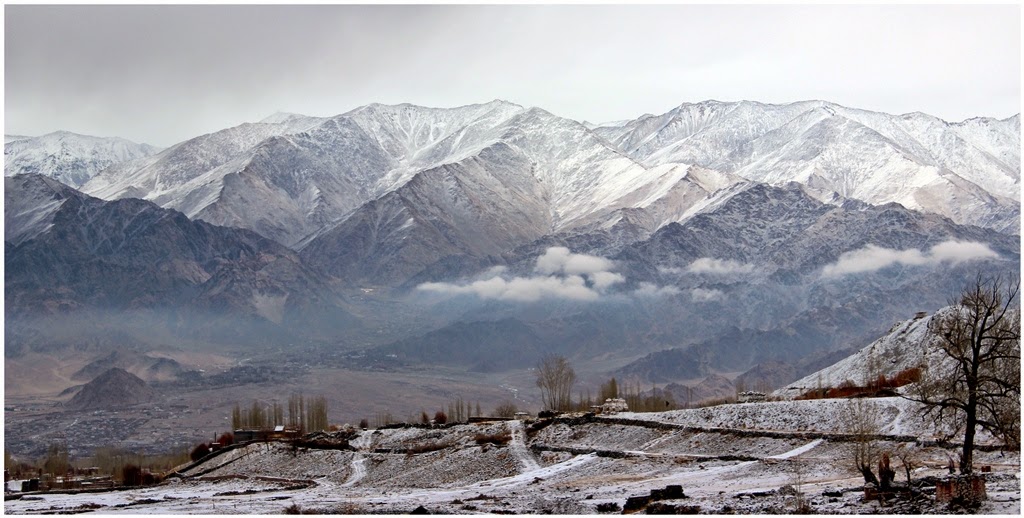 It was very difficult to walk on the frozen river (and it was fun too 😊)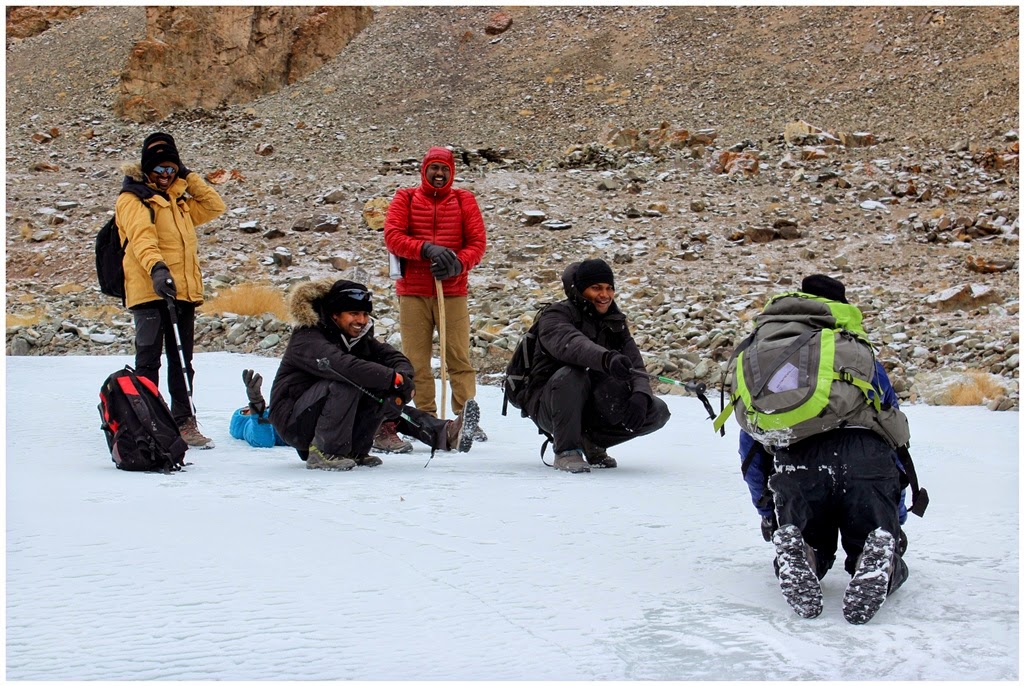 Took lot of time to cover the distance because of cold, high altitude & of photo session 😛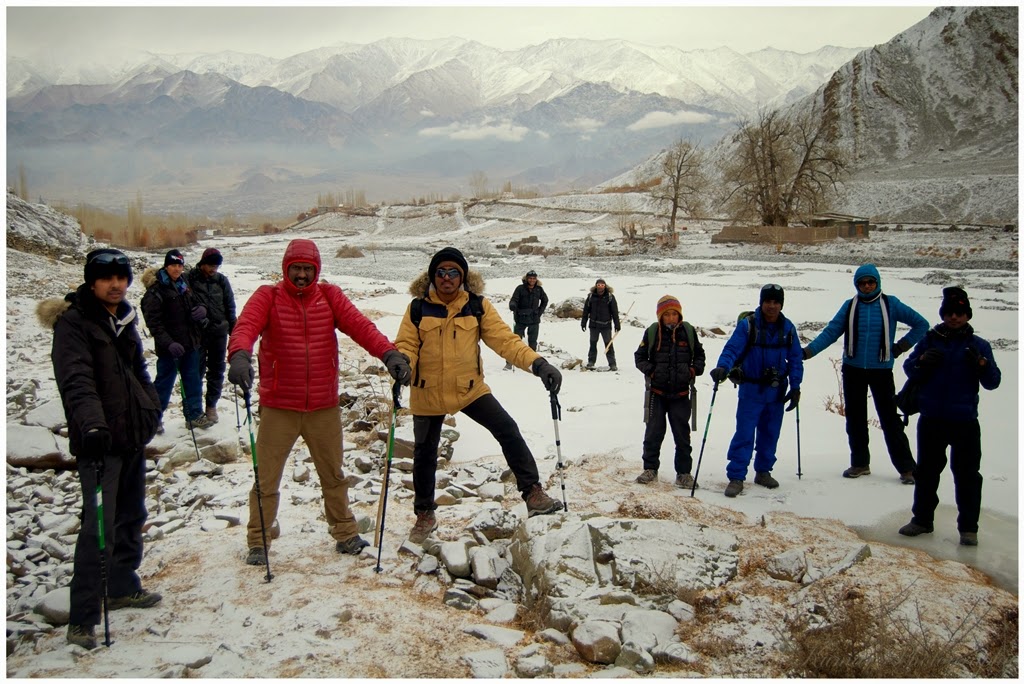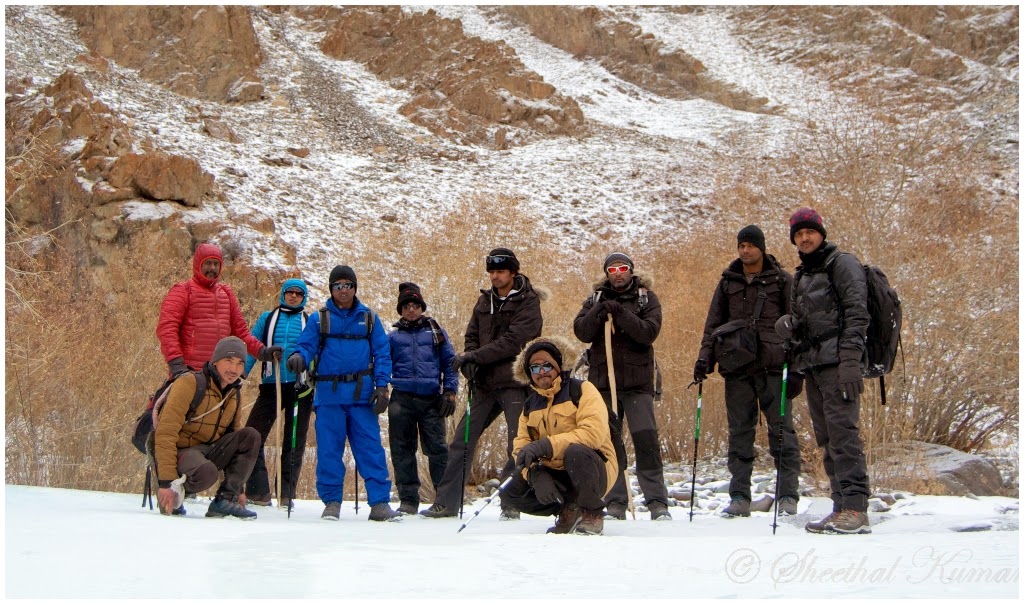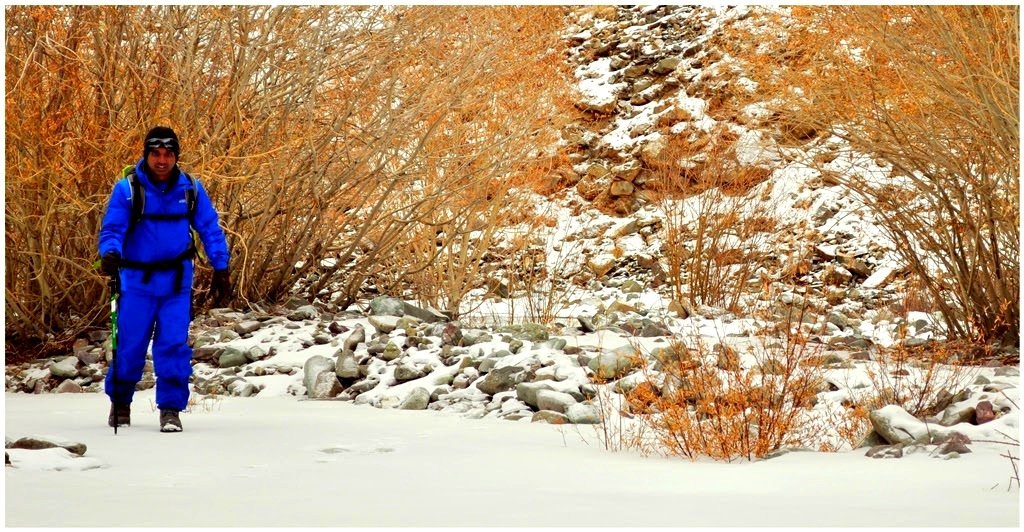 At one point we felt very much difficult to walk only and kept all our cameras inside and continued our trekking. Stopped for a lunch break and Jayo Bhai prepared some tea for us in middle of the trekking… in that cold weather I enjoyed every sip of hot tea.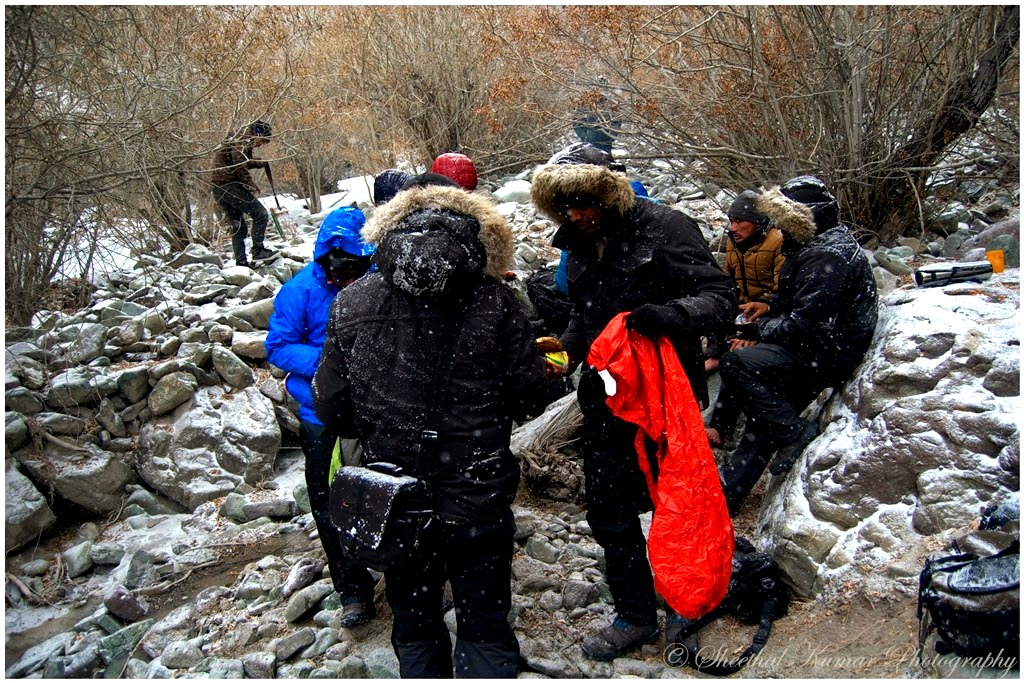 While having lunch all of a sudden heavy snow fall started and even it was getting very dark, so Jayo suggested to go back to home stay.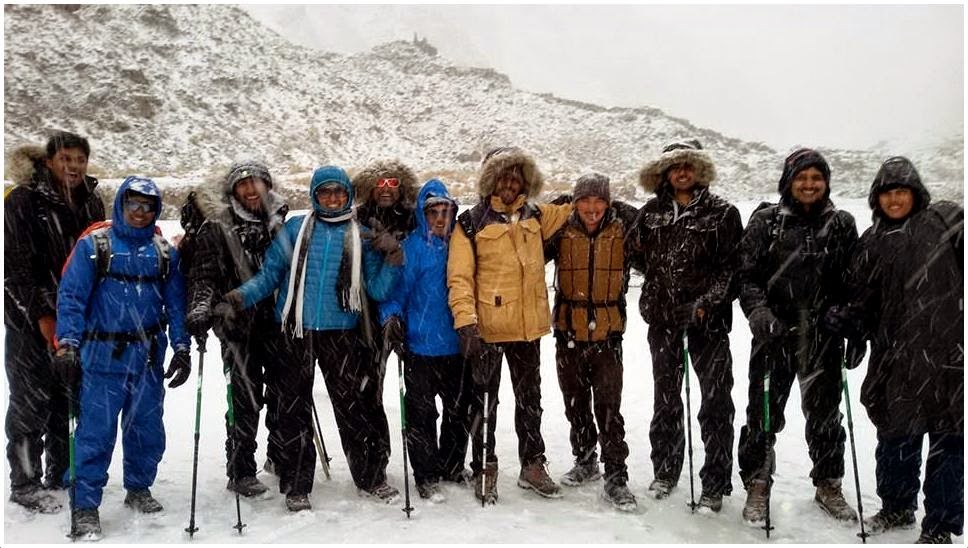 Seriously I enjoyed a lot; it was my first trekking on snow. Most importantly got a chance experienced the Chadar trek 😊
By the time we reached back it was around 7.00PM, ended day with awesome food, playing cards and question & answer session from Sanjay :P.
Day 3: Jayo Bhai planned for one more trekking for us on Day – 3. It was not on snow this time but he mentioned that from the peak of that mountain we can see Leh City (Even he is not sure about the name of that mountain).
It was a short trek but the path to that peak was bit scary too…!!! Spend some time in photo session on the way to the peak.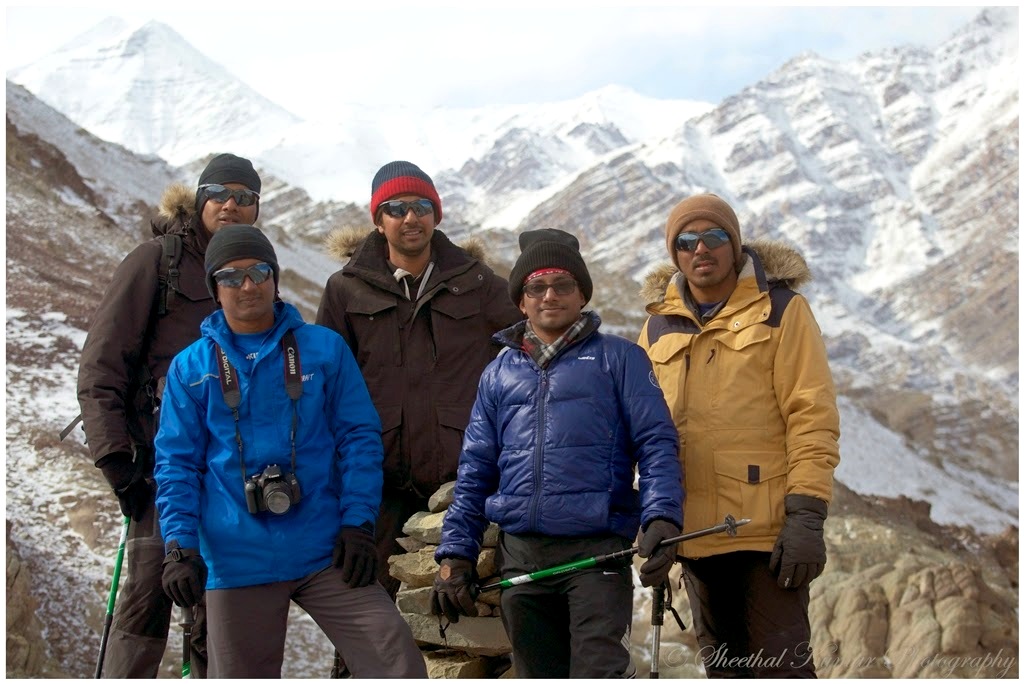 It was just half day trek and came back to home stay by lunch time. On our final day of stay, our team Master Chef's Mestru & Ashwini took over control of Kitchen and prepared delicious food for us.
The time spent on that evening was also most memorable moment of the trip. Singing old songs with your best friends, really it's a wonderful thing to do.
Day 4: It was time to vacate from that lovely place. Before leaving the place captured the beauty of wonderful place in our cameras and took couple of pics with Jayo's family 😊
Some of the pics of Home Stay…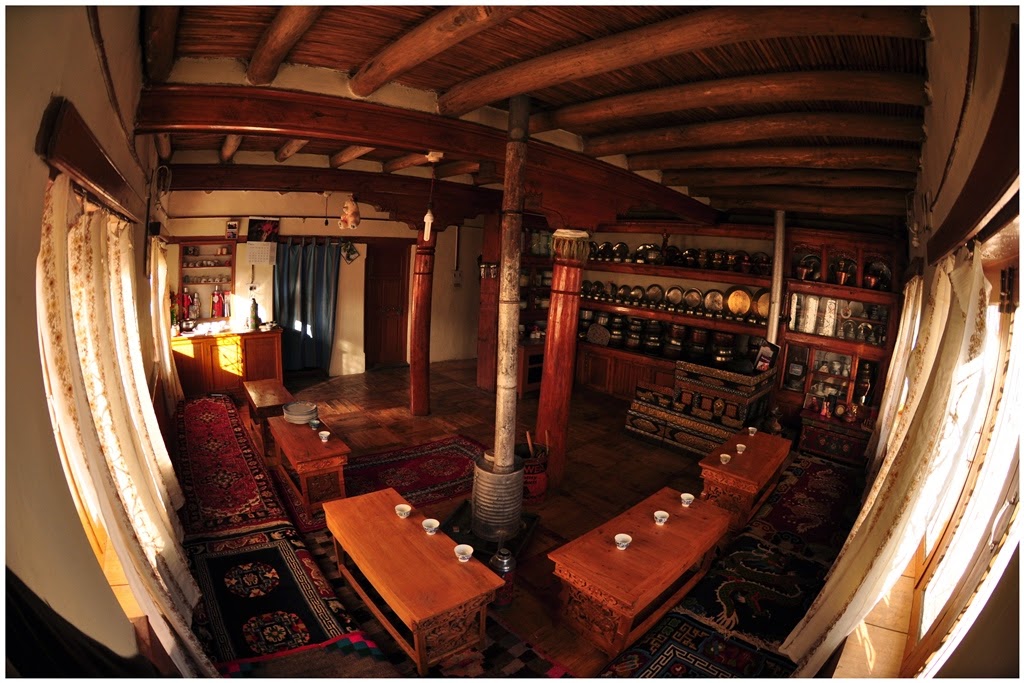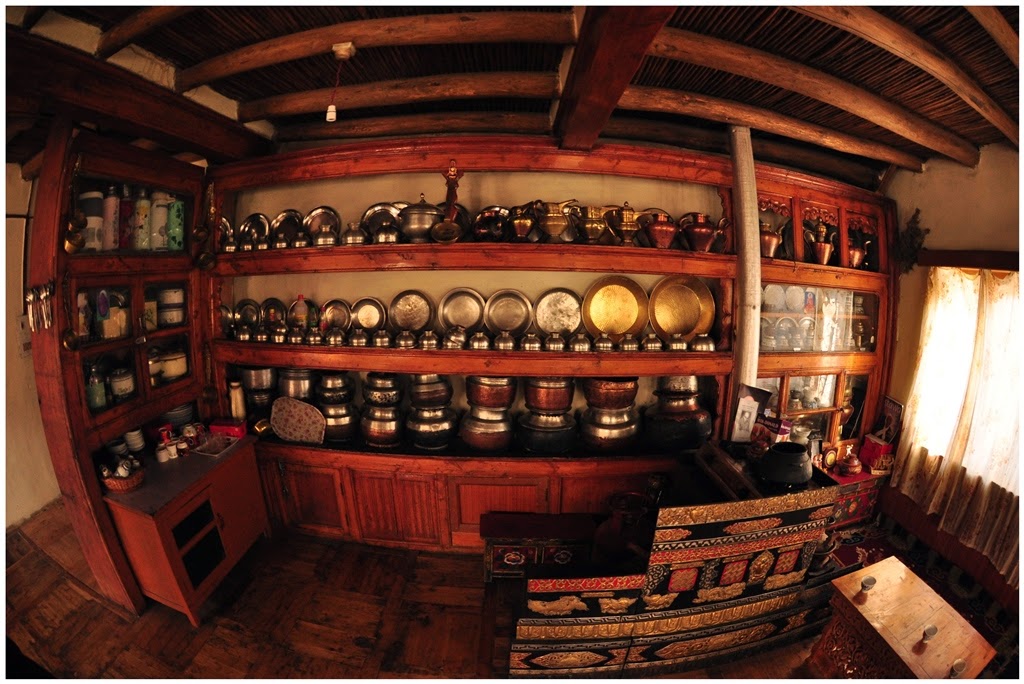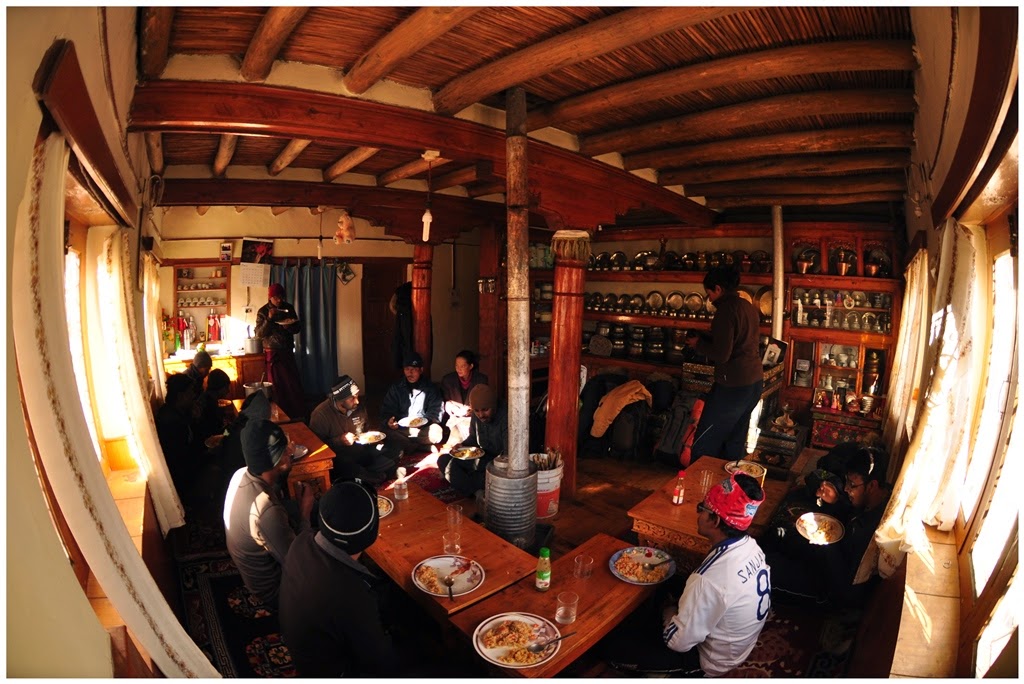 Special thanks to Jayo Bhai and his family, for providing accommodation and arranging every necessary things in short term 😊
Photo courtesy – Vinay & Sheethal J, in this post home stay pics are clicked by them.